Ratchet & Clank: Difference between revisions
Jump to navigation
Jump to search
Line 40:
Line 40:

|releasedatePAL    = November 8, 2002<br />August 22, 2003 <small>(Platinum)</small>

|releasedatePAL    = November 8, 2002<br />August 22, 2003 <small>(Platinum)</small>

|statusPAL        = 2

|statusPAL        = 2

|linuxstatusPAL    =

|linuxstatusPAL    =

|macstatusPAL      =

|macstatusPAL      =

<!-- NTSC-J props -->

<!-- NTSC-J props -->

Line 211:
Line 211:

{{TestingFooter}}

{{TestingFooter}}






<!--

{{TestingHeader|OS=Linux}}

{{TestingHeader|OS=Linux}}

{{TestingEntry

{{TestingEntry

|Status=?

|Status=

|Region=?

|Region=

|OS=?

|OS=

|CPU=?

|CPU=

|GPU=?

|GPU=

|Revision=?

|Revision=

|Graphics=?

|Graphics=

|Sound=?

|Comments=?

|Tester=?

|Sound=

|Comments=

|Tester=

}}

}}

{{TestingFooter}}

{{TestingFooter}}

-->









---
Revision as of 16:31, 27 October 2017
Ratchet & Clank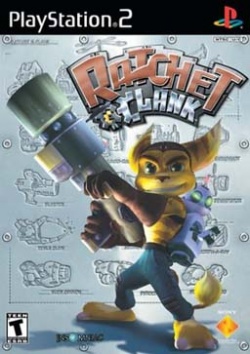 NTSC-U cover
Game general and emulation properties:
Region NTSC-U:
Serial numbers:
SCUS-97199
SCUS-97209 (E3 Demo)
SCUS-97240 (EB Games Demo)
SCUS-97199GH (Greatest Hits)
Release date:
November 4, 2002
November 4, 2003 (Greatest Hits)
CRCs:
CE4933D0
Windows Status:
Playable
Linux Status:
?
Mac Status:
?
Region PAL:
Serial numbers:
SCES-50916
SCES-50916/P (Platinum)
SCED-51075 (Demo)
Release date:
November 8, 2002
August 22, 2003 (Platinum)
CRCs:
76F724A3, 6A8F18B9 (PAL-M5)
Windows Status:
Playable
Linux Status:
Playable
Mac Status:
?
Region NTSC-J/C/K:
Serial numbers:
SCPS-15037
SCPS-19211 (PlayStation 2 the Best)
SCPS-19316 (PlayStation 2 the Best Reprint)
SCPS-19310 (PlayStation 2 The Best)
SCAJ-20001
PBPX-95516
SCKA-20120
Release date:
December 2, 2002 (Asia)
December 3, 2002
July 3, 2003 (PlayStation 2 the Best)
November 2, 2005 (PlayStation 2 the Best Reprint)
Windows Status:
?
Linux Status:
?
Mac Status:
?
Developer(s): Insomniac Games
Publisher(s): SCEA (US), SCEE (EU), SCEI (AS, JP)
Genre: Action, Platformer
Wikipedia: Link
Game review links: Metacritic: 88/100
Game description: Ratchet and Clank team up to save the world from the evil Drek, the leader of a dead planet who drains resources all over the universe. As you progress from one alien planet to the next, you'll find or purchase over 36 weapons and gadgets, including a wrench, bomb glove, grappling hook, cannon, machine gun, and rocket launcher. Think about it--you can choose from burning, bombing, exploding or obliterating your enemies. So go ahead, blow it all up.
Ratchet and Clank set out on a quest to gain the help of the famous superhero Captain Qwark to save the galaxy from the Blarg.


Test configurations on Windows:
Environment
Configurations
Comments
Tester
Region
OS
CPU/GPU
Revision
Graphics
Sound/Pad
PAL
?

Intel Core i5-2500K @ stock settings
MSI GeForce GTX 470 Hawk @ 758 MHz (core)

0.9.8 (r4600)
GSdx 0.1.16 (r4643)

SPU2-X 1.4.0 (r4600m)
LilyPad 0.10.0 (r4510)

BIOS: scph70004,

• Fully playable aside from garbage textures and models at a small distance. • The weird colored models can be fixed by setting GSdx to software mode, the FPS will suffer a huge hit. • Can be slightly GPU heavy at parts where a lot is on-screen.

Lagahan
NTSC-U
Windows

Intel Core i7-3770K @ 3.50 GHz
NVIDIA GeForce GTX 670 @ 2 GB

1.0.0
GSdx
USA v01.60(07/02/2002), Besides the graphical bugs mentioned below, everything appears to be working fine. FPS hovered around 60 FPS.

 oxguy3

PAL
Windows

Intel Core i7 @ 3.80 GHz
NVIDIA GeForce GTX 570 1368 MB

1.1.0

GSdx

Europe v01.70(27/02/2003), Still Playable. Game works fine at a good speed. Requires Software Mode to fix the graphics (

Mipmapping), the game can be quite slow. I achieved pretty much constant full speed by putting VU Cycle Stealing to 1 and 4 Extra Rendering Threads for Software Mode (this game seems to like them a bit more than normal).

 refraction

?
?

Intel Core i7-3770K @ 4.50 GHz
AMD Radeon R9 290X

1.2.1
GSdx (1.2.1)
If using Hardware Mode: Will caused garbled textures. Use Software Mode. Some textures will appear fuzzy at distance but is fully playable.
OmegaNull
NTSC-U
Windows 7

Intel Core i5-460M @ 2.53 GHz
ATI Mobility Radeon HD 5650

1.3.0

GSdx
SPU2-X
Ran at playable speeds with lag when there are a lot of on screen elements.
Clank
NTSC-U
Windows 8.1

AMD A8 6600K @ 4.4 GHz
AMD Sapphire R9 270X

1.3.0

GSdx
SPU2-X
BIOS: USA v2.2, Ran great, I found it better with EE cyclerate set to 1 (Notice done in Software mode).
Apihl1000
NTSC-U
Windows 10

Intel Core i7-3520M @ 2.90 GHz
AMD Radeon HD 7570M

1.4.0
GSdx
BIOS: Europe v1.6, Sometimes the distant textures bugs or the game is slowed (10-15 FPS). I recommended Hardware Mode and speedhacks, is more playable.
Aiglerac
NTSC-U
Windows 10 x64 (Build 14393)

Intel Core i5-4460 @ 3.20 GHz
AMD Radeon R9 270X

1.5.0

GSdx

SPU2-X 2.0.0 (2015-08-16)
LilyPad 0.11.0 (2016-08-16)

BIOS: USA v2.20, Garbage textures still persist. Cutscenes stutter a bit, and game feels slow even at full speed (though

it could be my memory of how the game was when I used to play it.) Overall playable, though not the best experience.

Jonbuddy1
PAL
Windows 10 Pro x64

Intel Xeon X5460 4.00 GHz
EVGA GeForce GTX 480 SSC @ 830 MHz (core)

1.5.0
GSdx SSE4
SPU2-X
BIOS: Europe v1.6, Game runs smooth with no problems. Used all recommended speedhacks, and basic mipmapping.
GouStoulos

Test configurations on Linux:
Environment
Configurations
Comments
Tester
Region
OS
CPU/GPU
Revision
Graphics
Sound/Pad
PAL
Ubuntu 17.10 x64

Intel Core i7 7700K @ 4.20 GHz
EVGA Geforce GTX 1080

1.5.0
GSdx (GCC 7.2.0 SSE2/AVX) 1.1.0 [libGSdx]

SPU2-X 2.0.0 [libspu2x-2.0.0]

BIOS: Europe v2.20

The game runs smooth with almost no problems (with some light lag which is almost not noticeable). I was able to complete the whole game without any issues.

Programie
Trivia
Original names: ラチェット&クランク (SCPS-15037) & (SCPS-19211) & (SCPS-19316), 라쳇&클랭크: 공구전사 리로디드 (SCKA-20120)
Known Issues
Broken textures
Status: Fixed
Type: Serious
Description: Garbage textures until you stand close to objects due to GSdx not supporting mipmapping in hardware mode.
Workaround: This can be resolved with the latest v1.5.0 git builds. Go to Config > Video(GS) > Plugin Settings, and set Mipmapping to "Basic". Or switch to Software Mode by setting Renderer to any of the "(Software)" options. Note: To minimize the potential performance impact of Software Mode, set Rendering Threads to one less than the number of available CPU cores.
Status: Active
Type: Minor
Description: Most menu backgrounds are glitched in GSdx hardware modes.
Workaround: Use software mode, or ignore it (gameplay is not affected).
The gallery
Ratchet & Clank series
Original series
Future series
Reboot series
Spin-offs
Compilations
Related