Shin Megami Tensei: Persona 4
Jump to navigation
Jump to search
Shin Megami Tensei: Persona 4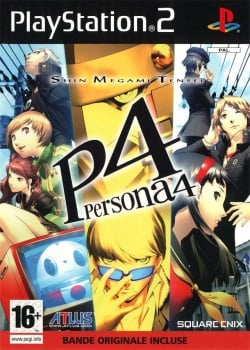 Game general and emulation properties:
Region NTSC-U:
Serial numbers:
SLUS-21782
SLUS-28069 (Trade Demo)
NPUD-21782 (PS2 Classics)
Release date:
December 9, 2008
April 8, 2014 (PS2 Classics)
Windows Status:
Playable
Linux Status:
Playable
Mac Status:
?
Region PAL:
Serial numbers:
SLES-55474
Release date:
March 12, 2009 (Australia)
March 13, 2009
CRCs:
117D1977
Windows Status:
Playable
Linux Status:
?
Mac Status:
?
Region NTSC-J/C/K:
Serial numbers:
SLPM-66978
SCKA-20132
SLPM-74278 (PlayStation 2 the Best)
Release date:
July 10, 2008
October 31, 2008 (Korea)
July 2, 2010 (Korea, BigHit Series)
August 5, 2010 (PlayStation 2 the Best)
CRCs:
5132BBDF (Korean)
Windows Status:
Playable
Linux Status:
?
Mac Status:
?
Developer(s): Atlus
Publisher(s): Atlus (JP, KO, US), Square Enix (AU, EU), SCEA (US)
Genre: RPG
Wikipedia: Link
Game review links: Metacritic: 90/100
Game description: Shortly after an urban youth begins a year-long stay in the countryside town of Inaba, the rural town's peace is shattered by a horrific murder that leaves no clues or suspects. As the lone incident develops into a series of bizarre crimes, he discovers that only he and his friends have the power to solve the baffling case, bring those responsible to justice, and restore harmony to his new home.
The game focuses on story and character development. Multiple endings. NewGame+. experience with previous Titles of the series not needed.


Test configurations on Windows:
Environment
Configurations
Comments
Tester
Region
OS
CPU/GPU
Revision
Graphics
Sound/Pad
NTSC-U
?

Intel Core2 Quad @ 2.2 GHz
NVIDIA GeForce 8800 GT

0.9.6 beta r1888
GSdx 1736

SPU2-X 1.2.0
Lilypad (1388) 0.10.0

FPS: 60, x1.5, IOP2x, INTC Sync, Idle Loop, GameFix for Persona 4. only one boss had FPS drop
KabooZ
PAL
?

Intel Core2 Quad Q9400 @ 2.66 GHz
NVIDIA GeForce 9600 GT 1GB

0.9.6 beta r3876
GSdx 3693

SPU2-X (3702) 1.4.0
LilyPad (3878) 0.10.0

This is currently the minimum requirements for the PCSX2 Beta Build released in October. If you are using SuperVU recompiler don't forget to enable the "VU Clip Flag hack" in gamefixes.
71.33.4.123
NTSC-U
Windows

Intel Core i5 2500K @ 4.3GHz
NVIDIA GeForce 9800 GTX+

1.0.0
GSdx
Europe v01.70(27/02/2003), Recommended, MTVU, Works great, some slowdowns when around huge enemy crowds (even the PS2 console had those), 'Rainbow colors' on some enemies, some minor shadow issues
NTSC-J (KOR)
?
0.9.8 r5150
GSdx 5150
?
Penandlim
NTSC-U
Windows

Intel Core i5 750 @ 2.67GHz (3.0GHz OC)
AMD Radeon HD 5850 1GB

1.3.0 Git [2014/06/07]
GSdx 0.1.16 SSE41

SPU2-X 2.0.0
LilyPad 0.11.0

USA v02.00(14/06/2004), Defaults + MTVU (Multi-Threaded microVU1), Game works fine at 60FPS in GSdx Hardware mode without any issues.
NTSC-U
Windows 7 SP1

Intel Core i5-2410M @ 2.50GHz
Intel HD Graphics 3000

PCSX2 1.4.0
GSdx

SPU2-X (default)
LilyPad (default)

Laptop (4GB RAM), works great. Minor slowdown (down to 40ish FPS) in some boss fights but completely playable. Specific

tweaks: 1) Use SSE4 which is hardware supported, otherwise AVX1/AVX2 will see slow down. 2) Direct3D9 is used (hardware supported again) although Direct3D11 is available, otherwise slow down again. 3) Scaling x2, which is maximum possible for laptop spec. Scale x1 will be faster but start to see polygons. 4) MTVU is checked to help reduce EE%, otherwise it will more likely reach 100% (laptop is quad-core). 5) LilyPad: make sure the D-Pad is not configured to hat switch (should be the axes) otherwise the in-game menu going to Town is broken.

siu shan
NTSC-J
Windows

Intel Core i7-5820K @ 3.30GHz
NVIDIA GeForce GTX 960 2GB

v1.5.0 [21 04 2016]
GSdx MSVC 19.00, SSE41 1.0.0

SPU2-X (20160421210717) 2.0.0
LilyPad (20160421210717) 0.11.0

Working OK and looking good.
NTSC-U
Windows 7 x64

Intel Core i5-3570K @ 3.40GHz
AMD Radeon HD 7950 3GB GDDR5

v1.5.0-dev-2229
GSdx32-SSE2, D3D11 HW, 3x Native resolution

SPU2-X (20171124000826 2.0.0) (Default)
LilyPad (20171124000826 0.12.1)

Runs great, occasional slowdowns. A lot less random stuttering with the legacy superVU recompiler (V0 & V1) instead of m

icroVU. Only default speedhacks. I don't know if SSE2 or SSE41 matters on the GS, I just chose one at random because AVX2 didn't work.

Kashou
PAL
Windows XP (SP3)

Intel Core2 Quad Q9650 @ 3.00 GHz
NVIDIA GeForce GTX 560

v1.5.0 (dev-2016-03-16)
GSdx SSE4 (2016-03-16)

SPU2-X WinXP VS2013
LilyPad (2016-03-16)

Notes: Using Custom resolution, like 1920x1080 will make the detailed shadows buggy, so always use 1x 2x 4x... Native re

solution. Random battle slowdowns occur, like most of the people have reported. Using Native resolution doesn't cure it fully: slowdowns can still be as high as 10 FPS at some places. This game is surprisingly smooth with Software rendering (with Rendering threads=3): no slowdowns on random battles. Settings: EE/IOP / VUI @ defaults. Speedhacks: EE=2 & VU=1, INTC, Idle loop, mVU & MTVU ON. Graphics: Resolution: Native (Required for slow random battles, otherwise runs very smoothly @ 4x Native.), 8-bit=OFF, BF=Forced, HW-hacks: OFF, Logarithmic Z=ON, AC=ON. (Extra notes: Detailed shadows hate anisotropic filtering. FXAA has a huge impact on performance for this game. After disabling it, I was able to gain the missing 10 FPS and now the game runs very smoothly with 2x Native resolution all the time.)

Titus03
NTSC-U
Windows 7

Intel Dual-Core E5500 @ 2.80 GHz
AMD Radeon R7 360

v1.5.0-dev-2267
GSdx SSE2

Speed through 100% to 55% using hardware mode, if i change to software mode fps drops 30%, example if speed is 100% drop

s to 70%, played at custom resolution 1920x1080, i don't have problem with massive slowdown with shiny textured shadows (known issue), like Titus03 said playing using this resolution detailed shadow became buggy but nothing serious.

Charl9576
NTSC-U
Windows 10 Pro

Intel Core i5-3570
NVIDIA Geforce GTX 1050

v1.5.0-dev-2387
GSdx MSVC 19.0 SSE4.1/AVX, OpenGL (Hardware)

Flawless, full speed emulation at 4x native resolution. When using Large Framebuffer Half-pixel offset in Advanced Setti

ngs and Hacks must be set to Special (Texture) to accurately render the framebuffer effect when entering battle, otherwise the framebuffer will swim up to the upper left corner.

SkipSandwich
NTSC-U
Windows 10

Intel(R) Core(TM) i5-3340M CPU @ 2.70GHz
Intel HD Graphics 4000

v1.5.0-dev-2767-g93f1dc280

GSdx 20181216203205 (MSVC 19.00 SSE2/AVX) 1.1.0

SPU2-X 2.0.0
LilyPad 0.12.1

BIOS: USA 1.60, RAM: 8GB DDR3, definitely playable at 720p, MAKE SURE YOUR PLAYING ON THE REVISON LISTED (or above) OR T

HE INTRO AND ANIMATED CUTSCENES (FMVs) WILL SLOWDOWN AND USE RENDERER LISTED OR CARPETS AND OTHER TEXTURES LIKE IT WILL GLITCH OUT!

You can play this game in Widescreen but DON'T use Widescreen Patches just go into the Window Settings or GS Window and change the Aspect Ratio to Widescreen (16:9)

Awcomeon15

Test configurations on Linux:
Environment
Configurations
Comments
Tester
Region
OS
CPU/GPU
Revision
Graphics
Sound/Pad
NTSC-U
?
0.9.6 beta r1736
ZZogl 182
Peops SPU
FPS: 55, GameFix for Persona 4
188.134.4.34
NTSC-J
Linux mint 20.1 kernel 5.8

intel core i7 9750H
gtx 1650 mobile

1.6
GSdx (GCC 9.2.0 AVX2/AVX2) 1.2.0 [libGSdx-AVX2]
SPU2-X
proprietary nvidia 465 drivers
DenseOnion
Trivia
Original names: ペルソナ4 (SLPM-66978) & (SLPM-74278), 여신전쟁 페르소나 4 (SCKA-20132)
Also known as Persona 4 (JP)
Known Issues
Massive slowdown with shiny textured shadows
Type: Note (not an issue)
Description: When a shadow with shiny textures appears onscreen during battle, the FPS will drop significantly. It is more GPU intensive.
Workaround: Use a better GPU, alternatively switch to Software mode by pressing the F9 key.
The gallery