Grand Theft Auto III: Difference between revisions
Jump to navigation
Jump to search
No edit summary

 

(45 intermediate revisions by 12 users not shown)
Line 1:
Line 1:

{{infobox

{{infobox

|image            =gat3.jpg

|image            = .jpg

|caption          =All regions box art

|caption          =

|developer        = [[Rockstar Games|Rockstar North]]

|developer

|publisher        = Rockstar Games

        = [[Rockstar Games|]] |

|genre            = Action, Shooter, Sandbox

|genre            = Action,

|wikipedia        = [http://en.wikipedia.org/wiki/GTA_3 Link]

|= . ./

|gameinfo          = Grand Theft Auto III is the third title in the Grand Theft Auto series and is the first GTA with a 3D open world sandbox. Grand Theft Auto III is played from a third-person perspective in an open world environment, allowing the player to interact with the game world at their leisure. The game is set within the fictional city of Liberty City, which is based on New York City. The single-player story follows Claude, a bank robber who was left for dead by his girlfriend, and quickly becomes entangled in a world of gangs, crime, and corruption.

Grand Theft Auto III is the third title in the Grand Theft Auto series and is the first GTA with a 3D open world sandbox. Grand Theft Auto III is played from a third-person perspective in an open world environment, allowing the player to interact with the game world at their leisure. The game is set within the fictional city of Liberty City, which is based on New York City. The single-player story follows Claude, a bank robber who was left for dead by his girlfriend, and quickly becomes entangled in a world of gangs, crime, and corruption.

|reviewlinks      = [http://www.ign.com/articles/2001/10/22/grand-theft-auto-iii-3 Link]

|reviewscore      = 9.6/10 (IGN)

|reviewlinks      = [http://www.ign.com/articles/2001/10/22/grand-theft-auto-iii-3 ]|9.6/10

<!-- NTSC-U props -->

<!-- NTSC-U props -->

|NTSCU            = 1

|NTSCU            = 1

|serialsNTSCU      = SLUS-20062

|serialsNTSCU      = SLUS-20062

|CRCsNTSCU        = 5E115FB6

|CRCsNTSCU        = 5E115FB6

|releasedateNTSCU  = October 22, 2001

|releasedateNTSCU  = October 22, 2001

|statusNTSCU      = 2

|statusNTSCU      = 2

|linuxstatusNTSCU  =

|linuxstatusNTSCU  =

Line 19:
Line 40:

<!-- PAL props -->

<!-- PAL props -->

|PAL              = 1

|PAL              = 1

|serialsPAL        = SLES-50330

|serialsPAL        = SLES-50330

|CRCsPAL          = 581954FC

|CRCsPAL          = 581954FC

|releasedatePAL    = October 26, 2001

|releasedatePAL    = October 26, 2001

|statusPAL        = 2

|statusPAL        = 2

|linuxstatusPAL    =

|linuxstatusPAL    =

Line 27:
Line 48:

<!-- NTSC-J props -->

<!-- NTSC-J props -->

|NTSCJ            = 1

|NTSCJ            = 1

|serialsNTSCJ      = SLPM-65382

|serialsNTSCJ      = SLPM-65382

|CRCsNTSCJ        =  

|CRCsNTSCJ        =  

|releasedateNTSCJ  = September 25, 2003

|releasedateNTSCJ  = September 25, 2003

|statusNTSCJ      =

|statusNTSCJ      =

|linuxstatusNTSCJ  =

|linuxstatusNTSCJ  =

Line 41:
Line 62:

|Region=PAL

|Region=PAL

|OS=?

|OS=?

|CPU=Core i5 2500k @ stock settings

|CPU=Core i5@ stock settings

|GPU=MSI GTX 470 Hawk @ 758 core

|GPU=MSI GTX 470 Hawk @ 758 core

|Revision=r4600

|Revision=r4600

|Graphics=GSDX r4643 0.1.16

|Graphics=r4643 0.1.16

|Sound=

|Sound=

* SPU2-X r4600m 1.4.0

* SPU2-X r4600m 1.4.0

Line 55:
Line 76:

|Region=NTSC-U (?)

|Region=NTSC-U (?)

|OS=?

|OS=?

|CPU=Core i7 2600k @ 4.80GHz

|CPU=Core i7@ 4.

|GPU=Nvidia Geforce GTX 570 OC x2

|GPU=GTX 570 OC x2

|Revision=0.9.9

|Revision=0.9.9

|Graphics=GSDX  r5100 0.1.16

|Graphics=r5100 0.1.16

|Sound=

|Sound=

* SPU2-X r5025 2.0.0

* SPU2-X r5025 2.0.0

* LilyPad r4959 0.11.0

* LilyPad r4959 0.11.0

|Comments=BIOS: 01.60, Using "Allow 8-bit Textures" is a must., Fully Playable 60/60 fps

|Comments=BIOS: 01.60, Using "Allow 8-bit Textures" is a must. Fully Playable 60/60

|Tester=MozzaGamer

|Tester=MozzaGamer

}}

}}

Line 69:
Line 90:

|Region=PAL

|Region=PAL

|OS=Windows

|OS=Windows

|CPU=Intel Core 2 Duo E6750 @ 2.66 Ghz

|CPU=Intel Duo E6750 @ 2.66

|GPU=Nvidia GTX 260 896MB

|GPU=GTX 260 896MB

|Revision=1.1.0 r5576

|Revision=1.1.0 r5576

|Graphics=GSdx r5464 SSSE3

|Graphics=GSdx r5464 SSSE3

Line 83:
Line 104:

|Region=NTSC-U

|Region=NTSC-U

|OS=Windows

|OS=Windows

|CPU=Intel Core i7 @ 3.4Ghz

|CPU=Intel Core i7 @ 3.

|GPU=Nvidia GTX 285 768MB

|GPU=Nvidia GTX 285 768MB

|Revision=1.1.0 r5754

|Revision=1.1.0 r5754

|Graphics=GSdx 5752 SSE41

|Graphics=GSdx 5752 SSE41

|Sound=

|Sound=

*SPU2-X 5733 2.0.0

*SPU2-X 2.0.0

*LilyPad 5403 0.11.0

*LilyPad 0.11.0

|Comments=Runs above full speed.

|Comments=Runs above full speed.

|Tester={{ForumUser|General-Plot}}

|Tester={{ForumUser|General-Plot}}

Line 97:
Line 118:

|Region=NTSC-U

|Region=NTSC-U

|OS=Windows 7 64-Bit

|OS=Windows 7 64-Bit

|CPU=Intel i7 2600k @ 3.4Ghz

|CPU=Intel i7@ 3.

|GPU=Sapphire R9 290X 4GB  

|GPU=Sapphire R9 290X 4GB  

|Revision=1.2.1 r5873

|Revision=1.2.1 r5873

Line 103:
Line 124:

|Sound=

|Sound=

* SPU2-X r5875

* SPU2-X r5875

* Lillypad 0.11.0 r5875

* 0.11.0 r5875

|Comments=Game is able to upscale successfully at 1080P at 60FPS with only minor graphical glitches and slight stuttering. However, if the game is run at default resolutions it runs flawlessly. I observed no difference between using and not using 8-Bit textures, but your degree of success may vary. Bios v2.0 was used.

|Comments=Game is able to upscale successfully at at 60FPS with only minor graphical glitches and slight stuttering. However, if the game is run at default resolutions it runs flawlessly. I observed no difference between using and not using 8-Bit textures, but your degree of success may vary. v2.0 was used.

|Tester=Zrooney

|Tester=Zrooney

}}

}}

{{TestingFooter}}

{{TestingFooter}}

Line 125:
Line 178:

{{TestingFooter}}

{{TestingFooter}}

-->

-->

==The gallery==

==The gallery==

<gallery>

<gallery>

Line 131:
Line 201:

</gallery>

</gallery>






<!-- Remove comment signs and add issues here -->

<!-- IssueLevel is issue severity level -1,0,1 or 2 (note, minor, serious and major accordingly)-->

<!--

==Known Issues==

{{Issue

|IssueName=

|IsFixed=

|IssueLevel=

|Description=

|Workaround=

}}

-->






{{Grand Theft Auto series}}

{{Grand Theft Auto series}}
---
Latest revision as of 18:48, 29 November 2021
Grand Theft Auto III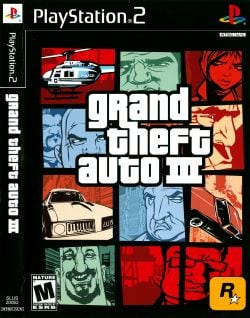 NTSC-U cover
Game general and emulation properties:
Region NTSC-U:
Serial numbers:
SLUS-20062
SLUS-20062GH (Greatest Hits)
NPUD-20062 (PS2 Classics)
Release date:
October 22, 2001
May 7, 2003 (Greatest Hits)
September 25, 2012 (PS2 Classics)
CRCs:
5E115FB6
Windows Status:
Playable
Linux Status:
?
Mac Status:
?
Region PAL:
Serial numbers:
SLES-50330
SLES-50330/P (Platinum)
SLES-50793 (Platinum)
SLES-50793-P
NPED-00063 (PS2 Classics)
Release date:
October 26, 2001
March 28, 2003 (Platinum; Platinum, Australia)
September 26, 2012 (PS2 Classics)
October 4, 2012 (PS2 Classics, Australia)
CRCs:
581954FC
Windows Status:
Playable
Linux Status:
?
Mac Status:
?
Region NTSC-J/C/K:
Serial numbers:
SLPM-65382
SLPM-65760 (CapKore)
SLPM-66789 (Best Price)
SLPM-55293 (Rockstar Classics)
Release date:
September 25, 2003
December 16, 2004 (CapKore)
July 12, 2007 (Best Price)
September 29, 2011 (Rockstar Classics)
February 6, 2013 (PS2 Classics, Korea)
Windows Status:
?
Linux Status:
?
Mac Status:
?
Developer(s): DMA Design
Publisher(s): Rockstar Games (US, JP), Take-Two Interactive (EU, AU), Capcom (JP), SCEA (US), SCEE (EU)
Genre: Action, Adventure
Wikipedia: Link
Game review links: Eurogamer: 10/10, Metacritic: 97/100, IGN: 9.6/10, GameSpot: 9.6/10
Game description: Crime does pay. The highly controversial Grand Theft Auto franchise moves into 3D in the dark and seedy underworld of Liberty City. You play a crook with link to the Mafia. A man named 8-ball assigns you tasks ranging from delivering an item to killing the leaders of rival gangs. But you don't have to take that route, as Grand Theft Auto III gives you the freedom to go anywhere and cause your own trouble. Some of your activities might consist of jacking people's cars, beating pedestrians, and testing out your huge arsenal of weapons--including assault rifles, shotguns, rocket launchers, and flamethrowers--on the police.
Grand Theft Auto III is the third title in the Grand Theft Auto series and is the first GTA with a 3D open world sandbox. Grand Theft Auto III is played from a third-person perspective in an open world environment, allowing the player to interact with the game world at their leisure. The game is set within the fictional city of Liberty City, which is based on New York City. The single-player story follows Claude, a bank robber who was left for dead by his girlfriend, and quickly becomes entangled in a world of gangs, crime, and corruption.


Test configurations on Windows:
Environment
Configurations
Comments
Tester
Region
OS
CPU/GPU
Revision
Graphics
Sound/Pad
PAL
?

Intel Core i5-2500K @ stock settings
MSI GeForce GTX 470 Hawk @ 758 core

0.9.8 stable r4600
GSdx r4643 0.1.16

SPU2-X r4600m 1.4.0
LilyPad r4510 0.10.0

FPS: 55-60
Lagahan
NTSC-U (?)
?

Intel Core i7-2600K @ 4.80 GHz
NVIDIA GeForce GTX 570 OC x2

0.9.9
GSdx r5100 0.1.16

SPU2-X r5025 2.0.0
LilyPad r4959 0.11.0

BIOS: 01.60, Using "Allow 8-bit Textures" is a must. Fully Playable 60/60 FPS.
MozzaGamer
PAL
Windows

Intel Core2 Duo E6750 @ 2.66 GHz
NVIDIA GeForce GTX 260 896MB

1.1.0 r5576
GSdx r5464 SSSE3

SPU2-X 2.0.0 r5460
LilyPad 0.11.0 r5403

Seems to be running fast and smooth.

 prafull

NTSC-U
Windows

Intel Core i7 @ 3.40 GHz
Nvidia GeForce GTX 285 768MB

1.1.0 r5754
GSdx 5752 SSE41

SPU2-X r5733 2.0.0
LilyPad r5403 0.11.0

Runs above full speed.

 General-Plot

NTSC-U
Windows 7 64-Bit

Intel Core i7-2600K @ 3.40 GHz
Sapphire R9 290X 4GB

1.2.1 r5873
GSdx 10 (Hardware)0.1.16 r5875

SPU2-X r5875
LilyPad 0.11.0 r5875

Game is able to upscale successfully at 1080p at 60FPS with only minor graphical glitches and slight stuttering. However, if the game is run at default resolutions it runs flawlessly. I observed no difference between using and not using 8-Bit textures, but your degree of success may vary. BIOS v2.0 was used.
Zrooney
NTSC-U
Windows 10 Pro x64 ver.1903

Intel Core i5-6200U CPU @ 2.30 GHz
NVIDIA GeForce 930MX 2GB DDR3

1.4.0

GSdx 1.0.0 SSE41

SPU2-X 2.0.0
LilyPad 0.11.1

The game runs unstable, can drops to 60% speed and 40 FPS.
Nova Senpai
NTSC-U
Windows 11 Home Build 22000

AMD Ryzen 7 5700G
NVIDIA GeForce RTX 2070

1.6.0
4x native resolution (~1440P). Runs flawlessly with just a couple glitches here and there.
MajorLeagueGinger
Trivia
Original names: グランド・セフト・オートIII (SLPM-65382) & (SLPM-65760) & (SLPM-66789) & (SLPM-55293)
Widescreen crops the top and bottom of the 4:3 image, meaning less visible viewing area than when played in 4:3. In PCSX2 go to the System tab and click "Enable Widescreen Patches" to get a proper widescreen result.
Fixed Issues
Cloned Character
Status: Fixed
Type: Minor
Description: if the intro cutscene plays out the character 8-Ball appears twice.
Workaround: Fixed in v1.7.0-dev-1645. For older versions: Skip the cutscene.
The gallery
Grand Theft Auto series
Main series
Handheld series
Related