Gran Turismo 4: Difference between revisions
Jump to navigation
Jump to search
Line 6:
Line 6:

|genre            = Racing

|genre            = Racing

|wikipedia        = [http://en.wikipedia.org/wiki/Gran_Turismo_4 Link]

|wikipedia        = [http://en.wikipedia.org/wiki/Gran_Turismo_4 Link]

|gameinfo          = Are you searching for a driving game that offers more than just breakneck speed? Look no further than Gran Turismo 4. The most recent installment in this amazingly popular racing game brings realistic driving to a whole new level. With loads of new cars and a vastly improved physics engine, you'll be ready to tackle the roads in your favorite cars from the last century. (From Wikipedia)

|gameinfo          = Gran Turismo 4 in . and , to .

|reviewlinks      = [http://www.metacritic.com/game/playstation-2/gran-turismo-4 Metacritic]

|reviewlinks      = [http://www.metacritic.com/game/playstation-2/gran-turismo-4 Metacritic]

|reviewscore      = 89/100

|reviewscore      = 89/100
---
Revision as of 00:49, 18 July 2015
Gran Turismo 4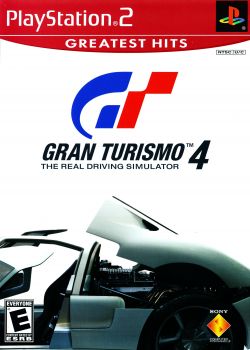 Game general and emulation properties:
Region NTSC-U:
Serial numbers:
SCUS-97328
Release date:
February 22, 2005
March 1, 2006 (Greatest Hits)
CRCs:
77E61C8A, 33C6E35E
Windows Status:
Playable
Linux Status:
?
Mac Status:
?
Region PAL:
Serial numbers:
SCES-51719
Release date:
March 9, 2005
May 5, 2006 (Platinum)
CRCs:
44A61C8F
Windows Status:
Playable
Linux Status:
?
Mac Status:
?
Region NTSC-J/C/K:
Serial numbers:
SCAJ-30006 (J)
SCAJ-30007 (CH)
SCKA-30001 (K)
SCKA-30004 (BigHit)
SCPS-17001
SCAJ-30007
SCAJ-30008 (PS2 The Best, CH)
SCPS-19252 (PS2 The Best)
Release date:
December 28, 2004 (JP)
March 3, 2005 (KO)
July 6, 2006 (PS2 The Best)
September 21, 2006 (BigHit)
CRCs:
AEAD1CA3 (J)
7ABDBB5E (CH)
Windows Status:
Playable
Linux Status:
?
Mac Status:
?
Developer(s): Polyphony Digital
Publisher(s): Sony Computer Entertainment
Genre: Racing
Wikipedia: Link
Game review links: Metacritic
Game review score: 89/100
Game description: Gran Turismo 4 is the fourth game in the Gran Turismo series. It features over 700 vehicles, 51 tracks, B-Spec mode, Photo mode, and 1080i support. This game was released on February 22, 2005 to critical acclaim.


Test configurations on Windows:
Environment
Configurations
Comments
Tester
Region
OS
CPU/GPU
Revision
Graphics
Sound/Pad
NTSC-U
Windows 7

Intel Core 2 Duo E8400 OC @ 3.6 GHz
nVidia GeForce GTX 260

0.9.9 r4878
GSdx r4873

SPU2-X r4872
LilyPad r4484

Hacks: EE CycleRate (3), INTC, Wait Idle Loop, mVU flag hack. See Hacks and Performance
Machina
NTSC-U
Windows

Intel Core i7 @ 3.4 GHz
Nvidia GTX 285 768MB

1.1.0 r5480
GSdx 5442 SSE41

SPU2-X 2.0.0
LilyPad 0.11.0

Runs near full speed.

 General-Plot

NTSC-J
Windows

Intel Core i5-3330 @ 3.0 GHz
HD Radeon 6850

1.1.svn5832
GSdx
USA v02.20(10/02/2006), Can be hard for CPU and GPU. Can have some glitches in hardware mode in the races, but software mode is fine.

 DESTRUIDOR

NTSC-U
Windows 7 64-Bit

Intel Core i7 @ 3.4 GHz
Sapphire R9 290X 4GB

1.2.1 r5875
GSdx 0.1.16 r5875

SPU2-X r5875
Lillypad 0.11.0 r5875

Game runs fine at 5X native resolution. Some slight hiccups/slowdown in the menus. One weird glitch I saw was on dirt tracks, the plumes of dirt seem to be transparent and can be seen through hills and can be seen coming out of the middle of the back of the car. Still use recommended hacks for maximum performance. Bios v 2.0 was used.
Zrooney
NTSC-U
Windows 7

Intel Core 2 Duo E7500 @ 2.93 GHz
GeForce GT630 128-bit 1GB

1.2.1 2014-02-02
GSdx 0.1.16
Great FPS at the menus, bad FPS at races or showing cars. Slow-Motion FPS at the races, almost unplayable. (EE 3, VU 0, INTC, Wait Loop and MVU)
Berto
NTSC-U
Windows 8.1

AMD A8-6600K @ 4.4 GHz
AMD Sapphire R9 270X

1.3.0
GSdx
Extra rendering threads set to 2, Direct3D11 (Software), (EE 1, VU 1, INTC, Wait Loop, MVU and MTVU) ran with 60 FPS
Apihl1000
PAL
Windows

Intel Core i5-4690 @ 3.5 GHz
MSI GTX 750 Ti 2gd5/ovcv1

PCSX2 1.3.1-20150618094926
GSdx32-SSE4.1
Runs above full speed. Needed to set EE clamping mode manually to full so the text that says the time between you and the first car to display correctly. Looks like this needs to be added to game fixes GameIndex.dbf so it can auto change the EE clamping mode to full. Some rare random slowdowns that happened randomly in the races, no specific reason but in last less than a second. Other than that the game works perfect.

 truemaster

Test configurations on Linux:
Environment
Configurations
Comments
Tester
Region
OS
CPU/GPU
Revision
Graphics
Sound/Pad
?
Kubuntu 12.04 64 bit

Intel Core i3-2100 @ 3.1 GHz
Nvidia 8800GT with proprietary 295.40 driver

1.0.0
GSdx 0.1.16
Only problem is that in a race it is too slow (20-30 fps) and the game doesn't work with frame skipping. With hardware video acceleration enabled in GSdx, it is twice as slow. The problem seems to be the CPU.
T-dome
Hacks and Performance
The MTVU hack may increase speed in quad core CPUs. This varies in dual-core CPUs as it may increase depending on the race but may cause slowdown in others.
Other hacks can cause crashes or the game won't boot. This game requires a ton of personal tinkering to get it to run decent.This game also has very, VERY high system requirements (expect to use at least an i5 or an FX 6300 above). Don't expect a smooth or stable game. Slowdowns are heavy and very prevalent. It mostly depends on track, the lighting and the amount of cars on screen.
The "Allow 8-bit textures" in GSdx may help with speed a bit more and maybe reduce the VRAM slowdowns.
If you are using software mode and have 4 cores or more (this includes hyperthreaded cores, as PCSX2 takes advantage of this), set the "extra software threads" to the amount of total threads in your CPU minus one (4 cores, threads to "3", 8 cores, threads to "7", etc.). This can provide a noticeable speedup in any game running in software mode, but beware that only native resolution can be used.
Known Issues
Heavy crashing
Status: Active
Type: Major
Description: Crashes pretty often. This happens because of spikes in VRAM use.
Workaround:

If you get lots of crashes during license tests use a lower internal resolution in GSdx or use ZeroGS or ZZOgl. Expect much slower speeds from using ZeroGS or ZZOgl.
In GSdx, Hardware AA can cause the game to crash a lot. Set the AA level to 0. Running the game with native resolution seems to help as well.
In Windows XP, even in native resolution, you may get instant crashes when starting races if you do not have enough VRAM. Using a custom resolution lower than 512x512 seems to help.
Type: Note (not an issue)
Description: The first letter of a sentence is missing in menus.
Workaround: Set VU Clamping Mode to "Extra" to fix.
Garbage all over screen in races
Status: Active
Type: Serious
Description: Happens when using color/brightness options other than 0.
Workaround:

To fix the garbage and crashing during races, set the brightness to 0 in options.
In the NTSC version, change the display in game config to "Normal", then you can set the brightness to 5 without the broken graphics and also have a correct image.
Demo races do not working
Type: Note (not an issue)
Description: Demonstrations return back to the menu as soon as they start.
Workaround: Demonstration races will only work with EE clamping set to full.
Photo mode is broken
Status: Active
Type: Serious
Description: Garbage replaces the area in which the photo is displayed.
Workaround: Switch to software mode while moving the cameras, then switch back to hardware when you take the picture.
Improper interlacing
Type: Note (not an issue)
Description: The interlacing in-game is improper and "shakes".
Workaround: Change the interlacing mode in GSdx to "Bob tff" to correct improper interlacing.
The gallery
Gran Turismo series
Main series
Other games and demos
Related