Steambot Chronicles: Difference between revisions
Jump to navigation
Jump to search
m

 

(65 intermediate revisions by 13 users not shown)
Line 1:
Line 1:

{{info-stub}}

{{infobox

 

|image            =

{{infobox game

|image            =

|caption          =

|caption          =

|developer        = Irem

|developer        = Irem

|genre            =

|gameinfo          =

|genre            =

|wikipedia         =

|reviewlinks      =

|reviewscore      =

|gameinfo          =

|

        =

|=

|=

<!-- NTSC-U props -->

<!-- NTSC-U props -->

|NTSCU            = 1

|NTSCU            = 1

|serialsNTSCU      =

|serialsNTSCU      =

|CRCsNTSCU        =

|CRCsNTSCU        =

|releasedateNTSCU  =

|releasedateNTSCU  =

|statusNTSCU      =

|statusNTSCU      =

|linuxstatusNTSCU  =

|linuxstatusNTSCU  =

|macstatusNTSCU    =

|macstatusNTSCU    =

<!-- PAL props -->

<!-- PAL props -->

|PAL              = 1

|PAL              = 1

|serialsPAL        =

|serialsPAL        =

|CRCsPAL          =

|CRCsPAL          =

|releasedatePAL    =

|releasedatePAL    =

|statusPAL        =

|statusPAL        =

|linuxstatusPAL    =

|linuxstatusPAL    =

|macstatusPAL      =

|macstatusPAL      =

<!-- NTSC-J props -->

<!-- NTSC-J props -->

|NTSCJ            = 1

|NTSCJ            = 1

|serialsNTSCJ      =

|serialsNTSCJ      =

|CRCsNTSCJ        =

|CRCsNTSCJ        =

|releasedateNTSCJ  =

|releasedateNTSCJ  =

|statusNTSCJ      =

|statusNTSCJ      =

|linuxstatusNTSCJ  =

|linuxstatusNTSCJ  =

|macstatusNTSCJ    =

|macstatusNTSCJ    =

<!-- Windows specs -->

|pcsx2ver          =

|gsname            =

|gsver            =

|soundname        =

|soundver          =

|padname          =

|padver            =

|dvdplugname      =

|dvdplugver        =

|biosver          =

|hacks            =

|fpsinfo          =

|comment          = Suffers from some bad graphical glitches and huge VRAM usage on a HW renderer. The game turns into monochrome on a software renderer. Please see [[Raw Danger!]], which uses a slightly-tweaked version of the same graphics engine for more detail.

<!-- Linux specs -->

|linuxpcsx2ver    =

|linuxgsname      =

|linuxgsver        =

|linuxsoundname    =

|linuxsoundver    =

|linuxpadname      =

|linuxpadver      =

|linuxdvdplugname  =

|linuxdvdplugver  =

|linuxbiosver      =

|linuxhacks        =

|linuxfpsinfo      =

|linuxcomment      =

<!-- Minimal PC specs -->

|cputype          =

|gputype          =

|pccomment        =

}}

}}
---
Latest revision as of 08:52, 18 August 2022
Steambot Chronicles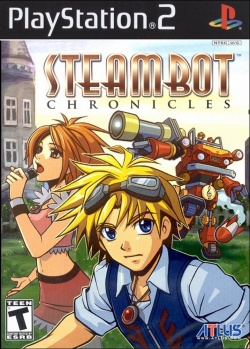 Game general and emulation properties:
Region NTSC-U:
Serial numbers:
SLUS-21344
SLUS-29188 (Regular Demo)
SLUS-28061 (Trade Demo)
Release date:
May 23, 2006
CRCs:
9F391882
Windows Status:
Playable
Linux Status:
?
Mac Status:
?
Region PAL:
Serial numbers:
SLES-54138
SLES-54335 (France)
Release date:
October 13, 2006
October 19, 2006 (Australia)
April 5, 2007 (France)
Windows Status:
Playable
Linux Status:
?
Mac Status:
?
Region NTSC-J/C/K:
Serial numbers:
SLPS-25457
SCKA-20058 (Korea)
SLPS-25683 (Irem Collection)
SCAJ-20129
SLPM-60255 (Trial)
SLPM-60266 (Demo bundled with Official Guide Book)
Release date:
June 30, 2005
December 8, 2005 (Korea)
September 14, 2006 (Irem Collection)
Windows Status:
?
Linux Status:
?
Mac Status:
?
Developer(s): Irem
Publisher(s): Irem (JP, AS, KO), Atlus (US), 505 Game Street (EU, AU)
Genre: RPG
Wikipedia: Link
Game review links: GameRankings: 75/100, Metacritic: 74/100
Game description: As cars became more and more common on city streets, the Trotmobile came into being. This two-legged, walking metal vehicle could be adapted to a variety of road conditions and purposes: agriculture, civil engineering, and transportation. The industrial revolution continued, increasing the Trotmobile's popularity. People placed their hopes and dreams on the backs of these wonderful machines, marching toward a better life just beyond their reach. Vanilla Beans wakes up to find himself lying on a sun-drenched beach. How did he get there? And, who in the world is the girl standing above him? The girl soon introduces herself as Connie, and Vanilla begins the first busy day of a grand adventure. He'll take Connie home, meet the other members of her band (the Garland Globetrotters), and explore the town of Nefroburg. At the end of this busy day, Vanilla relaxes in the town square where the Globetrotters are performing only to witness a gang of bandits overrunning the town! How things go from here is up to the player. Will Vanilla join the Garland Globetrotters? Or, will he join the Killer Elephant gang? The choices Vanilla makes, the Trotmobiles he builds, and the friends hekeeps are all up to gamers who take part in Steambot Chronicles.


Test configurations on Windows:
Environment
Configurations
Comments
Tester
Region
OS
CPU/GPU
Revision
Graphics
Sound/Pad
NTSC-U
?
0.9.6

?
?
BIOS: US 01.70(25/03/2003), Suffers from some bad graphical glitches and huge VRAM usage on a hardware renderer. The game turns into monochrome on a software renderer. For more detail, please see Raw Danger!, which uses a slightly-tweaked version of the same graphics engine.
MyDreamName
NTSC-U
Windows 7 Ultimate

AMD Athlon II X4 630 2.80 GHz
NVIDA GeForce 9800 GT 1GB

1.0.0 (r5371)

GSdx (r5365)

SPU2-X (r5317)
LilyPad (r5258)

• Unplayable

Using any hacks or tweaks is ultimately futile. The game is largely unplayable and requires software mode to fix some of the major glitches. However you'll need a really powerful computer to get this game to run smoothly. Waiting for actualization...soon.

CrazySteve88
NTSC-U
Windows

Intel Core i7-920 @ 2.67 GHz
NVIDIA GeForce GTX 260 1792 MB

1.1.0 (r5576)
GSdx
USA v02.20(10/02/2006), EE/VU Rounding: Chop/Zero, Enabled these, Playable, sit about 30 or higher (on GTX 260) FPS if on native or 2x Internal Resolution. Also for me you can use Hardware mode and it won't have graphical issues like the line over the screen it will be normal. Sometime when in where you are changing frames or buying a piece of frame in Hardware mode it will black screen until you switch it to Software mode. There also a little graphic bug with the top left corner of the screen as well map icon but it not game breaking. Lastly little graphic bug when trying to save.

 devilmaydie770

NTSC-U
Windows

Intel Core i5-3330 @ 3.20 GHz
AMD Radeon HD 6850

1.3 (SVN r5893)
GSdx
USA v02.20(10/02/2006), Normal game, standard speedhacks, standard settings used, no problems and no bugs found in the first 30 min. of game, perfectly fine.

 DESTRUIDOR

NTSC-U
Windows 10

Intel Core i5-2500K @ 3.30 GHz
NVIDIA GeForce GTX 960

1.5.0 (2017-01-22, 15:42.14)
GSdx
CPU-intensive game. Renderer: OpenGL. GSdx CRC Hack Level needs to be set to Aggressive to be playable at full speed (Hardware mode). Other settings, speedhacks (MTVU on) are on default. Heavy use on post-processing effects, currently missing in Hardware mode. You can also use Software mode in smaller areas without slowdowns.
Yuri
NTSC-U
Windows 10

Intel Core i7-7700K
NVIDIA GeForce 1080 Ti

1.5.0-Dev-2634
GSdx
Steambot Chronicles is a very CPU-Intensive game, it runs at full speed in HW Mode for me with OpenGL. CRC Hack - Agressive. But it will display glitches and overall missing effects. Something that doesn't happen in Software Mode. So I run it in Software Mode, these are the settings I use to get it to a steady 60FPS. AVX2 Plugin must be set, it gives 1-2 extra frames. Opengl Software Mode (It doesn't really change while using DirectX so it's up to you. Rendering Threads 6 - Yes it must be 6. Or test it out for yourself, see if you get more frames, I tested 2,3,4,5 and 6 and I got a steady with 6. MTVU on or off it doesn't matter, you will get the same fps. I know the CPU is up there, so keep in mind you might not get a steady, however using these settings should help you gain more in Software Mode.
AmsomniaStudios
PAL
Windows 10

Intel Core i5-4690 @ 3.5 GHz
NVIDIA GeForce GTX 960

1.6.0
GSdx
Using OpenGL in software mode, 2 rendering threads. Game running perfectly on the 50 Hz mode, with no visual glitches so far. 50 Hz mode means full speed is 50 FPS instead of the usual 60, and those 10 frames made it for me.
Ryonin
PAL
Windows 10

Intel Core i7-1770S @ 3.1 GHz
AMD Radeon RX Vega 64

1.7.2581
GSdx
Xaudio 2
Works great in optional 60Hz mode (present on many PAL games) under both Vulkan and DirectX renderers, right up until I enter the garage for the first time and try to swap out frames on my Trotmobile. The screen goes black under both renderers and won't come back, suggesting this is an emulation bug.
Silvershock
Trivia
Original names: ポンコツ浪漫大活劇バンピートロット (SLPS-25457) & (SLPS-25683), 액션 로망 범피트롯 (SCKA-20058)
Also known as Poncotsu Roman Daikatsugeki Bumpy Trot (JP, KO, AS)
Known Issues
Meeting Dandelion for the first time scene stuck forever
Status: Active
Type: Major
Description: During Vanilla's first meeting with Dandelion Basil asks Dandelion to fix his bass and the scene freezes.
Workaround: Go to Config > Emulation Settings > EE/IOP tab, and set Round Mode to "Negative" or "Nearest".
Weather effects make the HUD disappear
Status: Active
Type: Minor
Description: During weather effects (rain) the HUD simply disappears. It will only reappear after entering a new area.
Workaround: Temporarily switch to Software mode with the F9 key. Alternatively set the CRC Hack Level to "None" or "Minimum", but this can cause slowdown.
Sabbia Desert is black
Status: Active
Type: Minor
Description: Sabbia Desert's ground appears completely black.
Workaround: Use SW mode. If game is broken in SW mode, disable the widescreen patch.
Gameplay Screenshots