Dragon Ball Z: Budokai: Difference between revisions
Jump to navigation
Jump to search
 

(36 intermediate revisions by 4 users not shown)
Line 1:
Line 1:

{{info-stub}}

{{infobox

 

{{infobox game

|image            = Dragon_ball_z_budokai_cover.jpg

|image            = Dragon_ball_z_budokai_cover.jpg

|caption          = NTSC-U Boxart

|caption          = NTSC-U Boxart

|developer        = Dimps

|developer        = Dimps

|genre            = Action, Fighting

|genre            = Action, Fighting

|gameinfo          = First game in the Dragon Ball Z: Budokai series, predecessor to [http://wiki.pcsx2.net/index.php/Dragon_Ball_Z:_Budokai_2 Dragon Ball Z: Budokai 2]

|gameinfo          =

|wikipedia        = [http://en.wikipedia.org/wiki/Dragon_Ball_Z:_Budokai  Dragon Ball Z: Budokai]

 

|reviewlinks      = [http://www.metacritic.com/game/playstation-2/dragon-ball-z-budokai/critic-reviews MetaCritic]

First game in the Dragon Ball Z: Budokai series, predecessor to [Dragon Ball Z: Budokai 2]

|reviewscore      = 67/100

|wikipedia        = [://en.wikipedia.org/wiki/Dragon_Ball_Z:_Budokai  Dragon Ball Z: Budokai]

|reviewlinks      = [://www.metacritic.com/game/playstation-2/dragon-ball-z-budokai /

-

|=

<!-- NTSC-U props -->

<!-- NTSC-U props -->

|NTSCU            = 1

|NTSCU            = 1

|serialsNTSCU      = [SLUS-20591]

|serialsNTSCU      = SLUS-20591

|CRCsNTSCU        = 2FF8E31F

|CRCsNTSCU        = 2FF8E31F

|releasedateNTSCU  = December 3, 2002

|releasedateNTSCU  = December 3, 2002

|statusNTSCU      = 2

|statusNTSCU      = 2

|linuxstatusNTSCU  =

|linuxstatusNTSCU  =

Line 20:
Line 34:

<!-- PAL props -->

<!-- PAL props -->

|PAL              = 1

|PAL              = 1

|serialsPAL        =

|serialsPAL        =

|CRCsPAL          =

|CRCsPAL          =

|releasedatePAL    = November 2, 2002

|releasedatePAL    = November , 2002

|statusPAL        = 2

|statusPAL        = 2

|linuxstatusPAL    =

|linuxstatusPAL    =

Line 28:
Line 42:

<!-- NTSC-J props -->

<!-- NTSC-J props -->

|NTSCJ            = 1

|NTSCJ            = 1

|serialsNTSCJ      =

|serialsNTSCJ      =

|CRCsNTSCJ        =

|CRCsNTSCJ        =

|releasedateNTSCJ  = February 13, 2003

|releasedateNTSCJ  = February 13, 2003

|statusNTSCJ      = 2

|statusNTSCJ      = 2

|linuxstatusNTSCJ  =

|linuxstatusNTSCJ  =

|macstatusNTSCJ    =

|macstatusNTSCJ    =

<!-- Windows specs -->

|pcsx2ver          = 1.3.0 r5927

|gsname            = GSdx

|gsver            = r5932

|soundname        = SPU2-X

|soundver          = r5893 2.0.0

|padname          = LilyPad

|padver            = 0.11.0

|dvdplugname      =

|dvdplugver        =

|biosver          = any

|hacks            =

|fpsinfo          =

|comment          =

<!-- Linux specs -->

|linuxpcsx2ver    =

|linuxgsname      =

|linuxgsver        =

|linuxsoundname    =

|linuxsoundver    =

|linuxpadname      =

|linuxpadver      =

|linuxdvdplugname  =

|linuxdvdplugver  =

|linuxbiosver      =

|linuxhacks        =

|linuxfpsinfo      =

|linuxcomment      =

<!-- Minimal PC specs -->

|cputype          = Intel Core i7-3770K @ 4.60 GHz

|gputype          = AMD Radeon HD 7950 3GB Crossfire

|pccomment        =

}}

}}






==See also==

=

=

=

=

 

 

 

 

 

 

 

 

 






*[[Dragon Ball Z: Budokai 2]]

*[[Dragon Ball Z: Budokai 3]]

*[Z Budokai ]

*[Z Budokai ]
---
Latest revision as of 00:28, 2 October 2022
Dragon Ball Z: Budokai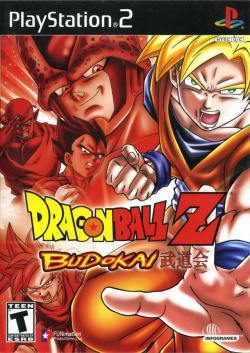 NTSC-U Boxart
Game general and emulation properties:
Region NTSC-U:
Serial numbers:
SLUS-20591
SLUS-20591GH (Greatest Hits)
Release date:
December 3, 2002
2003 (Greatest Hits)
CRCs:
2FF8E31F
Windows Status:
Playable
Linux Status:
?
Mac Status:
?
Region PAL:
Serial numbers:
SLES-51233
SLES-51233-P
Release date:
November 29, 2002
October 24, 2003 (Platinum)
Windows Status:
Playable
Linux Status:
?
Mac Status:
?
Region NTSC-J/C/K:
Serial numbers:
SLPS-25174
SLKA-25046 (Korea)
SLPS-73207 (PlayStation 2 the Best)
Release date:
February 13, 2003
April 25, 2003 (Korea)
September 16, 2004 (PlayStation 2 the Best)
Windows Status:
Playable
Linux Status:
?
Mac Status:
?
Developer(s): Dimps Corporation
Publisher(s): Atari (EU, US), Infogrames (US), Bandai (JP)
Genre: Action, Fighting
Wikipedia: Dragon Ball Z: Budokai
Game review links: Metacritic: 67/100
Game description: The fiercest fighters in the universe have come together in the spectacular 3D world of Dragon Ball Z: Budokai. Test your skills against the most powerful Dragon Ball Z heroes and the most sinister villains in five exciting play modes. You can unlock, customize, and trade devastating skills with friends to create the most powerful fighters ever. Every battle is more intense, more dangerous, and more epic than the one before.

First game in the Dragon Ball Z: Budokai series, predecessor to Dragon Ball Z: Budokai 2


Test configurations on Windows:
Environment
Configurations
Comments
Tester
Region
OS
CPU/GPU
Revision
Graphics
Sound/Pad
NTSC-U
Windows 10 64-bit

Intel Core i7-3770K @ 4.30 GHz
AMD Radeon HD 7950 3GB

1.5.0 SVN
GSdx 1.1.0 2016-06-30 (SSE4)

Mode: HW OpenGL
4x Native
16x Anisotropic Filtering

SPU2-X r5893 2.0.0
LilyPad 0.11.0

Completed the game without any issues, runs at a smooth 60fps only dipping below when energy attacks are used whilst running at a very high resolution. A̶s̶ ̶o̶f̶ ̶J̶u̶n̶e̶ ̶3̶0̶,̶ ̶2̶0̶1̶6̶ ̶n̶o̶ ̶w̶i̶d̶e̶s̶c̶r̶e̶e̶n̶ ̶p̶a̶t̶c̶h̶ ̶e̶x̶i̶s̶t̶s̶ ̶(̶f̶o̶r̶ ̶t̶h̶e̶ ̶N̶T̶S̶C̶-̶U̶ ̶v̶e̶r̶s̶i̶o̶n̶), thanks sergx12!
CorruptEagle
Trivia
Original names: ドラゴンボールZ (SLPS-25174) & (SLPS-73207), 드래곤볼 Z (SLKA-25046)
Also known as Dragon Ball Z
Known Issues
Problems correctly rendering lighting during certain cutscenes
Status: Active
Type: Minor
Description: During certain cutscenes during the story mode, characters in the foreground will become surrounded by completely dark or semi-dark backgrounds.
Workaround: Use OpenGL or software render mode.
Upscaling lines from sprites
Status: Active
Type: Minor
Description: UI and menu elements have empty lines from sprites not scaling correctly.
Workaround: While the game is running go to View > Game Properties, then head to Graphics > check Manual Hardware Fixes. Head to the Upscaling Fixes tab and set Round Sprite to Full. This will make some text and images a little blurry, but it will fill those empty lines.
Fixed Issues
Black lines on edge of screen
Status: Fixed
Type: Minor
Description: When upscaling, black lines will appear along the bottom and right sides of the screen.
Workaround: Keep Internal Resolution at Native, or use the dx11 renderer.
Screenshots