Disney's Extreme Skate Adventure: Difference between revisions
Jump to navigation
Jump to search
m

No edit summary

 

(20 intermediate revisions by 4 users not shown)
Line 1:
Line 1:

 

{{infobox

{{infobox game

|image            = DESA.jpg

|image            = DESA.jpg

|caption          = Disney's Extreme Skate Adventure

|caption          = Disney's Extreme Skate Adventure

|developer        = Toys For Bob

|developer        = Toys Bob

|genre            = Sport

|gameinfo          = Skating game which plays like "Tony Hawk's Pro Skater". Has an overworld called Bollywood which can be used to teleport into other stages that resemble places from Disney movies which contain characters such as "Buzz Lightyear" and "Woody".

|genre            =

|wikipedia        = http://en.wikipedia.org/wiki/Disney%27s_Extreme_Skate_Adventure

|gameinfo          =

|reviewlinks      = http://ps2.ign.com/objects/499/499466.html

Skating game which plays like "Tony Hawk's Pro Skater". Has an overworld called which can be used to teleport into other stages that resemble places from Disney movies which contain characters such as "Buzz Lightyear" and "Woody".

|reviewscore      = 7.8/10 (IGN)

|wikipedia        = ://en.wikipedia.org/wiki/Disney%27s_Extreme_Skate_Adventure

|reviewlinks      = http://ps2.ign.com/objects/499/499466.html |7.8/10

<!-- NTSC-U props -->

<!-- NTSC-U props -->

|NTSCU            = 1

|NTSCU            = 1

|serialsNTSCU      = SLUS-20607

|serialsNTSCU      = SLUS-20607

|CRCsNTSCU        =

|CRCsNTSCU        =

|releasedateNTSCU  = September 2, 2003

|releasedateNTSCU  = September , 2003

|statusNTSCU      = 0

|statusNTSCU      =

|linuxstatusNTSCU  =

|linuxstatusNTSCU  =

|macstatusNTSCU    =

|macstatusNTSCU    =

<!-- PAL props -->

<!-- PAL props -->

|PAL              = 1

|PAL              = 1

|serialsPAL        =

|serialsPAL        =

|CRCsPAL          =

|CRCsPAL          =

|releasedatePAL    =

|releasedatePAL    =

|statusPAL        =

|statusPAL        =

|linuxstatusPAL    =

|linuxstatusPAL    =

|macstatusPAL      =

|macstatusPAL      =

<!-- NTSC-J props -->

|NTSCJ            = 1

|serialsNTSCJ      =

|CRCsNTSCJ        =

|releasedateNTSCJ  =

|statusNTSCJ      =

|linuxstatusNTSCJ  =

|macstatusNTSCJ    =

<!-- Windows specs -->

|pcsx2ver          = PCSX2 0.9.8 r4600

|gsname            = GSdx

|gsver            = 4600

|soundname        = SPU2-X

|soundver          = r4600m

|padname          = LilyPad

|padver            = r4510

|dvdplugname      = cdvdGigaherz

|dvdplugver        = r4510

|biosver          = SCPH39001

|hacks            =

|fpsinfo          = N/A

|comment          = Black screen upon boot-up. No sound/video.

<!-- Linux specs -->

|linuxpcsx2ver    =

|linuxgsname      =

|linuxgsver        =

|linuxsoundname    =

|linuxsoundver    =

|linuxpadname      =

|linuxpadver      =

|linuxdvdplugname  =

|linuxdvdplugver  =

|linuxbiosver      =

|linuxhacks        =

|linuxfpsinfo      =

|linuxcomment      =

<!-- Minimal PC specs -->

|cputype          = Intel® Xeon® Processor E5410

(12M Cache, 2.33 GHz, 1333 MHz FSB)

|gputype          = ATI Radeon HD 5770

|pccomment        =

}}

}}
---
Latest revision as of 19:54, 16 January 2017
Disney's Extreme Skate Adventure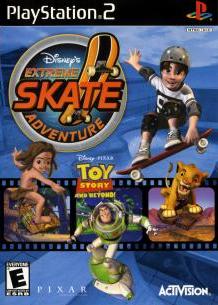 Disney's Extreme Skate Adventure
Game general and emulation properties:
Region NTSC-U:
Serial numbers:
SLUS-20607
Release date:
September 3, 2003
Windows Status:
Playable
Linux Status:
?
Mac Status:
?
Region PAL:
Serial numbers:
SLES-51720
SLES-51721
Release date:
September 5, 2003
Windows Status:
?
Linux Status:
?
Mac Status:
?
Developer(s): Toys for Bob
Publisher(s): Activision
Genre: Sports
Wikipedia: Link
Game review links: IGN: 7.8/10, Metacritic: 78/100
Game description: Disney characters step out of the movies and onto skateboards in Disney's Extreme Skate Adventure. You can play as your favorite Disney and Pixar characters, such as Buzz Lightyear and Woody from Toy Story 2, Simba and Rafiki from The Lion King, and Young Tarzan and Terk from Tarzan. Now you can skate, pull off tricks, and solve puzzles in all the exciting places you've seen in the movies, including Pride Rock, the Jungle Treehouse, and Pizza Planet.
Skating game which plays like "Tony Hawk's Pro Skater". Has an overworld called Olliewood which can be used to teleport into other stages that resemble places from Disney movies which contain characters such as "Buzz Lightyear" and "Woody".


Test configurations on Windows:
Environment
Configurations
Comments
Tester
Region
OS
CPU/GPU
Revision
Graphics
Sound/Pad
NTSC-U
?

Intel® Xeon® Processor E5410 (12M Cache, 2.33 GHz, 1333 MHz FSB)
ATI Radeon HD 5770

PCSX2 0.9.8 r4600
GSdx 4600

SPU2-X r4600m
LilyPad r4510

BIOS: SCPH39001, HACKS: This game does NOT boot pass the cutscenes and will hang using the MTVU hack., This game now boots and plays perfectly with newer versions of PCSX2 using some automatically applied gamefixes. The configuration listed above will not play the game, and the game will not boot with that configuration. There is a minor issue with flickering objects when playing using software rendering, although it is completely ignorable. The automatic gamefixes for this game include the "Fast CDVD" speedhack and setting the VU Round mode to "Nearest".
MyDreamName
NTSC-U
Windows

Intel Core i7 @ 3.4Ghz
Nvidia GTX 285 768MB

1.1.0 r5604
GSdx 5580 SSE41

SPU2-X 2.0.0
LilyPad 0.11.0

Hangs after intro static screen.
NTSC-U
Windows
1.3 5932 .svn
GSDX
USA v02.20(10/02/2006), Well,work good now.(I tested these one in Iso also)
Known Issues
Status: Fixed
Type: Major
Description: Crashes in menu after trying to show 3D objects.
Workaround: This should be automatically fixed as long as Automatic Gamefixes is enabled on the System tab. You can manually enable the fix by going to Config > Emulation Settings > VUs tab, and setting "Round Mode" to "Nearest".
Game freeze on boot
Type: Note (not an issue)
Description: Game freezes on the first loading screen.
Workaround: Go to Config > Emulation Settings > Speedhacks tab, and disable the "MTVU (Multi-Threaded microVU1)" speedhack.