Destroy All Humans!
Jump to navigation
Jump to search
Destroy All Humans!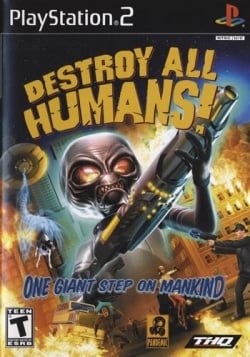 NTSC-U Boxart
Region NTSC-U:
Serial numbers:
SLUS 20945
Release date:
June 21, 2005
Windows Status:
Playable
Linux Status:
?
Mac Status:
?
Region PAL:
Serial numbers:
SLES 53196
Release date:
June 24, 2005
CRCs:
E3E8E893
Windows Status:
Playable
Linux Status:
?
Mac Status:
?
Region NTSC-J:
Release date:
February 22, 2007
Windows Status:
?
Linux Status:
?
Mac Status:
?
Developer(s): Pandemic Studios
Genre: Adventure, Shooter
Wikipedia: Link
Game description: The game is set in the late 1950s in the U.S. and parodies the lifestyles, pop culture, and politics of this time period. The player controls Cryptosporidium 137 (a reference to the protozoan parasite Cryptosporidium), a member of the Furon race of alien life, who has come to Earth to harvest DNA from humans to continue the cloning process of his species. Destroy All Humans! is an open world game.



Test configuration on Windows:
Hack comments: Skipdraw 5. Although it fixes the full screen shadow problem, it also introduces a new glitch. Naming the radar outline disappears. Moreover the mothership menu has disappearing menu items. eg. Pox's lab is gone with this hack enabled. No "Press Start" sign during start screen.

Test configuration on Linux:

PC specs used to test the game:
| | |
| --- | --- |
| CPU: | Intel i5 2500K @3400Mhz |
| GPU: | GeForce GTX 460 SE 768MB |
Comments:
Runs fine in hardware mode at 3x upscale. Skipdraw 5 needed in this mode. Check known issues.
Software mode has no graphical issues. The game is fully playable. Be aware that sw mode is highly demanding. With above PC specs it uses around 70% CPU power! Can get slowdowns in intense fightings.
UNCONFIRMED: Allegedly, people having trouble with game resolution in PAL version should choose the 60Hz option.
Widescreen support
The game has built in 16:9 widescreen mode. Set it in the games Options > Display > Widescreen menu.
Known Issues
Shadow like glitch
Status: Active
Type: Minor
Description: In-game a sort of "shadow" is on the screen, but blocky showing vague things of the environment. The glitch is present entire game.
Workaround: Switch to software mode and play it there (highly CPU demanding, but usable).

Alternatively: Use Skipdraw 5 hack. Character shadows (and some post processing effects) disappear and has texture popping issue at far away objects.
Software mode object falling
Status: Active
Type: Serious
Description: Playing in software mode at intense fighting scenes, the game objects tend to fall through the level. (eg. grabbing vehicles with the saucer, NPCs get sometimes stuck in the ground). The player character can have this issue too, but very rarely. Probably is in connection with the demanding CPU usage.
Workaround: Switch back temporary to hardware mode.
Status: Active
Type: Serious
Description: Switching progressive scan on, cripples the semi transparent menu usage. It makes the game use insane amount of PC resources. eg. "60Hz warning" and "load game, new game" option at the beginning, pause menu during gameplay. Problem only exists when Skipdraw 5 is is off.
Workaround: Do not use progressive scan or use software mode.

(Separate Tester) Above issue not found, used Progressive Scan, and no problems at all. Also, it seems that the game gets blurrier when you use PS, so I recommend not using it at all, and if the above issue is true, doubly so. Still need to use Skipdraw 5 or Software mode though.
Also see