Yu-Gi-Oh! Capsule Monster Coliseum: Difference between revisions
Jump to navigation
Jump to search
(15 intermediate revisions by 4 users not shown)
Line 1:
Line 1:

{{info-stub}}

{{infobox

{{infobox

|image            =

|image            =

|caption          =

|caption          =

|developer        =

|developer        =

|genre            =

|gameinfo          =

|genre            =

|wikipedia         =

|reviewlinks      =

|reviewscore      =

|gameinfo          =

|

        =

|

=

|=

<!-- NTSC-U props -->

<!-- NTSC-U props -->

|NTSCU            = 1

|NTSCU            = 1

|serialsNTSCU      =

|serialsNTSCU      =

|CRCsNTSCU        =

|CRCsNTSCU        =

|releasedateNTSCU  =

|releasedateNTSCU  =

|statusNTSCU      =

|statusNTSCU      =

|linuxstatusNTSCU  =

|linuxstatusNTSCU  =

|macstatusNTSCU    =

|macstatusNTSCU    =

<!-- PAL props -->

<!-- PAL props -->

|PAL              = 1

|PAL              = 1

|serialsPAL        =

|serialsPAL        =

|CRCsPAL          =

|CRCsPAL          =

|releasedatePAL    =

|releasedatePAL    =

|statusPAL        =

|statusPAL        =

|linuxstatusPAL    =

|linuxstatusPAL    =

Line 28:
Line 40:

<!-- NTSC-J props -->

<!-- NTSC-J props -->

|NTSCJ            = 1

|NTSCJ            = 1

|serialsNTSCJ      =

|serialsNTSCJ      =

|CRCsNTSCJ        =

|CRCsNTSCJ        =

|releasedateNTSCJ  =

|releasedateNTSCJ  =

|statusNTSCJ      =

|statusNTSCJ      =

|linuxstatusNTSCJ  =

|linuxstatusNTSCJ  =

Line 39:
Line 51:

{{TestingHeader|OS=Windows}}

{{TestingHeader|OS=Windows}}

{{TestingEntry

{{TestingEntry

|Status=?

|Status=

|Region=?

|Region=

|OS=?

|OS=

|CPU=?

|CPU=

|GPU=?

|GPU=

|Revision=?

|Revision=

|Graphics=?

|Graphics=

|Sound=?

|Sound=

|Comments=This is a test placeholder. Add your configuration here.

|Comments=.

|Tester=?

|Tester=

}}

}}

{{TestingFooter}}

{{TestingFooter}}

Line 69:
Line 81:

-->

-->














<!-- Remove comment signs and add issues here -->

<!-- IssueLevel is issue severity level -1,0,1 or 2 (note, minor, serious and major accordingly)-->

<!--

==Known Issues==

==Known Issues==

{{Issue

{{Issue

|IssueName=

|IssueName=

|IsFixed=

|IsFixed=

|IssueLevel=

|IssueLevel=

|Description=

|Description=

|Workaround=

|Workaround=

}}

}}

-->

 

 

{{ForumLinksList|list=

{{ForumLinksList|list=

*[http://forums.pcsx2.net/Thread-Yu-Gi-Oh-Capsule-Monster-Coliseum-SLUS-20940-U--30427 Yu-Gi-Oh! - Capsule Monster Coliseum (SLUS 20940) (U)]}}

*[http://forums.pcsx2.net/Thread-Yu-Gi-Oh-Capsule-Monster-Coliseum-SLUS-20940-U--30427 Yu-Gi-Oh! - Capsule Monster Coliseum (SLUS 20940) (U)]}}
---
Revision as of 16:34, 18 April 2017
Yu-Gi-Oh! Capsule Monster Coliseum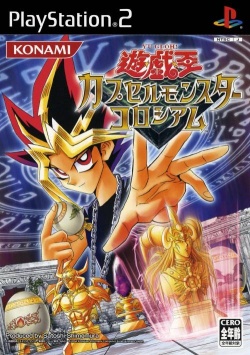 Game general and emulation properties:
Region NTSC-U:
Serial numbers:
SLUS-20940
Release date:
October 26, 2004
CRCs:
63F6B523
Windows Status:
Playable
Linux Status:
?
Mac Status:
?
Region PAL:
Serial numbers:
SLES-52576
Release date:
February 18, 2005
Windows Status:
?
Linux Status:
?
Mac Status:
?
Region NTSC-J/C/K:
Serial numbers:
SLPM-65613
VW223-J1
SLPM-66066 (Konami the Best)
VW223-J2 (Konami the Best)
Release date:
July 29, 2004
July 7, 2005 (Konami the Best)
Windows Status:
?
Linux Status:
?
Mac Status:
?
Developer(s): WinkySoft
Publisher(s): Konami
Genre: Turn-based strategy
Game review links: Metacritic: 62/100
Game description: Become the capsule-monster king in Yu-Gi-Oh! Capsule Monster Coliseum. In this new strategic board game, you can build armies of capsule monsters, battle duelists from the animated TV series, and conquer a variety of challenges. The more you use your monsters in battle, the more they'll grow and evolve. Use your team to unlock the door to the king's coliseum and duel the capsule-monster champions. The game features 25 boards with changing environments and properties.


Test configurations on Windows:
Environment
Configurations
Comments
Tester
Region
OS
CPU/GPU
Revision
Graphics
Sound/Pad
NTSC-U
Windows 8.1

Intel Core i7-4700HQ
NVIDIA GeForce GTX 860M

v1.5.0 (dev-1546)
GSdx 0.1.16 AVX2 (r5875)
SPU2-X 2.0.0 (r5830)
Game runs at full speed with MTVU disabled.
Retroaesthetics
Trivia
Original names: 遊戯王 カプセルモンスターコロシアム (SLPM-65613)
Known Issues
Game does not boot while MTVU hack is enabled.
Type: Note (not an issue)
Description: Game will hang on a black screen while booting.
Workaround: Go to Config > Emulation Settings > Speedhacks tab, and disable the 'MTVU (Multi-Threaded microVU1)' hack.