Worms 3D: Difference between revisions
 

(4 intermediate revisions by one other user not shown)
Line 3:
Line 3:

|image            = Worms_3d.jpg

|image            = Worms_3d.jpg

|caption          =

|caption          =

|developer        = Team17

|developer        =

|publisher        = [[Sega]] (EU), [[Acclaim]] (NA)

|publisher        = [[Sega]] (EU), [[Acclaim]] ()

|genre            = Strategy

|genre            =

|wikipedia        = [http://en.wikipedia.org/wiki/Worms_3D Link]

|wikipedia        = [http://en.wikipedia.org/wiki/Worms_3D Link]

|reviewlinks      = [http://www.ign.com/games/worms-3/ps2-552307 IGN]

|gameinfo          = Worms 3D pits four players--each with a customizable team of worms--against one another in fully deformable landscapes. All the bizarre weapons from the Worms series--including Banana Bomb, flying Super Sheep, Earthquakes, Air Strikes, and Holy Hand Grenade--appear for your destructive pleasure.

|reviewscore      = 7/10

|gameinfo          = Worms 3D pits four players--each with a customizable team of worms--against one another in fully deformable landscapes. All the bizarre weapons from the Worms series--including Banana Bomb, flying Super Sheep, Earthquakes, Air Strikes, and Holy Hand Grenade--appear for your destructive pleasure.

|gamefaqslink      = [http://www.gamefaqs.com/ps2/914698-worms-3d Link]

|gamefaqslink      = [http://www.gamefaqs.com/ps2/914698-worms-3d Link]

<!-- NTSC-U props -->

<!-- NTSC-U props -->

|NTSCU            = 1

|NTSCU            = 1

Line 118:
Line 126:

<!-- Remove comment signs and add issues here -->

<!-- Remove comment signs and add issues here -->

<!-- IssueLevel is issue severity level -1,0,1 or 2 (note, minor, serious and major accordingly)-->

<!-- IssueLevel is issue severity level -1,0,1 or 2 (note, minor, serious and major accordingly)-->

<!--

==Known Issues==

==Known Issues==






{{Issue

{{Issue

|IssueName=

|IssueName=

|IsFixed=

|IsFixed=

|IssueLevel=

|IssueLevel=

|Description=

|Description=

|Workaround=

|Workaround=

}}

}}

-->

 






==The gallery==

==The gallery==
---
Latest revision as of 19:21, 11 March 2021
Developer(s): Team 17
Publisher(s): Sega (EU), Acclaim (US)
Genre: Turn-based strategy
Wikipedia: Link
Game review links: IGN: 7/10, Metacritic: 70/100
Game description: Join the party as worm battles ensue across 3D worlds. Worms 3D pits four players--each with a customizable team of worms--against one another in fully deformable landscapes. All the bizarre weapons from the Worms series--including Banana Bomb, flying Super Sheep, Earthquakes, Air Strikes, and Holy Hand Grenade--appear for your destructive pleasure. Wreak havoc in turn-based multiplayer action or unlock landscapes, sound sets, challenges, and secret missions in the immersive single-player mode.

Worms 3D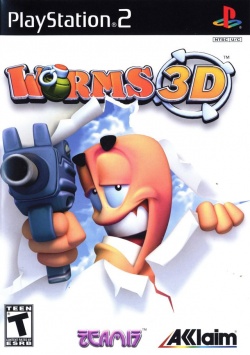 Game general and emulation properties:
Region NTSC-U:
Serial numbers:
SLUS-20894
Release date:
March 11, 2004
Windows Status:
Playable
Linux Status:
?
Mac Status:
?
Region PAL:
Serial numbers:
SLES-51843
Release date:
October 31, 2003
Windows Status:
Playable
Linux Status:
?
Mac Status:
?

Test configurations on Windows:
Environment
Configurations
Comments
Tester
Region
OS
CPU/GPU
Revision
Graphics
Sound/Pad
PAL
Windows

Intel Core i5-3470 3.20Ghz
Nvidia GeForce GTX 650

1.1.0.5620
GSDX

SPU2-X
LilyPad svn 0.11.0

Europe v02.00(14/06/2004), INTC, Wait Loop Detection, microVU and MTVU, Nothing, Minor graphic glitches in the sky (some

weird polygons). It doesn't get ingame, hangs on loading screen showing TBL Miss errors. Sometimes it manages to get ingame, but just with the "Please No More Islands" map. Ingame, console is filled with "microVU1 Warning: Exiting... Block contains an illegal opcode." It plays fine, but that's it! For that, my verdict is "menus"..., Minor graphical glitches in the sky, hangs at loading screen. It only gets in game with pure luck and only with one map.

 LoStraniero1991

PAL
Windows

Intel Core 2 Duo @ 3.4Ghz
Nvidia 210 1024MB

1.1.0.r0 - compiled on Feb 1 2014
GSDX
Europe v02.00(14/06/2004), Steal EE1, VU0, INTC, Wait LOOP, Fast DVD, None, about 2 hours, None

 ROTOR

PAL
?

AMD FX-8350 8-core
AMD Radeon HD 7700

1.1.0.5730
GSDX 5727 0.1.16

SPU2-X 5729 2.0.0
LilyPad 5403 0.11.0

BIOS: USA v2.30, Runs at full speed most of the time at up to 3x scaling, slows down with visual effects such as water and rain.
EddieHimself
NTSC-U/PAL
Windows
1.3 Git 28 of May
GSDX
USA v02.20(10/02/2006)

 DESTRUIDOR
Known Issues
stuck on the loading screen.
Status: Active
Type: Serious
Description: game gets stuck on the loading screen.
Workaround: move the EE cyclerate to -1
The gallery