Valkyrie Profile 2: Silmeria: Difference between revisions
Jump to navigation
Jump to search
Line 53:
Line 53:

|Comments=HACKS: VU-Add Hack (Tri-Ace games boot fix), Set the Interlace Mode to Bob Tff (use Blend if shaking) to make the game look smooth. Needs a fast CPU and GPU. It will need at least a Core 2 Duo @ 3.4 GHz and a 9600GT or equivalent to maintain full speed throughout the game. However, the game has some bugs and will drop FPS to around the 20-50 range. It only happens in some areas of the game.

|Comments=HACKS: VU-Add Hack (Tri-Ace games boot fix), Set the Interlace Mode to Bob Tff (use Blend if shaking) to make the game look smooth. Needs a fast CPU and GPU. It will need at least a Core 2 Duo @ 3.4 GHz and a 9600GT or equivalent to maintain full speed throughout the game. However, the game has some bugs and will drop FPS to around the 20-50 range. It only happens in some areas of the game.

|Tester=Master DX

|Tester=Master DX

}}

}}

{{TestingFooter}}

{{TestingFooter}}

Line 79:
Line 93:





{{Issue

{{Issue

|IssueName=Ghosting on some maps

|IssueName=Ghosting on some

|IsFixed=0

|IsFixed=0

|IssueLevel=0

|IssueLevel=0
---
Revision as of 20:55, 18 June 2015
Valkyrie Profile 2: Silmeria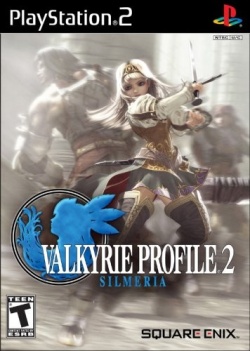 Valkyrie Profile 2: Silmeria NTSC-U Boxart
Region NTSC-U:
Serial numbers:
SLUS-21452
Release date:
September 26, 2006
CRCs:
CC96CE93
Windows Status:
Playable
Linux Status:
?
Mac Status:
?
Region PAL:
Serial numbers:
SLES-54644 (PAL-E)


SLES-54645 (PAL-F)


SLES-54647 (PAL-I)
Release date:
July 7, 2007
CRCs:
04CCB600 (PAL-E)
C70FC973 (PAL-I)
Windows Status:
?
Linux Status:
?
Mac Status:
?
Region NTSC-J/C/K:
Serial numbers:
SLPM-66419
Release date:
June 22, 2006
Windows Status:
?
Linux Status:
?
Mac Status:
?
Developer(s): tri-Ace
Publisher(s): Square Enix
Genre: RPG
Wikipedia: Link
Game review links: GameSpot
Game review score: 84/100
Game description: This is the second installment in the Valkyrie Profile series.


Test configurations on Windows:
Environment
Configurations
Comments
Tester
Region
OS
CPU/GPU
Revision
Graphics
Sound/Pad
NTSC-U
?

Intel Core i7-920 @ 3.6 GHz
EVGA GeForce GTX 275 CO-OP PhysX Edition 1280MB

r1888
GSdx 2660

SPU2-X r2663 1.4.0
LilyPad (r1853) 0.10.0

HACKS: VU-Add Hack (Tri-Ace games boot fix), Set the Interlace Mode to Bob Tff (use Blend if shaking) to make the game l

ook smooth. Needs a fast CPU and GPU. It will need at least a Core 2 Duo @ 3.4 GHz and a 9600GT or equivalent to maintain full speed throughout the game. However, the game has some bugs and will drop FPS to around the 20-50 range. It only happens in some areas of the game.

Master DX
NTSC-U
Windows 7

Intel Core i7-920 @ Stock
EVGA GeForce GTX 660 Sig2

1.3.1-20150618194957
GSdx - 20150618194957

SPU2-X - 20150618194957
LilyPad - 20150618194957

Mostly runs Full speed with MTVU and 3x native DX11 and OpenGL, Use TC Offset x/y to fix minor ghosting on some screens as noted below
Tsunami2311
Trivia
Holding the triangle and X buttons while the game boots up allows the selection of Progressive Scan mode. Interlacing can be disabled.
Known Issues
Ghosting on some screens
Status: Active
Type: Minor
Description: Valkyrie Profile 2 suffers from ghosting similar to Tales of the Abyss. This issue only occurs on certain maps.
Workaround: Under GSdx options, Enable HW Hacks, and then set TC Offset X: 450, and TC Offset Y: 250. Alternatively you may also use the Alpha Hack, but this will remove all the effects from the game.
Crash while attempting to adjust speaker position under Options.
Status: Active
Type: Serious
Description: The game will freeze when you attempt to adjust the speaker position under Options. The Console log will display various 'TLB Miss' errors.
Workaround: This is caused by one of the Widescreen Patches. If you want to change this Option, start the game without Widescreen Patches and adjust the options to your liking. Feel free to enable the Widescreen patches again afterwards.
Update: After doing some further testing, the crashing in the menus occur at other parts as well. They do not occur with the WS patches disabled. It's recommended to just use Valkyrie Profile's native 16:9 option rather than using the patch until this issue is completely fixed. (It most likely has to do with the security of the game against cheating, but the exact cause is still unknown as of right now)
Bad rendering in Hardware mode. (Affects certain areas only)
Status: Active
Type: Serious
Description: In some areas of the game (in particular the Forest area at the start of the game), there will be a purple effect all over the screen. You can still advance, but it will be very difficult to move around without being able to see where you are exactly.
Workaround: The only known solution for this is to use Software mode. Press F9 while playing to switch to Software mode.

Note: For best performance, make sure you set Extra rendering threads to 3 under GSdx's options if your CPU is a quad-core processor.
Vertical lines during FMVs.
Status: Active
Type: Serious
Description: Some FMVs will have vertical lines on them, some will be barely noticeable while others are visible on the entire screen. It doesn't affect the game much itself as everything is still visible.
Workaround:

Press F9 to switch to Software Mode.

Alternatively, enabling 'Alpha Hack' on GSdx fixes the vertical lines on certain FMVs. (GSdx r5221 and higher)
Enable HW Hacks > Configure > Alpha Hack
Cutscene freezes
Status: Active
Type: Serious
Description: The cutscene before you fight Queen Wasp will freeze. After opening the locked gate at Turgen Mines and going to the next room, a cutscene will play but will not progress.
Workaround: Press "start" to skip the cutscene. The boss battle will resume after skipping it.
Fixed Issues
Framerate drops, and zooming issues. (Only affects NVIDIA cards)
Status: Fixed
Type: Minor
Description: Using Direct3D11 (Hardware) on an NVIDIA card will cause a drop in frame rates and the game menus will zoom in and out.
Workaround: Enable the NVIDIA Hack or run the game in Progressive Scan mode. Information enabling Progressive Scan can be found under the Trivia section.
Ravine Cavern Rush (Fixed in v0.9.7)
Status: Fixed
Type: Serious
Description: Some areas will be covered in fog making it hard to see anything at all (This was an old GSdx problem where fog was not rendered correctly.)
Workaround: N/A (Fixed)
Tower of Lezard Valeth (Fixed in v0.9.7)
Status: Fixed
Type: Minor
Description: The fog in the first section of the dungeon will be dark, making the entire area a bit difficult to see. The character textures however, will still be visible.
Workaround: N/A (Fixed)
Screenshots