Valkyrie Profile 2: Silmeria: Difference between revisions
Jump to navigation
Jump to search
Line 79:
Line 79:

|IssueLevel=1

|IssueLevel=1

|Description=Screen will have Black/Purple vertical lines everywhere and sometimes will be unable to see character.

|Description=Screen will have Black/Purple vertical lines everywhere and sometimes will be unable to see character.

|Workaround=Not yet resolved! Use the map to see the monsters and platforms to get through it, If unable to see properly. The alternative would be to use Software Mode, though be warned that it will be very very slow...... You can also try setting Skipdraw in GSdx (see above in Windows Spec Comments) to a value of 4, you will notice some background flickering problems.

|Workaround=and use , that . You can also try setting Skipdraw in GSdx (see above in Windows Spec Comments) to a value of 4, you will notice some background flickering problems.

}}

}}





---
Revision as of 03:53, 14 August 2014
Valkyrie Profile 2: Silmeria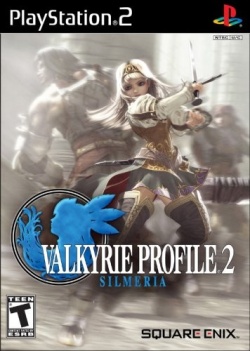 Valkyrie Profile 2: Silmeria NTSC-U Boxart
Region NTSC-U:
Serial numbers:
SLUS-21452
Release date:
September 26, 2006
CRCs:
CC96CE93
Windows Status:
Playable
Linux Status:
?
Mac Status:
?
Region PAL:
Serial numbers:
SLES-54644 (PAL-E)


SLES-54645 (PAL-F)


SLES-54647 (PAL-I)
Release date:
July 7, 2007
CRCs:
04CCB600 (PAL-E)
C70FC973 (PAL-I)
Windows Status:
?
Linux Status:
?
Mac Status:
?
Region NTSC-J:
Release date:
June 22, 2006
Windows Status:
?
Linux Status:
?
Mac Status:
?
Developer(s): tri-Ace
Genre: Role-Playing Game (RPG)
Wikipedia: Link
Game review links: Link
Game review score: Metacritic: 84
Game description: The second installment in the Valkyrie Profile series. The game needs a high-end computer to maintain full speed in pcsx2. Some minor issues will arise throughout the game but, there are some walk-around for it, see Known Issues below



Test configuration on Windows:
| | |
| --- | --- |
| PCSX2 version: | r1888 |
| Graphics by GSDX: | 2660 |
| Sound by SPU2: | SPU2-X r2663 1.4.0 |
| Pad plugin is LilyPad: | (r1853) 0.10.0 |
| DVD plugin is Linuz ISO: | 0.8.0 |
| BIOS version: | Any |
Comments: Set the Interlace Mode to Bob Tff (use Blend if shaking) to make the game look smooth.

If you are playing a localized PAL version of the game (e.g. the Italian one) you may experience slowdowns due to high GPU usage. To fix this add
allowhacks=1
to your GSdx.ini, then open GSdx Config window and set Skipdraw to 1. This fix will only work on recent GSdx revisions and will cause some image persistence glitches during fights.
Hack comments: VU-Add Hack (Tri-Ace games boot fix)

Test configuration on Linux:

PC specs used to test the game:
| | |
| --- | --- |
| CPU: | Intel Core i7 920 @ 3.6GHz |
| GPU: | EVGA GTX 275 CO-OP PhysX Edition 1280mb |
Comments: Very Intense game, needs a fast CPU and GPU. It will need at least a Core 2 duo @ 3.4GHz and a 9600GT or equivalent to maintain full speed throughout the game. However, the game has some bugs and will drop FPS to around the 20-50 range due to some errors and whatnots not yet fixed in this Revision of the emulator. Don't worry, it only happens in some areas of the game. To know more scroll down to see the Known Issues below. You can also hold triangle and X buttons while the game boots up to enable 525p mode in full/widescreen so interlacing can be disabled.
Known Issues
Lost Forest
Status: Active
Type: Serious
Description: Screen will have Black/Purple vertical lines everywhere and sometimes will be unable to see character.
Workaround: Old bug Hit F9 and use software mode with like 3 Extra rendering threads should fix low FPS till out of the forest, There is also another Forest in the game that has same problem. You can also try setting Skipdraw in GSdx (see above in Windows Spec Comments) to a value of 4, you will notice some background flickering problems.
Cutscenes Image Distortion
Status: Active
Type: Serious
Description: Some cutscenes will have vertical lines on them, some will be barely noticeable while others will be on the whole screen. Doesn't affect the game much, everything can be seen.
Workaround: Software Mode!

Alternatively: Enabling Alpha Hack on GSDX fixed the cutscene lines! (GSDX version 5221) Enable HW Hacks > Configure > Alpha Hack
Image Ghosting
Status: Active
Type: Minor
Description: On world map you can see images ghosting out and on certain map you can see ghosting on characters and other 3d images more noticeable on some maps less so on others (Battles are unaffected by this)
Workaround: Software Mode!

Alternatvely: Enable HW Hacks >TC Offset X = 175 TC Offset Y = 250 Best setting I could find
Alternatvely: Enable HW Hacks >Half Pixal Offset This does seem to fix ghost to extent on character and other stuff, but seem to cause of graphic issues TC Offset works best
Ravine Cavern Rush (Fixed in v0.9.7)
Status: Fixed
Type: Serious
Description: Some areas will be covered in Fog making you unable to see anything at all (GSDX Problem - can't render fog properly yet).
Workaround: Not yet resolved! Rush through it using the on-screen map or look up a video/walkthrough guide and do what they tell you to do.
Tower of Lezard Valeth (Fixed in v0.9.7)
Status: Fixed
Type: Minor
Description: The Fog in the first section of the dungeon will be dark, making the whole area a little hard to see, character will be visible so it's nothing too serious.
Workaround: Not yet resolved!
Cutscene Freeze
Status: Active
Type: Serious
Description: Cutscene before fighting Queen Wasp Freeze. After opening the locked gate at Turgen Mines and going to the next room, a cutscene will play but will not progress.
Workaround: Press "start" to skip the cutscene. The boss battle will resume after skipping it.