Tony Hawk's American Wasteland: Difference between revisions
Jump to navigation
Jump to search
m

 

(19 intermediate revisions by 7 users not shown)
Line 1:
Line 1:

{{info-stub}}

{{infobox

{{infobox

|image            =

|image            =

|caption          =

|caption          =

|developer        =

|developer        =

|genre            =

|gameinfo          =

|genre            =

|wikipedia        =

|gameinfo          =

|reviewlinks      =

|wikipedia        =

|reviewscore       =

|reviewlinks      =

|

      =

<!-- NTSC-U props -->

<!-- NTSC-U props -->

|NTSCU            = 1

|NTSCU            = 1

|serialsNTSCU      =

|serialsNTSCU      =

|CRCsNTSCU        =

|CRCsNTSCU        =

|releasedateNTSCU  =

|releasedateNTSCU  =

|statusNTSCU      = 2

|statusNTSCU      = 2

|linuxstatusNTSCU  =

|linuxstatusNTSCU  =

Line 20:
Line 34:

<!-- PAL props -->

<!-- PAL props -->

|PAL              = 1

|PAL              = 1

|serialsPAL        =

|serialsPAL        =

|CRCsPAL          =

|CRCsPAL          =

|releasedatePAL    =

|releasedatePAL    =

|statusPAL        = 2

|statusPAL        = 2

|linuxstatusPAL    =

|linuxstatusPAL    =

|macstatusPAL      =

|macstatusPAL      =

<!-- NTSC-J props -->

<!-- NTSC-J props -->

|NTSCJ            = 1

|NTSCJ            =

|serialsNTSCJ      =

|serialsNTSCJ      =

|CRCsNTSCJ        =

|CRCsNTSCJ        =

Line 43:
Line 57:

|OS=Windows

|OS=Windows

|CPU=Intel Core i7 3770K @ 3.50Ghz

|CPU=Intel Core i7 3770K @ 3.50Ghz

|GPU=Nvidia Geforce GTX 670 (2GB)

|GPU=Nvidia GTX 670 (2GB)

|Revision=1.0.0

|Revision=1.0.0

|Graphics=GSDX

|Graphics=

|Sound=

|Sound=

*SPU2-X

*SPU2-X

Line 73:
Line 87:

|GPU=Nvidia GTX 570 1368MB

|GPU=Nvidia GTX 570 1368MB

|Revision=1.1.0 r5829

|Revision=1.1.0 r5829

|Graphics=GSDX

|Graphics=

|Sound=

|Sound=

*SPU2-X

*SPU2-X

Line 84:
Line 98:

|Region=NTSC-U

|Region=NTSC-U

|OS=Windows

|OS=Windows

|CPU=I5 3330

|CPU=3330

|GPU=HD radeon 6850

|GPU=HD 6850

|Revision=1.3 Git 5 of june

|Revision=1.3 Git 5 of june

|Graphics=GSDX

|Graphics=

|Sound=

|Sound=

*SPU2-X

*SPU2-X

*?

*?

|Comments=USA v02.20(10/02/2006), EE/VU Clamp: Extra+Preserve Sign ,Completed.*, EE/VU Rounding: More nearbie+More nearbie*, Hardware and software looks fine,mainly hardware., Status

|Comments=USA v02.20(10/02/2006), EE/VU Clamp: Extra+Preserve Sign, Completed.*, EE/VU Rounding: More nearbie+More nearbie*, Hardware and software looks fine,mainly hardware., Status

|Tester={{ForumUser|DESTRUIDOR}}

|Tester={{ForumUser|DESTRUIDOR}}

}}

}}

{{TestingFooter}}

{{TestingFooter}}






<!--

{{TestingHeader|OS=Linux}}

{{TestingHeader|OS=Linux}}

{{TestingEntry

{{TestingEntry

|Status=?

|Status=

|Region=?

|Region=

|OS=?

|OS=

|CPU=?

|CPU=

|GPU=?

|GPU=

|Revision=?

|Revision=

|Graphics=?

|Sound=?

|Comments=?

|Tester=?

|Graphics=

|Sound=

|Comments=

|Tester=

}}

}}

{{TestingFooter}}

{{TestingFooter}}

-->










<!-- Remove comment signs and add issues here -->

<!-- IssueLevel is issue severity level -1,0,1 or 2 (note, minor, serious and major accordingly)-->

<!-- IssueLevel is issue severity level -1,0,1 or 2 (note, minor, serious and major accordingly)-->

<!--

==Known Issues==

==Known Issues==

{{Issue

{{Issue

|IssueName=

|IssueName=

|IsFixed=

|IsFixed=

|IssueLevel=

|IssueLevel=

|Description=

|Description=

|Workaround=

|Workaround=

}}

}}

-->






==The gallery==

==The gallery==

Line 136:
Line 183:

</gallery>

</gallery>






[[Category:temp Navbox required]]






{{ForumLinksList|list=

{{ForumLinksList|list=

*[http://forums.pcsx2.net/Thread-Tony-Hawk-s-American-Wasteland-SLES-53534-E--29303 Tony Hawk's American Wasteland (SLES 53534) (E)]

*[http://forums.pcsx2.net/Thread-Tony-Hawk-s-American-Wasteland-SLES-53534-E--29303 Tony Hawk's American Wasteland (SLES 53534) (E)]

*[http://forums.pcsx2.net/Thread-Tony-Hawk-s-American-Wasteland-SLUS-21208-U--29558 Tony Hawk's American Wasteland (SLUS 21208) (U)]

*[http://forums.pcsx2.net/Thread-Tony-Hawk-s-American-Wasteland-SLUS-21208-U--29558 Tony Hawk's American Wasteland (SLUS 21208) (U)]

*[http://forums.pcsx2.net/Thread-Tony-Hawk-s-American-Wasteland-Collector-s-Edition-SCUS-21295-U Tony Hawk's American Wasteland Collector's Edition (SCUS 21295) (U)]}}

*[http://forums.pcsx2.net/Thread-Tony-Hawk-s-American-Wasteland-Collector-s-Edition-SCUS-21295-U Tony Hawk's American Wasteland Collector's Edition (SCUS 21295) (U)]}}
---
Latest revision as of 09:01, 18 August 2022
Tony Hawk's American Wasteland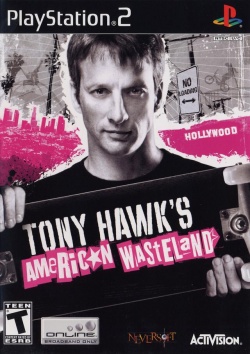 Game general and emulation properties:
Region NTSC-U:
Serial numbers:
SLUS-21208
SLUS-21295 (Collector's Edition)
SLUS-21208GH (Greatest Hits)
Release date:
October 18, 2005
Windows Status:
Playable
Linux Status:
?
Mac Status:
?
Region PAL:
Serial numbers:
SLES-53534
SLES-53534/P (Platinum)
SLES-53535
Release date:
October 28, 2005
October 12, 2006 (Platinum)
Windows Status:
Playable
Linux Status:
Playable
Mac Status:
?
Developer(s): Neversoft Entertainment
Publisher(s): Activision
Genre: Sports
Wikipedia: Link
Game review links: Metacritic: 77/100
Game description: Now you can cruise through LA without loading levels or stopping gameplay in Tony Hawk's American Wasteland. You can skate or BMX through a new story mode that takes you through all-new skate areas using tricks that have never appeared in previous Tony Hawk games. The cash that you earn can be used to customize your equipment and your skater by going to tattoo parlors and skate shops. Tony Hawk's American Wasteland also includes a classic mode that features classic Tony Hawk Pro Skater maps and objectives.


Test configurations on Windows:
Environment
Configurations
Comments
Tester
Region
OS
CPU/GPU
Revision
Graphics
Sound/Pad
NTSC-U
Windows

Intel Core i7 3770K @ 3.50Ghz
Nvidia GeForce GTX 670 (2GB)

1.0.0
GSdx
USA v01.60(07/02/2002), The only problems I encountered were graphical, but they were such major graphical problems that the game is hardly playable at all,

 oxguy3

NTSC-U
Windows

Intel Core i7 @ 3.4Ghz
Nvidia GTX 285 768MB

1.1.0 r5517
GSdx 5464 SSE41

SPU2-X 2.0.0
LilyPad 0.11.0

Picture has lines in it if gsdx is in hardware mode. Hardware and software modes have a ton of missing and disappearing environment graphics.

 General-Plot

PAL
Windows

Intel Core i7 @ 3.8Ghz
Nvidia GTX 570 1368MB

1.1.0 r5829
GSdx
Europe v01.70(27/02/2003), EE/VU Rounding: Chop/Nearest, INTC Spin Detection, Enable Wait Loop Detection, mVU Flag Hack, Goes from Ingame to Playable. Game works fine at a good speed. Software mode or Skipdraw set to 4 required to remove stripes from the screen, however the skipdraw method leaves a faint overlay, but can be tollerated. MTVU must be disabled else the game will not boot and VU Rounding set to "Nearest" to fix the majority of the graphics problems.

 refraction

NTSC-U
Windows

Intel Core i5 3330
AMD Radeon HD 6850

1.3 Git 5 of june
GSdx
USA v02.20(10/02/2006), EE/VU Clamp: Extra+Preserve Sign, Completed.*, EE/VU Rounding: More nearbie+More nearbie*, Hardware and software looks fine,mainly hardware., Status

 DESTRUIDOR

NTSC-U
Windows 10 Home 64-bit

Intel Core i5 4460 @ 3.20GHz
ATI AMD Radeon R7 200 Series

1.6.0
GSdx 9
SPU2-X
Runs at full speed with no major graphical issues. The initial loading screen is completely black except for the loading bar, but there are no glitches other than that.

 Valzentia

Test configurations on Linux:
Environment
Configurations
Comments
Tester
Region
OS
CPU/GPU
Revision
Graphics
Sound/Pad
PAL
Debian 10

Intel Core i5-4570 CPU @ 3.20 GHz
NVIDIA GeForce GTX 760 2 GB

1.6.0

GSdx 1.2.0 AVX2

SPU2-X 2.0.0
OnePAD 0 2.0.0

Runs at full speed without issues.
Ratchet66
Trivia
The game has a built in 16:9 widescreen mode that results in a larger portion of the world being visible.
Known Issues
Ghosting around game image
Status: Active
Type: Minor
Description: Game has a ghosting effect around characters/objects.
Workaround: Enable HW Hacks and tick Wild Arms offset. Setting texture offset to X = 75 and Y = 150 also improves this further.
Fixed Issues
Status: Fixed
Type: Major
Description: Crashes in menu after trying to show 3D objects.
Workaround: This should be automatically fixed as long as Automatic Gamefixes is enabled on the System tab. You can manually enable the fix by going to Config > Emulation Settings > VUs tab, and setting "Round Mode" to "Nearest".
Black screen on boot
Type: Note (not an issue)
Description: Game freezes on the first loading screen.
Workaround: Go to Config > Emulation Settings > Speedhacks tab, and disable the "MTVU (Multi-Threaded microVU1)" speedhack.
The gallery