Thrillville: Difference between revisions
Jump to navigation
Jump to search
Line 1:
Line 1:

 

{{infobox

{{infobox game

|image            = Thrillville.jpeg

|image            = Thrillville.jpeg

|caption          = NTSC Cover Art  

|caption          = NTSC Cover Art  

Line 25:
Line 24:

|linuxstatusPAL    =

|linuxstatusPAL    =

|macstatusPAL      =

|macstatusPAL      =

<!-- Windows specs -->

|pcsx2ver          = PCSX2 1.2.1 r5875

 

|gsname            = GSdx

|gsver            = r5875

<!-- Windows -->

|soundname        = SPU2-X

|=

|soundver          = r5830

|padname          = LilyPad

|=

|padver            = r5822

|=

|dvdplugname      = Linuz Iso CDVD

|=

|dvdplugver        = 0.9.0

|=

|biosver          = SCPH39001

|hacks            =  

|=

|fpsinfo          = Runs at 60fps.

|=..

|comment          = Although, the game runs fine, this game does contain various graphical issues (see below).

|=

|=

|=Although, the game runs fine, this game does contain various graphical issues (see below).

*When starting the game, it ''shakes''. In order to fix this, you must go to GSdx's settings and set '''Interlacing''' to '''Bob bff'''.

*When starting the game, it ''shakes''. In order to fix this, you must go to GSdx's settings and set '''Interlacing''' to '''Bob bff'''.

*There is a moderate slow down when opening in-game menus.

*There is a moderate slow down when opening in-game menus.

Line 45:
Line 48:

*The '''MTVU''' hack and setting '''EE Cyclerate''' to 3, '''breaks the game'''.

*The '''MTVU''' hack and setting '''EE Cyclerate''' to 3, '''breaks the game'''.

*Keep note: Performance may vary in mini-games.

*Keep note: Performance may vary in mini-games.






<!-- Linux specs -->

<!--

|linuxpcsx2ver    =

|=

|linuxgsname      =

|linuxgsver        =

|=

|linuxsoundname    =

|=

|linuxsoundver    =

|=

|linuxpadname      =

|=

|linuxpadver      =

|=

|linuxdvdplugname  =

|=

|linuxdvdplugver  =

|=

|linuxbiosver      =

|=

|linuxhacks        =

|=

|linuxfpsinfo      =

|=

|linuxcomment      =

<!-- Minimal PC specs -->

|cputype          = AMD® A8-3800

(2.4 GHz, 100 MHz FSB)

|gputype          = ATI Radeon HD 6550D

|pccomment        = Runs at 60fps.

}}

}}






==Known Issues==

==Known Issues==
---
Revision as of 06:40, 14 August 2014
Thrillville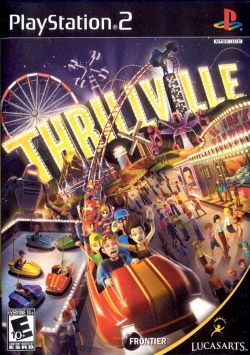 NTSC Cover Art
Region NTSC-U:
Serial numbers:
SLUS-21413
Release date:
November 21, 2006
CRCs:
172417DB
Windows Status:
Playable
Linux Status:
?
Mac Status:
?
Region PAL:
Release date:
December 1, 2006
Windows Status:
?
Linux Status:
?
Mac Status:
?
Developer(s): Frontier Developments
Genre: Tycoon, Action, Party, Minigames, RPG
Wikipedia: Link
Game review links: IGN
Game review score: 7.5 (IGN)
Game description: Build roller coasters, play mini-games with friends, and manage theme parks.


Test configurations on Windows:
Environment
Configurations
Comments
Tester
Region
OS
CPU/GPU
Revision
Graphics
Sound/Pad
?
?

(2.4 GHz, 100 MHz FSB)

PCSX2 1.2.1 r5875
GSdx r5875

SPU2-X r5830
LilyPad r5822

BIOS: SCPH39001, Although, the game runs fine, this game does contain various graphical issues (see below).

•When starting the game, it shakes. In order to fix this, you must go to GSdx's settings and set Interlacing to Bob bff. •There is a moderate slow down when opening in-game menus.

Other info: •The MTVU hack and setting EE Cyclerate to 3, breaks the game. •Keep note: Performance may vary in mini-games. , Runs at 60fps.

?
Known Issues
Cutscenes black overlay
Status: Active
Type: Serious
Description: Cutscenes have a black overlay covering half of the video (Present in Hardware and Software rendering)
Workaround: There are no fixes for this yet.
Flickering in cutscenes
Status: Active
Type: Minor
Description: When using a custom resolution, flickering occurs to cutscenes (and sometimes outside cutscenes).
Workaround: It is recommended to use either Native resolution or Scaled resolution.
Misaligned bloom
Status: Active
Type: Minor
Description: When upscaling the game, the bloom is misaligned
Workaround: To fix this enable HW Hacks on the GSdx plugin and check Half-pixel offset.
Effects texture issues
Status: Active
Type: Minor
Description: Various effects, such as smoke and the sun, have texture issues
Workaround: This is not present in Software rendering.