The Sims: Difference between revisions
Jump to navigation
Jump to search
m

No edit summary

Line 1:
Line 1:

{{info-stub}}






{{infobox game

{{infobox game

|image            =

|image            =

|caption          =

|caption          =

|developer        =

|developer        =

|genre            =

|genre            =

|gameinfo          =

|gameinfo          =

|wikipedia        =

|wikipedia        =

|reviewlinks      =

|reviewlinks      =

|reviewscore      =

|reviewscore      =

<!-- NTSC-U props -->

<!-- NTSC-U props -->

|NTSCU            = 1

|NTSCU            = 1

|serialsNTSCU      =

|serialsNTSCU      =

|CRCsNTSCU        =

|CRCsNTSCU        =

|releasedateNTSCU  =

|releasedateNTSCU  =

|statusNTSCU      =

|statusNTSCU      =

|linuxstatusNTSCU  =

|linuxstatusNTSCU  =

|macstatusNTSCU    =

|macstatusNTSCU    =

Line 22:
Line 21:

|serialsPAL        =

|serialsPAL        =

|CRCsPAL          =

|CRCsPAL          =

|releasedatePAL    =

|releasedatePAL    =

|statusPAL        =

|statusPAL        =

|linuxstatusPAL    =

|linuxstatusPAL    =

|macstatusPAL      =

|macstatusPAL      =

<!-- NTSC-J props -->

|NTSCJ            = 1

|serialsNTSCJ      =

|CRCsNTSCJ        =

|releasedateNTSCJ  =

|statusNTSCJ      =

|linuxstatusNTSCJ  =

|macstatusNTSCJ    =

<!-- Windows specs -->

<!-- Windows specs -->

|pcsx2ver          =  

|pcsx2ver          =

|gsname            =  

|gsname            =

|gsver            =  

|gsver            =

|soundname        =  

|soundname        =

|soundver          =  

|soundver          =

|padname          =  

|padname          =

|padver            =  

|padver            =

|dvdplugname      =  

|dvdplugname      =

|dvdplugver        =  

|dvdplugver        =

|biosver          =  

|biosver          =

|hacks            =  

|hacks            =  

|fpsinfo          =  

|fpsinfo          =  

|comment          =  

|comment          =

<!-- Linux specs -->

<!-- Linux specs -->

|linuxpcsx2ver    =

|linuxpcsx2ver    =
---
Revision as of 02:18, 17 July 2011
The Sims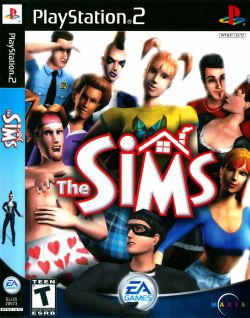 The Sims
Region NTSC-U:
Serial numbers:
SLUS-20573
Release date:
January 12, 2003
CRCs:
A4B3D285
Windows Status:
Broken
Linux Status:
?
Mac Status:
?
Region PAL:
Release date:
January 31, 2003
Windows Status:
?
Linux Status:
?
Mac Status:
?
Developer(s): Maxis
Genre: Simulation
Wikipedia: http://en.wikipedia.org/wiki/The_Sims
Game review links: http://ps2.ign.com/objects/017/017231.html
Game review score: 8.0/10
Game description: The Sims is a game created by game designer Will Wright. The goal of the game is to control one or more "Sims" in their day-to-day lives.



Test configuration on Windows:
Comments: Will not boot.

Test configuration on Linux:

PC specs used to test the game: