The Getaway: Black Monday: Difference between revisions
Jump to navigation
Jump to search
m

 

(29 intermediate revisions by 5 users not shown)
Line 1:
Line 1:

 

{{infobox

 

{{infobox game

|image            = The Getaway Black Monday.jpg

|image            = The Getaway Black Monday.jpg

|caption          = PAL cover

|caption          =

|developer        = Team SOHO

|developer        =

|genre            = Action-Adventure

|wikipedia        = https://en.wikipedia.org/wiki/The_Getaway:_Black_Monday

|genre            = ActionAdventure

|gameinfo          = The Getaway: Black Monday is an action-adventure open world video game, developed by SCE London Studio and distributed by Team Soho, it was released in 2004 for the PlayStation 2. It is a sequel to The Getaway. Unlike other open-world action-adventure games of this time such as Grand Theft Auto Vice City and Driver III, this game features licensed vehicles from several brands to add to the realism. It follows 3 main protagonists: Sgt Ben "Mitch" Mitchell, Eddie O'Connor and Sam Thompson, each with their own unique abilities.

|wikipedia        = https://en.wikipedia.org/wiki/The_Getaway:_Black_Monday

|gameinfo          = The Getaway: Black Monday -, London, for . to .

Unlike other open-world action-adventure games of this time such as Grand Theft Auto Vice City and Driver III, this game features licensed vehicles from several brands to add to the realism. It follows 3 main protagonists: Sgt Ben "Mitch" Mitchell, Eddie O'Connor and Sam Thompson, each with their own unique abilities.

<!-- NTSC-U props -->

<!-- NTSC-U props -->

|NTSCU            = 1

|NTSCU            = 1

|serialsNTSCU      = SCUS 97408

|serialsNTSCU      = SCUS97408

|CRCsNTSCU        =

|CRCsNTSCU        =

|releasedateNTSCU  = 11 January 2005

|releasedateNTSCU  = 112005

|statusNTSCU      = 2

|statusNTSCU      = 2

|linuxstatusNTSCU  =

|linuxstatusNTSCU  =

Line 18:
Line 38:

<!-- PAL props -->

<!-- PAL props -->

|PAL              = 1

|PAL              = 1

|serialsPAL        =

|serialsPAL        =

|CRCsPAL          =

|CRCsPAL          =

|releasedatePAL    = 12 November 2004

|releasedatePAL    = 122004

|statusPAL        =

|statusPAL        =

|linuxstatusPAL    =

|linuxstatusPAL    =

|macstatusPAL      =

|macstatusPAL      =

<!-- NTSC-J props -->

<!-- NTSC-J props -->

|NTSCJ            = 1

|NTSCJ            = 1

|serialsNTSCJ      =

|serialsNTSCJ      =

|CRCsNTSCJ        =

|CRCsNTSCJ        =

|releasedateNTSCJ  = 10 November 2005

|releasedateNTSCJ  = 102005

|statusNTSCJ      =

|statusNTSCJ      =

|linuxstatusNTSCJ  =

|linuxstatusNTSCJ  =

|macstatusNTSCJ    =

|macstatusNTSCJ    =

<!-- Windows specs -->

|pcsx2ver          = 1.1.0.5730

 

|gsname            = GSDX

<!-- Windows -->

|gsver            = 5727 0.1.16

|soundname        = SPU2-X

|soundver          = 5729 2.0.0

|padname          = LilyPad

|padver            = 5403 0.11.0

|dvdplugname      = cDVDGigaherz

|=.

|dvdplugver        = 5692 0.8.0

|=

|biosver          = USA v2.30

|=.1.16

|hacks            = none

|=-

|fpsinfo          =

|=

|comment          =

2.0.0

This game is far more streamlined than the first Getaway game, and will usually have no problems holding up 50 fps or more at 3x native resolution. You should use the superVU recompiler on this game to avoid issues of other characters being able to see you/shoot you through walls.  

|=

|=..0

|=

|=

0..0

|=USA v2.30noneThis game is far more streamlined than the first Getaway game, and will usually have no problems holding up 50 or more at 3x native resolution.  

the on .






<!-- Linux specs -->

<!--

|linuxpcsx2ver    =

|=

|linuxgsname      =

|linuxgsver        =

|=

|linuxsoundname    =

|=

|linuxsoundver    =

|=

|linuxpadname      =

|=

|linuxpadver      =

|=

|linuxdvdplugname  =

|=

|linuxdvdplugver  =

|=

|linuxbiosver      =

|=

|linuxhacks        =

|=

|linuxfpsinfo      =

|=

|linuxcomment      =

<!-- Minimal PC specs -->

|cputype          = AMD FX-8350 8-core

|gputype          = AMD Radeon 7700

|pccomment        =  

}}

}}
---
Latest revision as of 11:37, 22 February 2023
The Getaway: Black Monday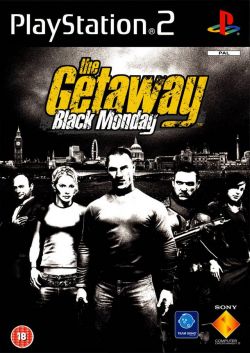 Game general and emulation properties:
Region NTSC-U:
Serial numbers:
SCUS-97408
SCUS-97441 (Demo)
Release date:
January 11, 2005
Windows Status:
Playable
Linux Status:
?
Mac Status:
?
Region PAL:
Serial numbers:
SCES-52758
SCES-52948
SCED-52946 (Demo)
SCES-52758/P
Release date:
November 12, 2004
June 10, 2005 (Platinum)
Windows Status:
Playable
Linux Status:
?
Mac Status:
?
Region NTSC-J/C/K:
Serial numbers:
SLPM-66183
Release date:
November 10, 2005
Windows Status:
?
Linux Status:
?
Mac Status:
?
Developer(s): SCEE London Studio
Publisher(s): SCEE (EU), SCEA (US), Sega (JP)
Genre: Action, Adventure
Wikipedia: Link
Game review links: Metacritic: 57/100
Game description: The Getaway: Black Monday offers more predictable driving and on-foot controls, new vehicles, a variety of mission types, and new characters. The story begins with events that take place two years after the demise of the most notorious crime boss of London's East End, Charlie Jolson. You'll take on the role of a cop, who sets out on a quest for revenge. By choosing which path to take, you must make critical decisions that influence the final outcome of the game.
Unlike other open-world action-adventure games of this time such as Grand Theft Auto Vice City and Driver III, this game features licensed vehicles from several brands to add to the realism. It follows 3 main protagonists: Sgt Ben "Mitch" Mitchell, Eddie O'Connor and Sam Thompson, each with their own unique abilities.


Test configurations on Windows:
Environment
Configurations
Comments
Tester
Region
OS
CPU/GPU
Revision
Graphics
Sound/Pad
NTSC-U
Windows

Intel Core i7 @ 3.40 GHz
NVIDIA GeForce GTX 285 @ 768 MB

1.1.0 (r5480, 2012-12-16)
GSdx SSE41 (r5442, 2012-10-29)

SPU2-X 2.0.0 [2012-11-21]
LilyPad 0.11.0 [2012-10-09]

Runs above full speed. Videos are sliced.

 General-Plot

NTSC-U
?

AMD FX-8350
AMD Radeon HD 7700

1.1.0 (r5730)
GSdx 0.1.16 (r5727)

SPU2-X 2.0.0 (r5729)
LilyPad 0.11.0 (r5403)

BIOS: USA v2.30, HACKS: none, This game is far more streamlined than the first Getaway game, and will usually have no problems holding up 50 FPS or more at 3x native resolution.
EddieHimself
NTSC-U
Windows 10

AMD Athlon II X4 750k
AMD Radeon R7 250

?

GSdx SSE41
GSdx Renderer: Direct3D11 (Hardware). 70% speed, light problems (even sun is a square), you can try to fix this using Direct3D11 (Software) but it will lag as hell.
TullioTera
PAL
Windows 7

Intel Core i5 @ 3.30 GHz
AMD Radeon HD 6000 series

1.5.0 (dev-467)
Default
Default
Use SuperVU and Blending Unit Accuracy to solve bugs described in the issue section. Playable in hardware mode with either the fog or a ghostly image visible. Game runs fairly smoothly on 3x native in hardware mode without speedhacks. Software mode is fine and doesn't have the fog or ghost images.
FlatOut
Trivia
Original names: ゲッタウェイ ブラックマンデー (SLPM-66183)
The game sets to widescreen when it is prompted by the 16:9 ratio setting in the PS2 internal menu.
Known Issues
Characters being able to see you/shoot you through walls
Status: Active
Type: Serious
Description: Other characters being able to see you/shoot you through walls.
Workaround: Go to Config > Emulation Settings, VUs tab, and set both VU0 and VU1 to SuperVU.
Semi-transparent wall
Status: Active
Type: Minor
Description: A white semi-transparent wall appears in front of the character.
Workaround: Go to Config > Video (Graphics Settings) > Plugin Settings, set Renderer to "OpenGL (Hardware)" and set Blending Unit Accuracy to at least "High". A depth issue will now be visible causing a ghost image to appear at certain angles. Alternatively set Renderer to any of the "(Software)" options to avoid both issues. For NTSC-U versions make sure CRC Hack Level is set to "Full" if the issue does appear.
Missing shadows in Direct3D 11 and Direct3D 12 Hardware renderers
Status: Active
Type: Minor
Description: The shadows are completely missing when setting Hardware renderer to Direct3D 11 or Direct3D 12.
Workaround: Set Hardware renderer to "OpenGL", "Vulkan" or to Software renderer in Config > Graphics Settings. Also keep in mind that a white semi-transparent wall will appear in "OpenGL" or "Vulkan" renderers which can be fixed.