Tekken 4: Difference between revisions
Jump to navigation
Jump to search
 

(65 intermediate revisions by 9 users not shown)
Line 1:
Line 1:

{{infobox game

{{infobox

|image            =

|image            =

|caption          =

|caption          =

|developer        =

|developer        =

|genre            =

|gameinfo          =

|genre            =

|wikipedia         =

|reviewlinks      =

|reviewscore      =

|gameinfo          =

|

        =

|

=

|=

<!-- NTSC-U props -->

<!-- NTSC-U props -->

|NTSCU            = 1

|NTSCU            = 1

|serialsNTSCU      =SLUS-20328

|serialsNTSCU      = SLUS-20328

|CRCsNTSCU        =

|CRCsNTSCU        =

|releasedateNTSCU  =

|releasedateNTSCU  =

|statusNTSCU      =2

|statusNTSCU      = 2

|linuxstatusNTSCU  =

|linuxstatusNTSCU  =

|macstatusNTSCU    =

|macstatusNTSCU    =

<!-- PAL props -->

<!-- PAL props -->

|PAL              = 1

|PAL              = 1

|serialsPAL        =

|serialsPAL        =

|CRCsPAL          =

|CRCsPAL          =

|releasedatePAL    =

|releasedatePAL    =

|statusPAL        =

|statusPAL        =

|linuxstatusPAL    =

|linuxstatusPAL    =

|macstatusPAL      =

|macstatusPAL      =

<!-- NTSC-J props -->

<!-- NTSC-J props -->

|NTSCJ            = 1

|NTSCJ            = 1

|serialsNTSCJ      =

|serialsNTSCJ      =

|CRCsNTSCJ        =

|CRCsNTSCJ        =

|releasedateNTSCJ  =

|releasedateNTSCJ  =

|statusNTSCJ      =

|statusNTSCJ      =

|linuxstatusNTSCJ  =

|linuxstatusNTSCJ  =

|macstatusNTSCJ    =

|macstatusNTSCJ    =

<!-- Windows specs -->

|pcsx2ver          = 0.9.9 SVN r5037

|gsname            = GSdx

|gsver            = 0.1.16 SVN r5092

|soundname        = SPU2-X

|soundver          = 2.0.0 SVN r4945

|padname          = Lilypad

|padver            = 0.10.0 SVN r4929

|dvdplugname      = Internal ISO reader

|dvdplugver        =

|biosver          = Europe v01.70

|hacks            = Recommended + MTVU

|fpsinfo          = 100-120 FPS ingame

|comment          =

<!-- Linux specs -->

|linuxpcsx2ver    =

|linuxgsname      =

|linuxgsver        =

|linuxsoundname    =

|linuxsoundver    =

|linuxpadname      =

|linuxpadver      =

|linuxdvdplugname  =

|linuxdvdplugver  =

|linuxbiosver      =

|linuxhacks        =

|linuxfpsinfo      =

|linuxcomment      =

<!-- Minimal PC specs -->

|cputype          = Intel Corei5 2500k @ 4,3 Ghz

|gputype          = GeForce 9800GX+

|pccomment        = Since I get double FPS than full speed, I presume minimum for 60 FPS would be around 2,2 Ghz :P

}}

}}
---
Latest revision as of 16:35, 30 January 2023
Tekken 4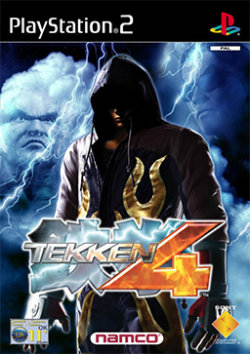 Game general and emulation properties:
Region NTSC-U:
Serial numbers:
SLUS-20328
SLUS-20328GH (Greatest Hits)
SLUS-29034 (Regular Demo)
SLUS-28012 (Trade Demo)
Release date:
September 23, 2002
2005 (Greatest Hits)
CRCs:
833FE0A4
Windows Status:
Playable
Linux Status:
?
Mac Status:
?
Region PAL:
Serial numbers:
SCES-50878
SCES-50878/P (Platinum)
SCED-51120 (Demo)
Release date:
September 13, 2002
July 18, 2003 (Platinum)
CRCs:
2251E14D
Windows Status:
Playable
Linux Status:
?
Mac Status:
?
Region NTSC-J/C/K:
Serial numbers:
SLPS-25100
SLPS-73414 (PlayStation 2 the Best)
SLPS-73209 (PlayStation 2 the Best Reprint)
SCPS-55017
SCPS-56006 (BigHit Series, Korea)
SCKA-20045 (BigHit Series, Korea)
Release date:
March 28, 2002
April 3, 2003 (PlayStation 2 the Best)
November 3, 2004 (PlayStation 2 the Best Reprint)
February 22, 2005 (BigHit Series, Korea)
CRCs:
26173F9A
Windows Status:
Playable
Linux Status:
?
Mac Status:
?
Developer(s): Namco
Publisher(s): Namco (JP, US), SCEE (EU), SCEI (KO), SCE Korea (KO)
Genre: Action, Fighting
Wikipedia: Link
Game review links: IGN: 9/10, GameSpot: 8.4/10, Metacritic: 79/100
Game description: Tekken 4 marks the return of Namco's premier fighting franchise, Tekken. This version features enhanced graphics, gameplay mechanics, and fearsome fighters. Newcomers engage old favorites in interactive, multileveled arenas. The addition of walls, terrain effects, position changes, and enhanced sidestepping will force you to adjust your fighting strategy. Expanded game modes such as Training, Team Battle and the new Tekken Force provide the player with a deeper gameplay experience.


Test configurations on Windows:
Environment
Configurations
Comments
Tester
Region
OS
CPU/GPU
Revision
Graphics
Sound/Pad
NTSC-U
?

Intel Core i5-2500K @ 4.30 GHz
NVIDIA GeForce 9800 GTX+

0.9.9 r5037
GSdx 0.1.16 r5092

SPU2-X 2.0.0 r4945
LilyPad 0.10.0 r4929

BIOS: Europe v01.70, HACKS: Recommended + MTVU, FPS: 100-120 FPS in-game. Since I get double FPS than full speed, I presume minimum for 60 FPS would be around 2.20 GHz :P
Bositman
PAL
?

Intel Core2 Duo E8400 @ 3.00 GHz
ASUS GeForce 9600GT 1GB v301.42

?
GSdx ?
?
Galdor
NTSC-J
Windows

Intel Core i7 @ 3.40 GHz (only 2 cores)
ATI Radeon HD 6950 2048MB

v1.5.0-dev-865-g292c681
GSdx SSE41 - Direct3D11 (Hardware)

SPU2-X 2.0.0
LilyPad 0.11.0

Bios: Japan v02.50
Works Fine with Full Speed.
Spirit
PAL-M5 (Russian Version)
Windows 8.1, x64

Intel(R) Pentium(R) CPU G2030 @ 3.00GHz
PALIT GeForce GT 1030 @ 2 GB

v1.7.0-dev-1996
GSdx

Europe v02.00(14/06/2004), Perfect, The game runs at 1440p (2K) 50-60 FPS, without freezes, brakes and bugs.

 Chern40_7
Trivia
Original names: 鉄拳4 (SLPS-25100) & (SLPS-73414) & (SLPS-73209), 철권 4 (SCPS-56006)
Access the Progressive Scan menu by holding the cross and triangle keys together when the game boots up.
Fixed Issues
Thin black vertical lines
Status: Fixed
Type: Minor
Description: Vertical black lines appear when running the game in Hardwar mode with any higher than native resolution.
Workaround: Go to Config > Video (GS) > Plugin Settings, turn on "Enable HW Hacks", click Configure Hacks, and enable the 'Align Sprite' hack. For Custom Resolution use a 1260x(any) resolution. It's possible to subtract any multiple of 60 from 1260 (eg, 1200, 1140, 1080, etc) as needed for performance, but no horizontal resolution greater than 1260 works. Vertical resolution has no effect on the black bars, so this can be set to any desired value.
Game freezes when selecting Story Mode or Arcade Mode
Status: Fixed
Type: Major
Description: After loading the game and choosing any story mode or arcade mode, the game freezes tightly.
Workaround: Fixed in version 1.5.0
The gallery