Starsky & Hutch: Difference between revisions
Jump to navigation
Jump to search
m

(removed stub added links)

Line 1:
Line 1:

{{info-stub}}

 






{{infobox game

{{infobox game

Line 7:
Line 7:

|genre            = Driving, Shooter

|genre            = Driving, Shooter

|gameinfo          = Play as Starsky and Hutch as you track down and stop multiple criminals from the TV series. The game has support for 1 and 2 player modes. In the two player mode, one player will drive, and the other will shoot.

|gameinfo          = Play as Starsky and Hutch as you track down and stop multiple criminals from the TV series. The game has support for 1 and 2 player modes. In the two player mode, one player will drive, and the other will shoot.

|wikipedia        = http://en.wikipedia.org/wiki/Starsky_%26_Hutch_%28video_game%29

|wikipedia        = http://en.wikipedia.org/wiki/Starsky_%26_Hutch_%28video_game%29

|reviewlinks      = http://xbox.ign.com/objects/482/482226.html

|reviewlinks      = http://xbox.ign.com/objects/482/482226.html

|reviewscore      = 5.4 (IGN)

|reviewscore      = 5.4 (IGN)

<!-- NTSC-U props -->

<!-- NTSC-U props -->

Line 14:
Line 14:

|serialsNTSCU      = SLUS-20619

|serialsNTSCU      = SLUS-20619

|CRCsNTSCU        =

|CRCsNTSCU        =

|releasedateNTSCU  = September 11, 2003

|releasedateNTSCU  = September , 2003

|statusNTSCU      = 2

|statusNTSCU      = 2

|linuxstatusNTSCU  =

|linuxstatusNTSCU  =

Line 22:
Line 22:

|serialsPAL        =

|serialsPAL        =

|CRCsPAL          =

|CRCsPAL          =

|releasedatePAL    =

|releasedatePAL    =

|statusPAL        =

|statusPAL        =

|linuxstatusPAL    =

|linuxstatusPAL    =

|macstatusPAL      =

|macstatusPAL      =

<!-- NTSC-J props -->

|NTSCJ            = 1

|serialsNTSCJ      =

|CRCsNTSCJ        =

|releasedateNTSCJ  =

|statusNTSCJ      =

|linuxstatusNTSCJ  =

|macstatusNTSCJ    =

|macstatusNTSCJ    =

<!-- Windows specs -->

<!-- Windows specs -->
---
Revision as of 05:18, 17 June 2012
Starsky & Hutch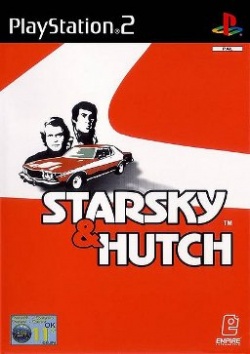 Starsky & Hutch
Region NTSC-U:
Serial numbers:
SLUS-20619
Release date:
September 9, 2003
Windows Status:
Playable
Linux Status:
?
Mac Status:
?
Region PAL:
Release date:
June 20, 2003
Windows Status:
?
Linux Status:
?
Mac Status:
?
Developer(s): Mind's Eye
Genre: Driving, Shooter
Wikipedia: Link
Game review links: Link
Game review score: 5.4 (IGN)
Game description: Play as Starsky and Hutch as you track down and stop multiple criminals from the TV series. The game has support for 1 and 2 player modes. In the two player mode, one player will drive, and the other will shoot.



Test configuration on Windows:
Hack comments:
INTC Spin Detection is safe.
Wait Loop Detection is safe.
mVU Flag Hack is safe.
mVU Block Hack is safe.
VU Cycle Stealing is safe, although may cause slowdowns on higher levels as is typical.

Test configuration on Linux:

PC specs used to test the game:
CPU:
Intel® Xeon® Processor E5410

(12M Cache, 2.33 GHz, 1333 MHz FSB)

GPU:
ATI Radeon HD 5770