Simple 2000 Series Vol. 50: The Daibijin: Difference between revisions
Jump to navigation
Jump to search
Line 1:
Line 1:

{{info-stub}}

{{infobox

{{infobox

|image            = Cover_Simple_2000_Series_Vol_50_The_Daibijin.jpg

|image            = Cover_Simple_2000_Series_Vol_50_The_Daibijin.jpg

Line 6:
Line 4:

|developer        = Tamsoft

|developer        = Tamsoft

|publisher        = [[D3Publisher]] (JP), [[505 Game Street]] (EU, AU)

|publisher        = [[D3Publisher]] (JP), [[505 Game Street]] (EU, AU)

|genre            = Action, Shooter, Arcade

|genre            = Action, Shooter, Arcade

|wikipedia        = [https://ja.wikipedia.org/wiki/THE_%E5%A4%A7%E7%BE%8E%E4%BA%BA Link (Japanese)]

|wikipedia        = [https://ja.wikipedia.org/wiki/THE_%E5%A4%A7%E7%BE%8E%E4%BA%BA Link (Japanese)]

|gameinfo          =  

|gameinfo          =  

Line 15:
Line 13:

|japanese          = SLPM-62484

|japanese          = SLPM-62484

|english          = SLES-53403

|english          = SLES-53403

|widescreenpatch  = 1

|widescreenpatch  = 1

<!-- NTSC-U props -->

<!-- NTSC-U props -->

Line 29:
Line 29:

|CRCsPAL          =

|CRCsPAL          =

|releasedatePAL    = November 18, 2005<br />December 2, 2005 <small>(Australia)</small>

|releasedatePAL    = November 18, 2005<br />December 2, 2005 <small>(Australia)</small>

|statusPAL        =

|statusPAL        =

|linuxstatusPAL    =

|linuxstatusPAL    =

|macstatusPAL      =

|macstatusPAL      =

Line 41:
Line 41:

|macstatusNTSCJ    =

|macstatusNTSCJ    =

}}

}}






<!-- Windows and Linux testing tables (remove comment signs on usage, for Macintosh you have to add the same lines begin with {{TestingHeader|OS=Mac}}) -->

<!-- Windows and Linux testing tables (remove comment signs on usage, for Macintosh you have to add the same lines begin with {{TestingHeader|OS=Mac}}) -->

{{TestingHeader|OS=Windows}}

{{TestingHeader|OS=Windows}}

{{TestingEntry

{{TestingEntry

|Status=?

|Status=

|Region=?

|Region=

|OS=?

|OS=

|CPU=?

|CPU=

|GPU=?

|GPU=

|Revision=?

|Revision=

|Graphics=?

|Graphics=

|Sound=?

|Sound=

|Comments=This is a test placeholder. Add your configuration here.

|Comments=. .

|Tester=?

|Tester=

}}

}}

{{TestingFooter}}

{{TestingFooter}}

Line 78:
Line 80:

* Original names: '''THE 大美人''' (SLPM-62484)

* Original names: '''THE 大美人''' (SLPM-62484)

* Also known as '''Demolition Girl''' (EU,AU), '''THE 대미인''' (KO)

* Also known as '''Demolition Girl''' (EU,AU), '''THE 대미인''' (KO)









---
Revision as of 18:12, 22 February 2019
Simple 2000 Series Vol. 50: The Daibijin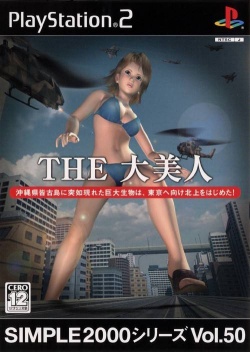 Game general and emulation properties:
Region PAL:
Serial numbers:
SLES-53403
Release date:
November 18, 2005
December 2, 2005 (Australia)
Windows Status:
Playable
Linux Status:
?
Mac Status:
?
Region NTSC-J/C/K:
Serial numbers:
SLPM-62484
Release date:
May 20, 2004
Windows Status:
?
Linux Status:
?
Mac Status:
?
Developer(s): Tamsoft
Publisher(s): D3Publisher (JP), 505 Game Street (EU, AU)
Genre: Action, Shooter, Arcade, Hentai
Wikipedia: Link (Japanese)

Simple 2000 Series 50: The Daibijin (JP: SIMPLE 2000 シリーズ Vol. 50: The 大美人 Lit: "The giant beautiful person"), also known as Demolition Girl in English, is a Hentai-themed arcade-style action shooter game. Supermodel Riho Fubata is on a photoshoot on a small island called Minakojima off Okinawa, when she's bitten by an alien creature which transforms her into a malevolent giantess. As a Japan Air Self-Defence Force pilot, it's your job to protect the population from this creature using various weapons mounted to attack helicopters and fighter jets.

Test configurations on Windows:
Environment
Configurations
Comments
Tester
Region
OS
CPU/GPU
Revision
Graphics
Sound/Pad
PAL
Windows 10 Pro

AMD Ryzen 1800x (OC'd to 3.95 GHz)
AMD Radeon RX 580X

1.50-dev-2863
GSdx 20160105132032 (MSVC 19.00, AVX) 1.0.0
SPU2-X 20160405000143 2.0.0
Bios: Europe 2.00. I only tested this for the sake of adding to the wiki... honest. Works great, nice and fast on hardware mode even with high scaling, which of course enhances the experience.
EddieHimself
Trivia
Original names: THE 大美人 (SLPM-62484)
Also known as Demolition Girl (EU,AU), THE 대미인 (KO)
Comes on Compact disc rather than DVD being very small in terms of data usage
The PAL version features two different covers: one shows Riho standing before Tokyo with a large logo that goes behind her, the other shows her in front of Seattle with a smaller logo.
The gallery