Simple 2000 Series Vol. 101: The Oneechanpon: The Oneechan 2 Special Edition: Difference between revisions
Jump to navigation
Jump to search
m

Line 4:
Line 4:

|image            = Zombie Hunters 2 PAL.jpg

|image            = Zombie Hunters 2 PAL.jpg

|caption          = PAL box art

|caption          = PAL box art

|developer        = Tamsoft

|developer        = Tamsoft

|publisher        = [[D3Publisher]] (JP), [[Essential Games]] (EU)

|publisher        = [[D3Publisher]] (JP), [[Essential Games]] (EU)

|genre            = Action, Fighting

|genre            = Action, Fighting

|gameinfo          =  

|gameinfo          =

|wikipedia        = [https://en.wikipedia.org/wiki/OneeChanbara#Series Oneechanbara series]

|wikipedia        = [https://en.wikipedia.org/wiki/OneeChanbara#Series Oneechanbara series]

|gamefaqslink      = [http://www.gamefaqs.com/ps2/933361-zombie-hunters-2 Link]

|gamefaqslink      = [http://www.gamefaqs.com/ps2/933361-zombie-hunters-2 Link]

Line 36:
Line 36:

|CRCsNTSCJ        =  

|CRCsNTSCJ        =  

|releasedateNTSCJ  = June 29, 2006

|releasedateNTSCJ  = June 29, 2006

|statusNTSCJ      =

|statusNTSCJ      =

|linuxstatusNTSCJ  =

|linuxstatusNTSCJ  =

|macstatusNTSCJ    =

|macstatusNTSCJ    =

Line 56:
Line 56:

|Comments=Defaults/Preset 2, except MTVU (Multi-Threaded microVU1) enabled. RUNS AT FULL SPEED. Be sure to have the Half-Pixel Offset HW hack at Normal. If playing in upscaled resolutions, slows down SIGNIFICANTLY when female bosses are present.

|Comments=Defaults/Preset 2, except MTVU (Multi-Threaded microVU1) enabled. RUNS AT FULL SPEED. Be sure to have the Half-Pixel Offset HW hack at Normal. If playing in upscaled resolutions, slows down SIGNIFICANTLY when female bosses are present.

|Tester={{ForumUser|maxen1416}}

|Tester={{ForumUser|maxen1416}}

}}

}}

{{TestingFooter}}

{{TestingFooter}}

Line 79:
Line 93:

* Original names: '''THE お姉チャンポン 〜THE 姉チャン2 特別編〜''' (SLPS-20466)

* Original names: '''THE お姉チャンポン 〜THE 姉チャン2 特別編〜''' (SLPS-20466)

* Also known as '''The Oneechanpon: The Oneechan 2 Special Edition''' (JP), '''Zombie Hunters 2''' (EU)

* Also known as '''The Oneechanpon: The Oneechan 2 Special Edition''' (JP), '''Zombie Hunters 2''' (EU)

 









Line 88:
Line 102:





{{Issue

{{Issue

|IssueName=

|IssueName=

|IsFixed=

|IsFixed=

|IssueLevel=

|IssueLevel=

|Description=

|Description=

|Workaround=

|Workaround=

}}

}}

-->

-->

{{ForumLinksList|list=

{{ForumLinksList|list=

*[http://forums.pcsx2.net/Thread-Zombie-Hunters-2-SLES-54569-E--29186 Zombie Hunters 2 (SLES 54569) (E)]}}

*[http://forums.pcsx2.net/Thread-Zombie-Hunters-2-SLES-54569-E--29186 Zombie Hunters 2 (SLES 54569) (E)]}}
---
Revision as of 22:09, 5 March 2018
Simple 2000 Series Vol. 101: The Oneechanpon: The Oneechan 2 Special Edition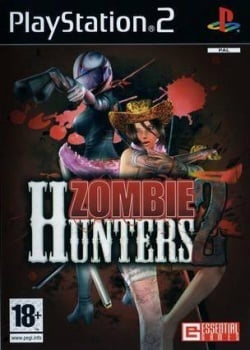 PAL box art
Game general and emulation properties:
Region PAL:
Serial numbers:
SLES-54569
Release date:
June 29, 2007
CRCs:
07608CA2
Windows Status:
Playable
Linux Status:
?
Mac Status:
?
Region NTSC-J/C/K:
Serial numbers:
SLPS-20466
Release date:
June 29, 2006
Windows Status:
Playable
Linux Status:
?
Mac Status:
?
Developer(s): [Tamsoft]
Publisher(s): [D3Publisher] (JP), [Essential Games] (EU)
Genre: Action, Fighting
Wikipedia: Oneechanbara series
Game description: The Oneechanpon: The Oneechan 2 Special Edition is an updated release of the game The Oneechanbara 2, featuring a few changes including additional characters and costumes to the game.
The game's story picks up from where the last game ends off as Aya and Saki (joined by Reiko as well as additional characters such as Riho, Makoto, Kiku and Hana) continue to search for the source of the zombie apocalypse while getting tearing through dozens of zombies using their arsenal of moves and weaponry.
Features such as the combo system and other gameplay mechanics have been improved over the initial OneeChanbara release (and its updated version The OneeChanpuru).

[[Category:Games by [Tamsoft]

Test configurations on Windows:
Environment
Configurations
Comments
Tester
Region
OS
CPU/GPU
Revision
Graphics
Sound/Pad
PAL
Windows

Intel Core i5-6600 @ 3.3~3.8Ghz
Nvidia GeForce GTX 970 4GB

PCSX2 v1.5.0 dev-1968-gbcc0160
GSdx 20170331235035 1.1.0 [GSdx32-SS4]

LilyPad (20170331235035) 0.12.1
SPU2-X 20170331235035 2.0.0

Defaults/Preset 2, except MTVU (Multi-Threaded microVU1) enabled. RUNS AT FULL SPEED. Be sure to have the Half-Pixel Offset HW hack at Normal. If playing in upscaled resolutions, slows down SIGNIFICANTLY when female bosses are present.

 maxen1416

PAL
Windows

Intel(R) Core i5-7200U @ 2.5GHz
Intel(R) HD Graphics 620

PCSX2 v1.4.0
GSdx 2016105132032 1.0.0 [GSdx32-SS4]

SPU2-X 20151231175709 2.0.0
LilyPad svn (r5875) 0.11.0

Game runs between ~80% to 100% (48fps to 60fps, respectively - former when hordes of zombies present) at 2x Native; note that using resolutions above 1x Native requires enable Half-pixel offset and setting TC offset X and TC offset Y respectively (Enable HW hacks).
Just-SA-Gamer000
Trivia
Original names: THE お姉チャンポン 〜THE 姉チャン2 特別編〜 (SLPS-20466)
Also known as The Oneechanpon: The Oneechan 2 Special Edition (JP), Zombie Hunters 2 (EU)
This is an updated version of The OneeChanbara 2, including a few additional characters such as the 2 characters from the Dragon Sisters game (Simple 2000 Series vol. 87: The Nadeisco), Riho and Makoto Futaba (returning characters from previous The OneeChanbara games as well as other Simple Series games)