SOCOM II: U.S. Navy SEALs: Difference between revisions
Jump to navigation
Jump to search
m

m

(→‎top: Upgrading links to HTTPS with AutoWikiBrowser in Bot mode)

 

(40 intermediate revisions by 8 users not shown)
Line 1:
Line 1:

{{info-stub}}

{{infobox

 

|image            =

{{infobox game

|image            =

|caption          =

|caption          =

|developer        =

|developer        =

|genre            =

|gameinfo          =

|genre            =

|wikipedia        =

|gameinfo          =

|reviewlinks      =

|wikipedia        =

|reviewscore       =

|reviewlinks      =

|      =

<!-- NTSC-U props -->

<!-- NTSC-U props -->

|NTSCU            = 1

|NTSCU            = 1

|serialsNTSCU      =

|serialsNTSCU      =

|CRCsNTSCU        =

|CRCsNTSCU        =

|releasedateNTSCU  =

|releasedateNTSCU  =

|statusNTSCU      =

|statusNTSCU      =

|linuxstatusNTSCU  =

|linuxstatusNTSCU  =

|macstatusNTSCU    =

|macstatusNTSCU    =

<!-- PAL props -->

<!-- PAL props -->

|PAL              = 1

|PAL              = 1

|serialsPAL        =

|serialsPAL        =

|CRCsPAL          =

|CRCsPAL          =

|releasedatePAL    =

|releasedatePAL    =

|statusPAL        =

|statusPAL        =  

|linuxstatusPAL    =

|linuxstatusPAL    =

|macstatusPAL      =

|macstatusPAL      =

<!-- NTSC-J props -->

<!-- NTSC-J props -->

|NTSCJ            = 1

|NTSCJ            = 1

|serialsNTSCJ      =

|serialsNTSCJ      =

|CRCsNTSCJ        =

|CRCsNTSCJ        =  

|releasedateNTSCJ  =

|releasedateNTSCJ  =

|statusNTSCJ      =

|statusNTSCJ      =  

|linuxstatusNTSCJ  =

|linuxstatusNTSCJ  =  

|macstatusNTSCJ    =

|macstatusNTSCJ    =  

<!-- Windows specs -->

|pcsx2ver          =  

 

|gsname            =  

<!-- Windows -->

|gsver            =  

|=

|soundname        =  

|soundver          =  

|=

|padname          =  

|=

|padver            =  

|=

|dvdplugname      =  

|=

|dvdplugver        =  

|=

|biosver          =  

|=

|hacks            =  

|=

|fpsinfo          =

|=

|comment          =  

<!-- Linux specs -->

|linuxpcsx2ver    =

|=

|linuxgsname      =

|=

|linuxgsver        =

|linuxsoundname    =

|linuxsoundver    =

 

|linuxpadname      =

|=

|linuxpadver      =

|linuxdvdplugname  =

|=

|linuxdvdplugver  =

|=

|linuxbiosver      =

|=

|linuxhacks        =

|=

|linuxfpsinfo      =

|=

|linuxcomment      =

|=

<!-- Minimal PC specs -->

=

|cputype          =  

|gputype          =  

|pccomment        =  

|=

=

|=

|=

|=

 

 

=

 

 

<!-- -->

|=

|=

|

=

}}

}}
---
Latest revision as of 02:23, 21 August 2022
SOCOM II: U.S. Navy SEALs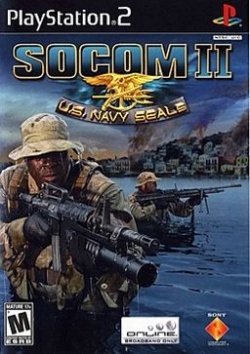 Game general and emulation properties:
Region NTSC-U:
Serial numbers:
SCUS-97275
SCUS-97275GH (Greatest Hits)
SCUS-97511 (Greatest Hits)
SCUS-97366 (Public Beta v1.0)
SCUS-97368 (Regular Demo)
Release date:
November 4, 2003
2004 (Greatest Hits)
CRCs:
0F6FC6CF
Windows Status:
Playable
Linux Status:
?
Mac Status:
?
Region PAL:
Serial numbers:
SCES-51904
SCES-52306
TCES-51904 (Beta)
Release date:
March 5, 2004
January 28, 2005 (Australia)
2007 (Platinum, Europe and Australia)
Windows Status:
?
Linux Status:
Playable
Mac Status:
?
Region NTSC-J/C/K:
Serial numbers:
SCPS-15065
SCKA-20020
SCKA-20053 (PlayStation 2 Big Hit Series)
Release date:
August 5, 2004
June 29, 2004 (Korea)
October 6, 2005 (BigHit Series, Korea)
Windows Status:
?
Linux Status:
?
Mac Status:
?
Developer(s): Zipper Interactive
Publisher(s): SCEA (US), SCEE (EU), SCEI (JP), SCE Australia (AU)
Genre: Action, Shooter
Wikipedia: Link
Game review links: IGN: 8.8/10, Metacritic: 87/100
Game description: Terrorists threaten America and her allies. As an elite SEAL commander, you must lead your team in striking important targets in 12 intense international missions and protect freedom across the globe. Overcome the obstacles in single player mode or connect to up to 16 players online in five mission types, clan challenges and 22 playable maps. Communicate with your SEALs and other special operations forces via the PS2 USB headset. Failure is not an option.


Test configurations on Windows:
Environment
Configurations
Comments
Tester
Region
OS
CPU/GPU
Revision
Graphics
Sound/Pad
NTSC-U
Windows 7 64-bit

AMD Phenom II X4 945
AMD Radeon HD 4670

0.9.9 r5128
GSDx 0.1.16 r5139

SPU2-X 2.0.0 r5139
LilyPad 0.11.0 r5112

EE Cyclerate 3, VU Cycle Stealing 3, everything in speedhacks page enabled, Delay VIF1 Stalls (automatically applied by this PCSX2 build). Singleplayer is very playable, no visual corruption or crashes whatsoever.
Apples
Environment
Configurations
Comments
Tester
Region
OS
CPU/GPU
Revision
Graphics
Sound/Pad
PAL
Solus, kernel 5.1.14

Intel Core i5-4570 CPU @ 3.20GHz
NVIDIA GeForce GTX 760 2 GB

1.5.0 (075a9f3)

GSdx 1.1.0 AVX2

SPU2-X 2.0.0
OnePAD 0 1.3.0

Playable with occasional slowdowns with the specified settings (unspecified settings at default value). Could not get the analog trigger to work for changing stance.
Ratchet66
Trivia
Original names: ソーコムII U.S. NAVY SEALs (SCPS-15065)
Crouching in the game (necessary for finishing parts of single player depending on your play style) requires pressure-sensitive buttons like the DualShock 2 controllers have. A workaround for controllers with analog triggers (like the Xbox 360 controller or the Logitech F310) is by swapping the L2 or R2 with the stance changing button (by default Triangle) and pressing the trigger halfway.
Fixed Issues
Broken FMVs
Status: Fixed
Type: Minor
Description: FMVs are not rendered in Hardware mode.
Workaround: For old versions of PCSX2, go to Config > Emulation Settings > Game Fixes tab, click "enable manual game fixes" and enable the "Switch to GSdx Software rendering when an FMV plays" fix.
Night vision is broken
Status: Fixed
Type: Serious
Description: Night vision does not render properly under Hardware mode. This feature plays a major effect in some missions.
Workaround: Fixed since at least commit (075a9f3). For old versions of PCSX2 press the F9 key to switch to Software mode during these missions.
The gallery
SOCOM series
Main series
Related