Rumble Racing: Difference between revisions
Jump to navigation
Jump to search
No edit summary

 

(13 intermediate revisions by 3 users not shown)
Line 1:
Line 1:

 

{{infobox

 

{{infobox game

|image            = rumble racing.jpg

|image            = rumble racing.jpg

|caption          =

|caption          =

|developer        = Electronic Arts

|developer        = Electronic Arts

|genre            = Racing

|genre            = Racing

|gameinfo          = [http://www.ign.com/games/rumble-racing/ps2-15894 Link]

|gameinfo          =

|wikipedia         =

|reviewlinks      =

|reviewscore      =

[http://www.ign.com/games/rumble-racing/ps2-15894 ]

|        =

|

=

|=

<!-- NTSC-U props -->

<!-- NTSC-U props -->

|NTSCU            =

|NTSCU            =

|serialsNTSCU      =

|serialsNTSCU      =

|CRCsNTSCU        =

|CRCsNTSCU        =

|releasedateNTSCU  =

|releasedateNTSCU  =

|statusNTSCU      =

|statusNTSCU      =

|linuxstatusNTSCU  =

|linuxstatusNTSCU  =

|macstatusNTSCU    =

|macstatusNTSCU    =

Line 22:
Line 28:

|serialsPAL        = SLES-50120

|serialsPAL        = SLES-50120

|CRCsPAL          =

|CRCsPAL          =

|releasedatePAL    = 06/01/01

|releasedatePAL    =

|statusPAL        = 2

|statusPAL        = 2

|linuxstatusPAL    =

|linuxstatusPAL    =

|macstatusPAL      =

|macstatusPAL      =

<!-- NTSC-J props -->

<!-- NTSC-J props -->

|NTSCJ            = 1

|NTSCJ            =

|serialsNTSCJ      = SLUS-20174

|serialsNTSCJ      =  

|CRCsNTSCJ        =

|CRCsNTSCJ        =

|releasedateNTSCJ  = 04/23/01

|releasedateNTSCJ  =  

|statusNTSCJ      = 2

|statusNTSCJ      =  

|linuxstatusNTSCJ  =

|linuxstatusNTSCJ  =

|macstatusNTSCJ    =

|macstatusNTSCJ    =

<!-- Windows specs -->

|pcsx2ver          = 1.0.0

|gsname            = Rumble Racing

|gsver            = gsdx32-sse4-r5350

|soundname        = SPU2-X

|soundver          = r5324 2.0.0

|padname          = LilyPad svn

|padver            = r5282 0.11.0

|dvdplugname      = cdvdGigaherz

|dvdplugver        = r4488 0.8.0

|biosver          = USA v0.200

|hacks            = N/A

|fpsinfo          = 60-80fps

|comment          = The game runs pretty smooth at constant 60 FPS, not found graphic glitches or sound bugs. The only issue found are in the cutscenes , the FPS drops to 30 and the sound is choppy....Normal Play!

<!-- Linux specs -->

|linuxpcsx2ver    =

|linuxgsname      =

|linuxgsver        =

|linuxsoundname    =

|linuxsoundver    =

|linuxpadname      =

|linuxpadver      =

|linuxdvdplugname  =

|linuxdvdplugver  =

|linuxbiosver      =

|linuxhacks        =

|linuxfpsinfo      =

|linuxcomment      =

<!-- Minimal PC specs -->

|cputype          = Intel(R)Core(TM)2 Duo E7500

|gputype          = ASUS Nvidia GT210 512MB

|pccomment        = No Need Upgrade VGA Card!

}}

}}
---
Latest revision as of 17:14, 20 April 2016
Rumble Racing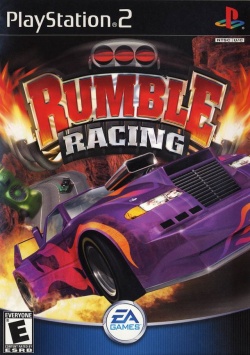 Game general and emulation properties:
Region NTSC-U:
Serial numbers:
SLUS-20174
Release date:
April 23, 2001
Windows Status:
Playable
Linux Status:
?
Mac Status:
?
Region PAL:
Serial numbers:
SLES-50120
Release date:
June 1, 2001
Windows Status:
Playable
Linux Status:
?
Mac Status:
?
Developer(s): Electronic Arts
Publisher(s): Electronic Arts
Genre: Racing
Wikipedia: Link
Game review links: IGN: 8.8/10, Metacritic: 85/100
Game description: Get that turtle out of your tank and take those training wheels off your hot rod--this is Rumble Racing, and it ain't for pussy-footers who're scared of the gas pedal. This is stunt-busting, air-popping, nitro-burning, rubber-rashing, engine-firing racing action on some of the wildest tracks you've ever seen. 35 tweaked-out muscle cars are in your garage, ready to guzzle some gas and run rowdy on dozens of insane tracks filled with ramps, dips, jumps, switch courses, break-away secrets, and everything else that might be there in to muck around in. Bust stunts to build your speed, and juice your caboose with blasting power-ups. You'll get giddy in the altitudes with all the air you get off this racer!


Test configurations on Windows:
Environment
Configurations
Comments
Tester
Region
OS
CPU/GPU
Revision
Graphics
Sound/Pad
NTSC-U(?)
?

Intel(R)Core(TM)2 Duo E7500
ASUS Nvidia GT210 512MB

1.0.0
gsdx32-sse4-r5350

SPU2-X r5324 2.0.0
LilyPad svn r5282 0.11.0

BIOS: USA v0.200, HACKS: N/A, The game runs pretty smooth at constant 60 FPS, not found graphic glitches or sound bugs. The only issue found are in the cutscenes , the FPS drops to 30 and the sound is choppy....Normal Play!, No Need Upgrade VGA Card!
Nurdean
PAL
Windows

Intel Core i7 @ 3.4Ghz
Nvidia GTX 285 768MB

1.1.0 r5452
GSdx 5442 SSE41

SPU2-X 2.0.0
LilyPad 0.11.0

Runs at 200% speed.

 General-Plot