Ratchet & Clank: Going Commando
Jump to navigation
Jump to search
Ratchet & Clank: Going Commando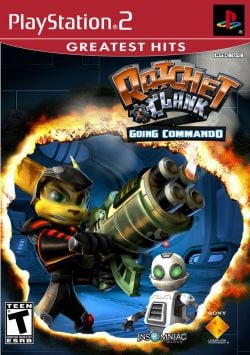 Game general and emulation properties:
Region NTSC-U:
Serial numbers:
SCUS-97268
SCUS-97268GH (Greatest Hits)
SCUS-97381 (GameStop Demo)
SCUS-97322 (Regular Demo)
SCUS-97323 (Retail Employees Demo)
SCUS-97513 (Greatest Hits)
Release date:
November 11, 2003
2004 (Greatest Hits)
CRCs:
38996035
Windows Status:
Playable
Linux Status:
?
Mac Status:
?
Region PAL:
Serial numbers:
SCES-51607
SCES-51607/P (Platinum)
Release date:
November 21, 2003
August 13, 2004 (Platinum)
2003 (Australia)
CRCs:
2F486E6F
Windows Status:
Playable
Linux Status:
Playable
Mac Status:
?
Region NTSC-J/C/K:
Serial numbers:
SCPS-15056
SCKA-20011 (Korea)
SCPS-19302 (PlayStation 2 the Best)
SCPS-19317 (PlayStation 2 the Best Reprint)
Release date:
December 11, 2003
February 19, 2004 (Korea)
July 8, 2004 (PlayStation 2 the Best)
February 22, 2005 (BigHit, Korea)
November 2, 2005 (PlayStation 2 the Best Reprint)
Windows Status:
?
Linux Status:
?
Mac Status:
?
Developer(s): Insomniac Games
Publisher(s): SCEA (US), SCEE (EU), SCEI (JP, KO), SCE Australia (AU)
Genre: Action, Platformer
Wikipedia: Link
Game review links: Metacritic: 90/100
Game description: From the creators of Ratchet & Clank comes the next installment of this sci-fi action adventure series. Ratchet & Clank: Going Commando features more than 50 imaginative weapons and gadgets. The more things you blow up, the stronger Ratchet gets and the more advanced the weapons you'll have. Participate in all-new side challenges; destroy hordes of enemies in gladiator arenas, upgrade your ship and pick off enemies in space combat, and leave competitors to eat your dust in hi-speed challenge. Are you up for it?
Ratchet & Clank: Going Commando is a 2003 3D platformer video game developed by Insomniac Games. The gameplay of Going Commando is similar to that of the original Ratchet & Clank. The player explores planets in the "Bogon" Galaxy and undertakes missions. It contains more mini-games than were present in the previous game. The game also introduces role-playing game (RPG) elements, such as upgradeable weapons. Going Commando was released roughly a year after its predecessor, and received very positive reviews. Critics noted the game's improved graphics, longer gameplay, and added role-playing elements as being major improvements over the original, but also criticized the game for its very high difficulty.


Test configurations on Windows:
Environment
Configurations
Comments
Tester
Region
OS
CPU/GPU
Revision
Graphics
Sound/Pad
NTSC/PAL
?

Intel Core i5 @ 4.50 GHz
NVIDIA GeForce GTX 570

0.9.9 (r5347)
GSdx
Sometimes when a video loads the game crashes (PAL version, NTSC seems fine); EE timing gamefix resolved it.

•50-60+ FPS (software mode) depending on scene with speedhacks, no EE cycle rate and no VU Cycle stealing speedhacks. •To fix texture issues(Mipmap) use software mode with mipmap enabled, but you will need CPU power like hardcore to run it smooth.

Mkav
NTSC-U
Windows

Intel Core i7 @ 3.40 GHz
NVIDIA GeForce GTX 285 @ 768 MB

1.1.0 (r5492)
GSdx SSE41 (r5464)

SPU2-X 2.0.0
LilyPad 0.11.0

Runs near full speed. Texture graphics distortion is present, but doesn't inhibit gameplay too much.

 General-Plot

PAL
Windows

Intel Core i7 @ 3.80 GHz
NVIDIA GeForce GTX 570 @ 1368 MB

1.1.0 (r5829)

GSdx
Europe v01.70(27/02/2003), GSdx: Requires software mode to fix the graphics (MipMaps). The game can be quite slow. Lowering the extra threads to 2 seems to be optimal for this game and most of the time is full FPS. Speedhacks: VU Cycle Stealing set to 1 can bring the FPS up for the remainder of the slowdowns but the game can appear slightly jumpy as a result.

 refraction

PAL
Windows 7 Home Premium x64

Intel Core i3-550 @ 3.20 GHz
ATI Radeon HD 5670 @ 512 MB

1.2.1 (r5875)

GSdx

Performance: Laggy as hell, 24-50 FPS. It's very unlikely that you'll get stable 50 FPS or even like 45-50... I say it needs an i5 with at least maybe 2.5 GHz or something similar, otherwise don't even bother it's not worth it. Use GSdx software mode, hardware mode is buggy as hell but it has better FPS. If you want to minimize the speed hit experiment with the extra rendering thread option, choose values between 0 and 4. Speedhacks here really come in handy even the VU cycle steal seems to have some effects, but keep in mind that it can show false FPS. Overall: Heavy demanding you really need a powerful PC to run this at a decent speed.
Razor96
NTSC-U
Windows 7

Intel Core i5-460M @ 2.53 GHz
ATI Mobility Radeon HD 5650

1.3.0 (svn 05-Aug-2014)

GSdx
Used all recommended speedhacks. Using hardware mode, it ran at playable speeds with lag when there are a lot of on screen elements.
Clank
PAL
Windows 10 Pro x64

Intel Xeon X5460 @ 4.00 GHz
EVGA GeForce GTX 480 SSC @ 830 MHz

v1.5.0
GSdx SSE4
BIOS: Europe v1.6, I just made it to Thug HQ on planet Snivelak, and i didnt face any difficulties so far. The game runs great using all recommended speed hacks, and EE set to -1.
GouStoulos
NTSC
Windows

Intel Core i5-4460 @ 3.20 GHz
Nvidia GeForce GTX 970 @ 4 GB

v1.5.0 (26-Sep-2016)
GSdx
Mipmapping now works in Hardware renderer and has been mostly fixed (hooray). I didn't encounter the Thugs-4-Less cutscene freeze as mentioned here. The game runs mostly smooth, but there's still a bit of slowdown when alot of action is occuring onscreen ;).

 CK1

PAL
Windows 10 Pro

Intel Core i5-4690 @ 3.50 GHz
NVIDIA GeForce GTX 960 @ 2 GB

v1.5.0 (dev-1646 g483b3d6)
GSdx
Works better as expected, really smooth, no lag here. Unfortunately game crashed on the Thugs-4-Less cutscene.
_AG
PAL
Windows

Intel Core i5-5200U @ 2.20 GHz
NVIDIA GeForce 840M @ 2 GB

v1.5.0 (Sep-2017)

GSdx SSE41

SPU2-X 2.0.0
LilyPad 0.12.1

Runs at solid 60 FPS on Hardware mode without slowdowns.
Martin.kosecky5
NTSC-U
Windows 10 Pro Build 1809

Intel Core i7-9700k OC'd @ 4.9GHz
NVIDIA GeForce RTX 2080 OC'd

v1.5.0 (dev-2982)

GSdx 1.1.0 SSE4.1

SPU2-X 2.0.0
LilyPad 0.12.1

Runs perfectly fine, hardware mipmapping is amazing and works very well! No slowdowns thus far at all. Only had 1 crash, and it happened when the game was flying/loading to Endako when visiting a second time.

 TJ8

NTSC-U
Windows 10 Pro x64

AMD Ryzen 1700 @ 3.40 GHz
NVIDIA GeForce GTX 1070

v1.5.0 (dev-3291)

GSdx 1.1.0

SPU2-X 2.0.0
LilyPad 0.12.1

Much better graphical fidelity than 1.4.0 (especially with mipmapping), though minor issues persist such as the pause menu being completely opaque. Slowdown between 90 and 100% is somewhat common. However, more demanding levels such as Endako will frequently be in the high 80s and low 90s, and will sometimes even dip down into the mid-to-high 70s. No crashes thus far. Note: I did not see a noticeable speed difference between D3D11 and OpenGL, although Ratchet's shadow was broken with D3D11.
TheTechnician27
NTSC-U
Windows 10

Intel Core i7-6700K @ 4.0GHz
Nvidia GeForce GTX 1070

PCSX2 1.6.0-20200506140834

GSdx AVX2 1.2.0

SPU2-X 2.0.0
LilyPad 0.12.1

BIOS: USA 2.00. Played at full speed. Opaque background to menus, but it's worth it to stay in hardware mode. Crashed once when a level was being loaded, but it was after hours of play. The game auto-saves before this. Anisotropic Filtering is optional.
Otamajakushi
NTSC-U
Windows 10 Pro x64

Intel i7-4790k @ 4.00Ghz
NVIDIA GeForce RTX 2080

1.7.0-dev-191-g5118aba45

GSdx 1.2.0

SPU2-X 2.0.0
Synchronizing Mode: Async Mix
Lilypad 0.12.1

Game is very demanding. Occasionally slows down with EE Cyclerate 0, but setting to -1 activates the game's internal frameskipping. This may make the game play better but YMMV, it slows some sections down to a crawl. Solid background menus are fine, since other than that and some minor lighting glitches, the game looks great.
Darkshadows

Test configurations on Linux:
Environment
Configurations
Comments
Tester
Region
OS
CPU/GPU
Revision
Graphics
Sound/Pad
PAL
Ubuntu 17.10 x64

Intel Core i7-7700K @ 4.20 GHz
EVGA GeForce GTX 1080

1.5.0
GSdx (GCC 7.2.0 SSE2/AVX) 1.1.0 [libGSdx]

SPU2-X 2.0.0 [libspu2x-2.0.0]

BIOS: Europe v2.20

The game runs smooth almost all the time.

Sometimes the game slows down to 50% after a cutscene which is only fixable with a full restart of PCSX2. Saving and restoring the state does not work in this case, you have to load the save game after restart of PCSX2!

Programie
Trivia
Original names: ラチェット&クランク2 ガガガ!銀河のコマンドーっす (SCPS-15056) & (SCPS-19302) & (SCPS-19317), 라쳇&클랭크: 공구전사 대박몰이 (SCKA-20011)
Also known as Ratchet & Clank 2: Locked and Loaded (EU, AU), Ratchet & Clank 2 (JP), Ratchet & Clank 2: Gagaga! Ginga no Commando-ssu (JP)
The game has a built in 16:9 widescreen mode that results in a smaller portion of the world being visible.
Known Issues
Crash after finishing the Jammer Array level
Status: Active
Type: Serious
Description: During the level completion cut-scene you can only hear the audio while the screen remains black. The game crashes after the cut-scene.
Workaround: Go to Config > Emulation Settings > Game Fixes > Enable manual game fixes > enable 'EE timing hack'. See this GitHub issue.
Game slows down after a cut-scene
Status: Active
Type: Minor
Description: After certain cut-scenes (e.g. the final Siberius cut-scene) the game will slow down to 50% normal speed.
Workaround: Restart PCSX2. Saving works correctly when running at 50% speed.
Status: Active
Type: Minor
Description: Most menu backgrounds are glitched in GSdx hardware modes.
Workaround: Use software mode, or ignore it (gameplay is not affected).
Megaturret Glove's turrets don't work
Status: Active
Type: Minor
Description: The upgraded turret glove's turrets loop the deployment animation and sound continuously and can't shoot anything. By revision 1.5.0, this issue only affects the PAL version.
Workaround: There's no known solution. If you want to avoid this issue, you'll have to stick to the U.S. version for the time being.
Fixed Issues
Broken textures
Status: Fixed
Type: Serious
Description: Many textures are broken until you stand close to objects due to GSdx not supporting mip-mapping in Hardware mode.
Workaround: Mipmapping is automatically enabled for this game in recent PCSX2 v.1.5.0 development builds. For earlier v1.5.0 builds go to Config > Video (GS) > Plugin Settings, and manually set Mipmapping to "Basic (Fast)". Or switch to Software mode by setting Renderer to any of the "(Software)" options.
Megacorp Trooper Freeze
Status: Fixed
Type: Minor
Affected Game Versions: All
Description: Killing certain Megacorp troopers in the Planet Dobbo level will cause the game to freeze.
Workaround: For now, use save states and the Decoy Glove weapon to identify and avoid the affected enemies.
Gameplay Screenshots
Ratchet & Clank series
Original series
Future series
Reboot series
Spin-offs
Compilations
Related