PaRappa the Rapper 2: Difference between revisions
Jump to navigation
Jump to search
m

mNo edit summary

Line 1:
Line 1:

{{infobox game

{{infobox game

|image            = PaRappa_the_Rapper_2.png

|image            = PaRappa_the_Rapper_2.png

|caption          = PaRappa the Rapper 2

|caption          = PaRappa the Rapper 2

|developer        = NanaOn-Sha

|developer        = NanaOn-Sha

|genre            = Rhythm and Music

|genre            = Rhythm and Music

|gameinfo          = The sequel to "PaRappa the Rapper". This game features a storyline in which all of the foods in PaRappa's town are turning into noodles. This is because of the evil "Noodle Syndicate". PaRappa and his friends must rap in order to beat this evil corporation and restore all of the town's foods.

|gameinfo          = The sequel to "PaRappa the Rapper". This game features a storyline in which all of the foods in PaRappa's town are turning into noodles. This is because of the evil "Noodle Syndicate". PaRappa and his friends must rap in order to beat this evil corporation and restore all of the town's foods.

|wikipedia        = http://en.wikipedia.org/wiki/PaRappa_the_Rapper_2

|wikipedia        = http://en.wikipedia.org/wiki/PaRappa_the_Rapper_2
---
Revision as of 07:54, 15 May 2011
PaRappa the Rapper 2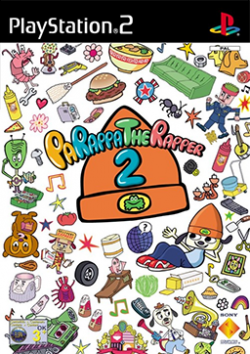 PaRappa the Rapper 2
Region NTSC-U:
Serial numbers:
SCUS-97167
Release date:
January 22, 2002
Windows Status:
Playable
Linux Status:
?
Mac Status:
?
Region PAL:
Windows Status:
?
Linux Status:
?
Mac Status:
?
Region NTSC-J:
Windows Status:
?
Linux Status:
?
Mac Status:
?
Developer(s): NanaOn-Sha
Genre: Rhythm and Music, Casual
Wikipedia: http://en.wikipedia.org/wiki/PaRappa_the_Rapper_2
Game review links: http://ps2.ign.com/objects/016/016674.html
Game review score: 7.0/10 (IGN)
Game description: The sequel to "PaRappa the Rapper". This game features a storyline in which all of the foods in PaRappa's town are turning into noodles. This is because of the evil "Noodle Syndicate". PaRappa and his friends must rap in order to beat this evil corporation and restore all of the town's foods.



Test configuration on Windows:
Comments: The game is completely playable. On hardware mode, objects sometimes get in the way of lyrics. This is a problem on three out of eight levels. However, it is not a problem on software mode, which can be easily run by any modern CPU. Software mode also produces another graphic error on the top left corner of the screen. However, this does not get in front of lyrics and is very minor. The "rappin' bad" effect is missing on both hardware and software mode and the same effect is also missing from the intro movie sequence. On earlier version than r4600, aggressive EE cyclerate hacks (50%) must be enabled to get through the intro menu sequence. On these versions, although, any level past level 1 is not playable due to freezes on scenechanges ("Cool" mode not confirmed because while in "Cool", the level only remains in one scene). Hack comments:
INTC Spin Detection is safe.
Wait Loop Detection is safe.
mVU Flag Hack is safe.
mVU Block Hack is safe.
VU Cycle Stealing is safe.

Test configuration on Linux:

PC specs used to test the game:
CPU:
Intel® Xeon® Processor E5410

(12M Cache, 2.33 GHz, 1333 MHz FSB)

GPU:
ATI Radeon HD 5770