Okami: Difference between revisions
Jump to navigation
Jump to search
Line 28:
Line 28:

|releasedateNTSCU  = September 19, 2006<br />September 2, 2008 <small>(Greatest Hits)</small>

|releasedateNTSCU  = September 19, 2006<br />September 2, 2008 <small>(Greatest Hits)</small>

|statusNTSCU      =2

|statusNTSCU      =2

|linuxstatusNTSCU  =

|linuxstatusNTSCU  =

|macstatusNTSCU    =

|macstatusNTSCU    =

<!-- PAL props -->

<!-- PAL props -->

Line 149:
Line 149:

{{TestingFooter}}

{{TestingFooter}}






<!--

 

{{TestingHeader|OS=Linux}}

{{TestingHeader|OS=Linux}}

{{TestingEntry

{{TestingEntry

|Status=?

|Status=

|Region=?

|Region=

|OS=?

|OS=

|CPU=?

|CPU=

|GPU=?

|GPU=

|Revision=?

|Revision=

|Graphics=?

|Graphics=

|Sound=?

|Sound=

|Comments=?

|Tester=?

|Comments=

|Tester=

}}

}}

{{TestingFooter}}

{{TestingFooter}}

-->

 






== Trivia ==

== Trivia ==

Line 194:
Line 196:

Okami5.png

Okami5.png

Okami6.png

Okami6.png

Okami_Forum_1.jpg

Okami_Forum_1.jpg

</gallery>

</gallery>
---
Revision as of 22:05, 29 April 2016
Okami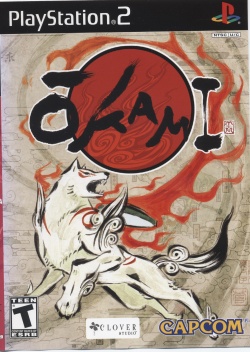 Ōkami NTSC Cover
Game general and emulation properties:
Region NTSC-U:
Serial numbers:
SLUS-21115
SLUS-21115GH (Greatest Hits)
Release date:
September 19, 2006
September 2, 2008 (Greatest Hits)
CRCs:
21068223
Windows Status:
Playable
Linux Status:
Playable
Mac Status:
?
Region PAL:
Serial numbers:
SLES-54439
Release date:
February 9, 2007
February 14, 2007
CRCs:
891F223F
Windows Status:
Playable
Linux Status:
?
Mac Status:
?
Region NTSC-J/C/K:
Serial numbers:
SLPM-66375
SCKA-20095 (English Version)
SLPM-09446 (PlayStation 2 the Best)
SLPM-74239 (PlayStation 2 the Best)
SLPM-61124 (Trial)
Release date:
April 20, 2006
November 9, 2006 (English Version)
December 14, 2006 (PlayStation 2 the Best)
Windows Status:
Playable
Linux Status:
?
Mac Status:
?
Developer(s): Clover Studio
Publisher(s): Capcom
Genre: Action, Adventure
Wikipedia: Link
Game review links: Metacritic: 93/100
Game description: In Okami, the player takes the role of the mythical sun goddess Amaterasu, in the form of a wolf. Her task is to restore color (or 'life') to the world by destroying the monsters who have stolen it. Since Amaterasu is a diety, there are naturally people who worship her and people who don't. The more people who worship her (as a result of her restoring color and doing other good deeds for them), the more powerful she becomes.
Set sometime in classical Japanese history, the game combines several Japanese myths, legends and folklore to tell the story of how the land was saved from darkness by the Shinto sun goddess, named Amaterasu, who took the form of a white wolf. It features a distinct sumi-e-inspired cel-shaded visual style and the Celestial Brush, a gesture-system to perform miracles.
Ōkami was one of the last PlayStation 2 games selected for release prior to the release of the PlayStation 3. Although it suffered from poor sales initially, the game became immensely popular afterwards and received critical acclaim, earning the title of IGN's 2006 Game of the Year. The Wii version has earned similar praise, though the motion control scheme has received mixed reviews.


Test configurations on Windows:
Environment
Configurations
Comments
Tester
Region
OS
CPU/GPU
Revision
Graphics
Sound/Pad
NTSC-U
?

AMD Athlon II x2 245 OC 3.55ghz
NVIDIA 9600GT

0.9.7 3113 beta
GSdx r3063

SPU2-X r3117 1.4.0
Lilypad r2930 0.1.0

The game runs fine without any problems. If you can't run the game in full speed, try turning on speed hacks, but it may break the game.
CKL
NTSC-U
?

i5-460m mobile Dual core CPU; 2.53-2.8Ghz
ATI HD Radeon Mobility (laptop) 5650m

0.9.8 r4600 stable
GSdx (sse4.1) r4600

SPU2-X r4600m 1.4.0
Lilypad r4500 0.10.0

Running the game with EE Cyclerate and VU Cycle Stealing both at 3 will give major slowdown. Change to EE=2 and VU=1 giving normal speeds. I managed to get full speed from an i5 mobile CPU and ATI 5650m mobility GPU. Ran full speed with very little slowdown at 2xScaled resolution with Fast CDVD loading, texture filtering and all available speedhacks on.
Alexzander
NTSC-U(?)
?

Intel Core2Duo P7550 @2.26Ghz
NVIDIA GeForce 9400M 256MB

?
GSdx ?
Managed to get fullspeed with GDx Hardware settings, custom resolution 800x800 (still fullspeed but with major slowdown in certain areas with 2xNative settings). Very minor slowdown in large maps (Shinshu Field/Taka Pass) and cutscenes. Minor bugs encountered, but none too severe.
Rovescio
PAL-E
Windows

Intel Core i5-3570K
AMD Radeon HD6870 1GB GDDR5

1.2.1 r5875 (stable)
GSdx32-SSE4-r5875

SPU2-X r5875
Lilypad r5875

Everything works fine with Anisotropic Filtering at 4x and MSAA 4x. If you start the game in PAL mode (50Hz), the game have big "optical" problems, like you haven't (or have) glass on your eyes. In NTSC mode (60Hz) the game runs perfect.
Turbo25
NTSC-U
Windows 7 64-Bit

Intel i7 @ 3.4Ghz
Sapphire R9 290X 4GB

1.2.1 r5873
GSdx 10 (Hardware)0.1.16 r5875

SPU2-X r5875
Lillypad 0.11.0 r5875

The game runs extremely well at 6X native resolution. The game has no graphical or audio glitches. This game looks better than the PS3 re-release. Bios v 2.0 was used.
Zrooney
NTSC-U
Windows 7 Home Premium 64-Bit

Intel Core i3 550 @ 3.2Ghz
ATI Radeon HD 5670 512mb

1.2.1 r5875
ZeroGS 0.97

SPU2-X r5875
Lillypad 0.11.0 r5875

•SPEEDHACKS:Preset lvl 2

Disable stencil buffer no color clamping disable depth updates no target CLUT fast update Partial targets Partial depth Resolve hack #1 specular highlights •PERFORMANCE:same problem as God Hand with ZeroGS Runs slow in some zones and has a lot of lighting problem the specular highlights in combination to the others speedhacks listed above Brings the game up to 60 Stable FPS and fixes lighting bugs but it also disables some effects one of this unfortunately it's the parchment now it just shows a black piece of paper i have found no fix for this ill post the GSdx results later in the "update" Part down below •UPDATE:

Razor96
Environment
Configurations
Comments
Tester
Region
OS
CPU/GPU
Revision
Graphics
Sound/Pad
NTSC-U
Arch Linux x86 64-bit, Kernel 4.4.5-1

Intel Core i7-3820 @ 4.66 GHz
NVidia eVGA GeForce 660Ti 3GB GDDR5, Driver 364.19 DKMS+CUDA

1.5.0-20160424221451 (git)
GSdx (gcc 5.3.0,AVX) 1.1.0

SPU2-X 2.0.0 (ALSA Back End)
OnePAD 20160424221451-dev 1.2.0

Speed hacks set to default level 2. All effects present and rendered beautifully, runs at roughly 125%-450% game speed with limiting disabled. No slowdown in heavy cut scenes or menus, no corrupt or missing textures. GSdx OpenGL Software Mode, 6 Extra Rendering Threads, FXAA, AA1, Mipmap, (Advanced Tab) - User Hacks, Align Sprite, Preload Frame, Alpha-Sprite Hack: Half, Align Sprite Texture: Half. Note: On the same machine, no combination of plugins or settings made the game playable in Windows 7, 8, or 10 without frequent slowdowns, audio studdering, and sacrificing a great deal of visual quality.
Leptonic
Trivia
Original names: 大神(おおかみ) (SLPM-66375), 오오카미 (SCKA-20095)
Also known as Ookami (JP, KO)
Gameplay Screenshots