Mortal Kombat: Shaolin Monks: Difference between revisions
Jump to navigation
Jump to search
(26 intermediate revisions by 7 users not shown)
Line 1:
Line 1:

{{info-stub}}

{{infobox

 

{{infobox game

|image            = Mksm.jpg

|image            = Mksm.jpg

|caption          =

|caption          =

|developer        =

|developer        =

|genre            = Action

|wikipedia        = http://en.wikipedia.org/wiki/Mortal_Kombat:_Shaolin_Monks

|genre            = Action

|gameinfo          =

|wikipedia        = http://en.wikipedia.org/wiki/Mortal_Kombat:_Shaolin_Monks

|gameinfo          =

<!-- NTSC-U props -->

<!-- NTSC-U props -->

|NTSCU            = 1

|NTSCU            = 1

|serialsNTSCU      =

|serialsNTSCU      =

|CRCsNTSCU        =

|CRCsNTSCU        =

|releasedateNTSCU  = September 16, 2005

|releasedateNTSCU  = September 16, 2005

|statusNTSCU      = 2

|statusNTSCU      = 2

Line 18:
Line 32:

<!-- PAL props -->

<!-- PAL props -->

|PAL              = 1

|PAL              = 1

|serialsPAL        =

|serialsPAL        =

|CRCsPAL          =

|CRCsPAL          =

|releasedatePAL    =

|releasedatePAL    =

|statusPAL        =

|statusPAL        =

|linuxstatusPAL    =

|linuxstatusPAL    =

|macstatusPAL      =

|macstatusPAL      =

<!-- NTSC-J props -->

|NTSCJ            = 1

|serialsNTSCJ      =

|CRCsNTSCJ        =

|releasedateNTSCJ  =

|statusNTSCJ      =

|linuxstatusNTSCJ  =

|macstatusNTSCJ    =

<!-- Windows specs -->

|pcsx2ver          = r3113

|gsname            = GSDX

|gsver            = r3068 0.1.16

|soundname        = SPU2-X

|soundver          = r3117 1.4.0

|padname          = LilyPad

|padver            = r2930 0.10.0

|dvdplugname      =

|dvdplugver        =

|biosver          =

|hacks            =

|fpsinfo          =

|comment          = *Runs pretty good.

*Lots of graphic glitches, mostly in the lighting (has been fixed in version 1.1 revision 5594).

<!-- Linux specs -->

|linuxpcsx2ver    =

|linuxgsname      =

|linuxgsver        =

|linuxsoundname    =

|linuxsoundver    =

|linuxpadname      =

|linuxpadver      =

|linuxdvdplugname  =

|linuxdvdplugver  =

|linuxbiosver      =

|linuxhacks        =

|linuxfpsinfo      =

|linuxcomment      =

<!-- Minimal PC specs -->

|cputype          = Intel C2D e8400 OC 3.6Ghz

|gputype          = nVidia GeForce 260GTX

|pccomment        =

}}

}}
---
Revision as of 15:01, 25 October 2021
Mortal Kombat: Shaolin Monks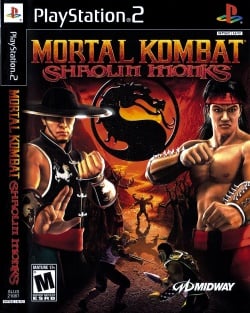 NTSC-U cover
Game general and emulation properties:
Region NTSC-U:
Serial numbers:
SLUS-21087
SLUS-21087GH (Greatest Hits)
Release date:
September 16, 2005
CRCs:
455DD546
Windows Status:
Playable
Linux Status:
?
Mac Status:
?
Region PAL:
Serial numbers:
SLES-53524
SLES-53525
Release date:
September 30, 2005
2005 (Australia)
CRCs:
3D02E0BF
Windows Status:
Playable
Linux Status:
?
Mac Status:
?
Developer(s): Midway Studios - Los Angeles
Publisher(s): Midway
Genre: Action, Fighting
Wikipedia: Link
Game review links: IGN: 8/10, Metacritic: 77/100, GameSpot: 7.5/10
Game description: Mortal Kombat: Shaolin Monks is an action adventure game set in the world of Mortal Kombat. As either Liu Kang or Kung Lao, you must battle enemies to gain experience and customize your player. Combat features include air combat, juggling, weapons, interactive environments, and an increased number of fatalities, "mutalities," and brutalities. As you progress through the Outworld, you can unlock additional classic Mortal Kombat characters.
The game centers on two members of the Shaolin Order, Liu Kang and Kung Lao, as they travel through the realms in an attempt to thwart Shang Tsung's plans to dominate Earthrealm. The player can control these two characters in either single mode or co-op mode as they venture through several environments fighting enemies. Despite being an adventure game the engine incorporates multiple elements from the Mortal Kombat series such as finishing moves and combos that can be upgraded. A versus mode also allows the players to fight against each other.


Test configurations on Windows:
Environment
Configurations
Comments
Tester
Region
OS
CPU/GPU
Revision
Graphics
Sound/Pad
NTSC-U
?

Intel C2D e8400 OC 3.6Ghz
nVidia GeForce 260GTX

r3113
GSDX r3068 0.1.16

SPU2-X r3117 1.4.0
LilyPad r2930 0.10.0

Runs pretty good.
Lots of graphic glitches, mostly in the lighting (has been fixed in the version 1.1 revision 5594).

Sev7en7
NTSC-U
Windows

Intel Core i7 @ 3.4Ghz
Nvidia GTX 285 768MB

1.1.0 r5492
GSdx 5464 SSE41

SPU2-X 2.0.0
LilyPad 0.11.0

GigaherzCDVD will make the game hang. Running from ISO or CDVDolio works fine.

 General-Plot

PAL
Windows

Ryzen 5 2600
Nvidia GeForce 750 TI OC

1.6.0 Stable
GSdx SSE4.1/AVX 1.2.0

SPU2-X 2.0.0

Plays at full speed even with widescreen hack

Zerel
NTSC-U
Windows 10 64-bit

AMD Ryzen 5 3550H with Radeon Vega Mobile Gfx 2.10 GHz
Nvidia GeForce GTX 1050

1.7.0-dev-437
GSdx32 1.2.0 SSE2

SPU2-X 2.0.0
LilyPad 0.11.0

After leaving the pit and the cutscene to the wu shi academy plays in the in the beginning as it starts it may bug littl

e doesnt affect gameplay at all it runs at 60fps must have a gaming laptop otherwise it wont work fast

(Speedhacks must be on EE Cyclerate must be set to 60% cyclerate and EE cycle skipping set to mild everything else leave in default)

Legendgamer
| | |
| --- | --- |