Mister Mosquito: Difference between revisions
Jump to navigation
Jump to search
m

 

(24 intermediate revisions by 5 users not shown)
Line 4:
Line 4:

|image            = Mister Mosquito NTSC-U.png

|image            = Mister Mosquito NTSC-U.png

|caption          = NTSC-U cover art

|caption          = NTSC-U cover art

|developer        = [[ZOOM]]

|developer        =

|publisher        = [[Eidos|Eidos Interactive]]

|publisher        = [[|Eidos Interactive]]

|genre            = Action, Simulation

|genre            = Action,

|wikipedia        = [https://en.wikipedia.org/wiki/Mister_Mosquito Link]

|wikipedia        = [https://en.wikipedia.org/wiki/Mister_Mosquito Link]

|gameinfo          = The player controls a mosquito named "Mister Mosquito", the game's titular hero, who has taken up residency in the house of the Yamada family, life-sized humans that serve as the protagonist's food source in the game. The goal of the game is to stock up on blood through the summer so that the mosquito will survive the winter ahead. The player is tasked with sucking blood from specific body parts of the family members without being noticed. If the player is not careful, the human will become stressed and eventually attack.

|gameinfo          =

|reviewlinks      = [http://www.metacritic.com/game/playstation-2/mister-mosquito Metacritic]

The player controls a mosquito named "Mister Mosquito", the game's titular hero, who has taken up residency in the house of the Yamada family, life-sized humans that serve as the protagonist's food source in the game. The goal of the game is to stock up on blood through the summer so that the mosquito will survive the winter ahead. The player is tasked with sucking blood from specific body parts of the family members without being noticed. If the player is not careful, the human will become stressed and eventually attack.

|reviewscore      = 65/100

|reviewlinks      = [://www.metacritic.com/game/playstation-2/mister-mosquito Metacritic]|65/100

<!-- NTSC-U props -->

<!-- NTSC-U props -->

|NTSCU            = 1

|NTSCU            = 1

|serialsNTSCU      = SLUS-20375

|serialsNTSCU      = SLUS-20375

|CRCsNTSCU        = 33D2AA72

|CRCsNTSCU        = 33D2AA72

|releasedateNTSCU  = March 13, 2002

|releasedateNTSCU  = March , 2002

|statusNTSCU      = 2

|statusNTSCU      = 2

|linuxstatusNTSCU  =

|linuxstatusNTSCU  =

Line 23:
Line 32:

|serialsPAL        = SLES-50769

|serialsPAL        = SLES-50769

|CRCsPAL          =

|CRCsPAL          =

|releasedatePAL    = March 22, 2002

|releasedatePAL    = March , 2002

|statusPAL        =

|statusPAL        =

|linuxstatusPAL    =  

|linuxstatusPAL    =  

Line 29:
Line 38:

<!-- NTSC-J props -->

<!-- NTSC-J props -->

|NTSCJ            = 1

|NTSCJ            = 1

|serialsNTSCJ      = SCPS-11009<br/>SCPS-19101 (PS2 the Best)

|serialsNTSCJ      = SCPS-11009<br />SCPS-19101 (the Best)

|CRCsNTSCJ        = 14E57714

|CRCsNTSCJ        = 14E57714

|releasedateNTSCJ  = June 21, 2001

|releasedateNTSCJ  = June 21, 2001

|statusNTSCJ      = 2

|statusNTSCJ      = 2

|linuxstatusNTSCJ  =

|linuxstatusNTSCJ  =

Line 53:
Line 62:

|Tester={{ForumUser|General-Plot}}

|Tester={{ForumUser|General-Plot}}

}}

}}

[[Category:temp new test case]]

{{TestingEntry

{{TestingEntry

|Status=2

|Status=2

Line 68:
Line 76:

|Tester={{ForumUser|Parotaku}}

|Tester={{ForumUser|Parotaku}}

}}

}}

[[Category:temp new test case]]

{{TestingEntry

{{TestingEntry

|Status=2

|Status=2

Line 80:
Line 87:

|Comments=Works fine without speedhacks. EE Cyclerate 1 provides a moderate speed up. VU Cycle Stealing causes the game to freeze.

|Comments=Works fine without speedhacks. EE Cyclerate 1 provides a moderate speed up. VU Cycle Stealing causes the game to freeze.

|Tester=Cronotrigger30

|Tester=Cronotrigger30

}}

}}

{{TestingFooter}}

{{TestingFooter}}

Line 101:
Line 152:





== Trivia ==

== Trivia ==

* Also known as '''Mr Moskeeto''' in Europe and '''Ka''' in Japan.

* Also known as '''Mr Moskeeto''' '''Ka'''






<!-- Remove comment signs and add issues here -->

<!-- Remove comment signs and add issues here -->

<!-- IssueLevel is issue severity level -1,0,1 or 2 (note, minor, serious and major accordingly)-->

<!-- IssueLevel is issue severity level -1,0,1 or 2 (note, minor, serious and major accordingly)-->

<!--

 

==Known Issues==

==Known Issues==






{{Issue

{{Issue

|IssueName=

|IssueName=

|IsFixed=

|IsFixed=

|IssueLevel=

|IssueLevel=

|Description=

|Description=

|Workaround=

|Workaround=

}}

}}

-->

 

-

 

 

{{ForumLinksList|list=

{{ForumLinksList|list=

*[http://forums.pcsx2.net/Thread-Ka-SCPS-11009-J--30446 Ka (SCPS 11009) (J)]

*[http://forums.pcsx2.net/Thread-Ka-SCPS-11009-J--30446 Ka (SCPS 11009) (J)]

*[http://forums.pcsx2.net/Thread-Mister-Mosquito-SLUS-20375-U--28334 Mister Mosquito (SLUS 20375) (U)]}}

*[http://forums.pcsx2.net/Thread-Mister-Mosquito-SLUS-20375-U--28334 Mister Mosquito (SLUS 20375) (U)]}}
---
Latest revision as of 08:32, 18 August 2022
Mister Mosquito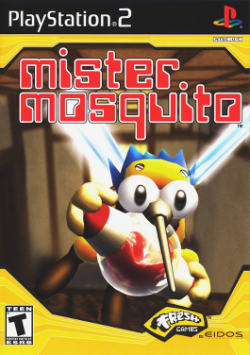 NTSC-U cover art
Game general and emulation properties:
Region NTSC-U:
Serial numbers:
SLUS-20375
Release date:
March 12, 2002
CRCs:
33D2AA72
Windows Status:
Playable
Linux Status:
?
Mac Status:
?
Region PAL:
Serial numbers:
SLES-50769
Release date:
March 28, 2002
Windows Status:
?
Linux Status:
?
Mac Status:
?
Region NTSC-J/C/K:
Serial numbers:
SCPS-11009
SCPS-19101 (PlayStation 2 the Best)
PAPX-90215 (Trial)
PCPX-96317 (Trial)
Release date:
June 21, 2001
June 27, 2002 (PlayStation 2 the Best)
CRCs:
14E57714
Windows Status:
Playable
Linux Status:
?
Mac Status:
?
Developer(s): Zoom
Publisher(s): SCEI (JP), Eidos Interactive (US, EU)
Genre: Action, Shooter, Arcade
Wikipedia: Link
Game review links: Metacritic: 65/100
Game description: The Yamada family will never know what bit them. You are Mister Mosquito, an uninvited guest in the Yamada's family home in Japan. In order to store up enough food for the coming winter, you will need to drink as much of their precious blood as possible while they are in bed, talking on the phone, watching tv, or even taking a bath. The Yamada family knows you are in the house, and they have plans to take you out. Deadly insecticides fill the air, and members of the family have the ability to crush you like a bug. You want a taste of their plasma. They want you dead. Something's gotta give.
The player controls a mosquito named "Mister Mosquito", the game's titular hero, who has taken up residency in the house of the Yamada family, life-sized humans that serve as the protagonist's food source in the game. The goal of the game is to stock up on blood through the summer so that the mosquito will survive the winter ahead. The player is tasked with sucking blood from specific body parts of the family members without being noticed. If the player is not careful, the human will become stressed and eventually attack.


Test configurations on Windows:
Environment
Configurations
Comments
Tester
Region
OS
CPU/GPU
Revision
Graphics
Sound/Pad
NTSC-U
Windows

Intel Core i7 @ 3.4Ghz
Nvidia GTX 285 768MB

13 11 2012 1.1.0 r5452-
GSdx 5442 SSE41 [29 10 2012]

SPU2-X 2.0.0 [21 11 2012]
LilyPad 0.11.0 [09 10 2012]

Runs above full speed.
NTSC-J
Windows

Intel Core2 Duo E8500 @ 3.16Ghz
Nvidia GTS 250 512MB

18 05 2013 1.1.0 r5628-
GSdx 5632 SSE41

SPU2-X 2.0.0 5559
LilyPad 0.11.0 5403

Playable., Status
NTSC-U
Windows 8 x64

AMD Athlon X4 760K @ 3.8 GHz (Stock)
Radeon HD 4670

PCSX2 1.3.0-755
GSdx 1.3.0-755
Works fine without speedhacks. EE Cyclerate 1 provides a moderate speed up. VU Cycle Stealing causes the game to freeze.
Cronotrigger30
NTSC-U
Windows 7 Ultimate 64-bit

Intel i5-3570 3.40~3.80GHz
NVIDIA GeForce GTX 1060 6GB

PCSX 1.5.0
GSdx 1.1.0

SPU2-X 2.0.0
LilyPad 0.12.1

BIOS: USA v02.00, game still runs perfectly fine. Both EE and VU are set to 0.
TommyGun
NTSC-U
Windows 10 Pro

MSI MPG Z490
i5-10600K @ 4.8GHz
NVIDIA GeForce GTX1070
32GB HyperX FURY DDR4 @ 3200MHz

GSdx 1.1.0 gsdx32-avx2

DirectX 11 (Hardware)
Resolution: 3x Native (~1080p)
Enable FXAA: ON

SPU2-X 2.0.0

Interpolation: Catmull-Rom
Module: XAudio2
Latency: 100ms
Sync Mode: TimeStretch

LilyPad 0.12.1

BIOS: USA 2.0, works flawlessly.
NullNOVA
Trivia
Original names: 蚊 (SCPS-11009) & (SCPS-19101)
Also known as Mr Moskeeto (EU), Ka (JP)
Known Issues
Impossible blend for D3D: (Cd - Cs) * As + Cd
Status: Active
Type: Minor
Description: In the menu file the Memory Card in 3D is not being rendered correctly.
Workaround: No known workaround.
Speedhacks may cause issues (In particular VU Cycle Stealing)
Type: Note (not an issue)
Description: VU Cycle Stealing 2 and 3 may cause a black screen at the intro screen and also during missions. VU Cycle Stealing 2 may also randomly cause freezes of the game (Cutscenes before missions don't seem to be affected by this.)
Workaround: Use VU Cycle Stealing 1 or don't use VU Cycle Stealing at all.