Midnight Club: Street Racing: Difference between revisions
Jump to navigation
Jump to search
No edit summary

(33 intermediate revisions by 5 users not shown)
Line 1:
Line 1:

{{info-stub}}

{{infobox

 

|image            =

{{infobox game

|caption          =

|image            =

|developer        =

|caption          =

|developer        =

|genre            =

|genre            =

|gameinfo          =

|wikipedia         =

|reviewlinks      =

|gameinfo          =

|reviewscore      =

|

        =

|

=

|=

<!-- NTSC-U props -->

<!-- NTSC-U props -->

|NTSCU            = 1

|NTSCU            = 1

|serialsNTSCU      =

|serialsNTSCU      =

|CRCsNTSCU        =

|CRCsNTSCU        =

|releasedateNTSCU  =

|releasedateNTSCU  =

|statusNTSCU      =

|statusNTSCU      =

|linuxstatusNTSCU  =

|linuxstatusNTSCU  =

|macstatusNTSCU    =

|macstatusNTSCU    =

<!-- PAL props -->

<!-- PAL props -->

|PAL              = 1

|PAL              = 1

|serialsPAL        =

|serialsPAL        =

|CRCsPAL          =

|CRCsPAL          =

|releasedatePAL    =

|releasedatePAL    =

|statusPAL        =

|statusPAL        =

|linuxstatusPAL    =

|linuxstatusPAL    =

Line 28:
Line 39:

<!-- NTSC-J props -->

<!-- NTSC-J props -->

|NTSCJ            = 1

|NTSCJ            = 1

|serialsNTSCJ      =

|serialsNTSCJ      =

|CRCsNTSCJ        =

|CRCsNTSCJ        =

|releasedateNTSCJ  =

|releasedateNTSCJ  =

|statusNTSCJ      =

|statusNTSCJ      =

|linuxstatusNTSCJ  =

|linuxstatusNTSCJ  =

|macstatusNTSCJ    =

|macstatusNTSCJ    =

<!-- Windows specs -->

|pcsx2ver          =

|gsname            =

|gsver            =

|soundname        =

|soundver          =

|padname          =

|padver            =

|dvdplugname      =

|dvdplugver        =

|biosver          =

|hacks            =

|fpsinfo          =

|comment          =

<!-- Linux specs -->

|linuxpcsx2ver    =

|linuxgsname      =

|linuxgsver        =

|linuxsoundname    =

|linuxsoundver    =

|linuxpadname      =

|linuxpadver      =

|linuxdvdplugname  =

|linuxdvdplugver  =

|linuxbiosver      =

|linuxhacks        =

|linuxfpsinfo      =

|linuxcomment      =

<!-- Minimal PC specs -->

|cputype          =

|gputype          =

|pccomment        =

}}

}}
---
Revision as of 12:33, 25 January 2018
Midnight Club: Street Racing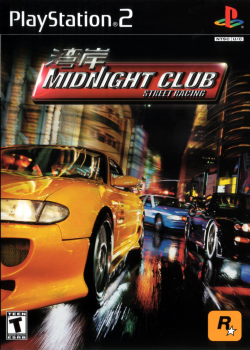 NTSC-U Cover Art
Game general and emulation properties:
Region NTSC-U:
Serial numbers:
SLUS-20063
SLUS-20063GH (Greatest Hits)
NPUD-20063 (PS2 Classics)
Release date:
October 25, 2000
2002 (Greatest Hits)
March 5, 2013 (PS2 Classics)
Windows Status:
Playable
Linux Status:
?
Mac Status:
?
Region PAL:
Serial numbers:
SLES-50054
SLES-50071
SLES-50071-P
SLES-50054-P
Release date:
December 8, 2000
July 26, 2002 (Platinum)
March 6, 2013 (PS2 Classics)
Windows Status:
?
Linux Status:
?
Mac Status:
?
Region NTSC-J/C/K:
Serial numbers:
SLPS-20068
SLPM-62189 (Syscom Game Gallery)
Release date:
March 1, 2001
July 11, 2002 (Syscom Game Gallery)
Windows Status:
?
Linux Status:
?
Mac Status:
?
Developer(s): Angel Studios
Publisher(s): Rockstar Games (US, EU), Syscom (JP), SCEA (US)
Genre: Racing
Wikipedia: Link
Game review links: GameRankings: 77/100, Metacritic: 78/100
Game description: In secret gatherings around the world, a mysterious group of urban street racers known as the Midnight Club race for pride, power, and glory in sleekly customized, tricked-out sports cars. As a New York City cabdriver, you stumble upon this secret organization and decide to try something new. Before you know it, you're speeding through crowded streets, running red lights, terrorizing pedestrians, driving on sidewalks, and outrunning the cops. Race anywhere in New York and London and win the pink slips of opposing players.


Test configurations on Windows:
Environment
Configurations
Comments
Tester
Region
OS
CPU/GPU
Revision
Graphics
Sound/Pad
NTSC-U
Windows

Intel Core i7 @ 3.40 GHz
NVIDIA GeForce GTX 285 @ 768 MB

1.1.0 (r5452, 13-11-2012)
GSdx SSE41 (r5442, 29-10-2012)

SPU2-X 2.0.0 (21-11-2012)
LilyPad 0.11.0 (09-10-2012)

Hangs on loading screen going ingame.

 General-Plot

NTSC-U
Windows

Intel Core i5-4440 @ 3.10 GHz
NVIDIA GeForce GTX 650 @ 1 GB

1.3.0 (git, 28-05-2014)
GSdx
USA v01.60(04/10/2001), Recommended + MTVU, Needs SW mode to see the intro, but isn't required during gameplay, The intro is just a garbled image in hardware mode, but is fixed is software mode

 Nobbs66

NTSC-U
Windows 7 Enterprise

Intel Core i5-2450m @ 2.50 GHz
Intel HD Graphics 3000

1.3.0 (git 27-04-2015)
GSdx
USA BIOS v01.60. GSdx Renderer: Direct3D9. Don't run the game via CD. Use your own ISO. Anyways, game runs okay. New York (moderate traffic/pedestrians) runs anywhere from 35-75+ FPS on software mode. London fares terribly, only hitting 70 FPS max. The intro does need software mode to run properly (just press "start" repeatedly if you don't wanna switch to software). Widescreen hack does not break gameplay. Menus work good, and there's really nothing wrong with the game now.
Dan Castellaneta
Trivia
Original names: ミッドナイトクラブ (SLPS-20068) & (SLPM-62189)
Known Issues
Broken videos
Status: Fixed
Type: Minor
Description: Intro videos are not properly rendered.
Workaround: This has been fixed in recent PCSX2 versions. For older versions, go to Config -> Emulation Settings -> Gamefixes and enable the "Switch to GSdx software rendering when an FMV plays". Or temporarily switch to software mode by pressing the F9 key.
The gallery