Kingdom Hearts Re: Chain of Memories: Difference between revisions
Jump to navigation
Jump to search
m

 

(22 intermediate revisions by 7 users not shown)
Line 1:
Line 1:

{{infobox

{{infobox

|image            = Kingdom Hearts Re- Chain of Memories.jpeg

|image            = Kingdom Hearts Re- Chain of Memories.jpeg

|caption          = NTSC-U Boxart

|caption          =

|developer        = Square Enix

|developer        =

|genre            = Action RPG

Square Enix

|wikipedia        = [http://en.wikipedia.org/wiki/Kingdom_Hearts:_Chain_of_Memories Link]

|genre            = ActionRPG

|gameinfo          = Kingdom Hearts: Chain of Memories was remade for the PlayStation 2, titled Kingdom Hearts Re:Chain of Memories. It was developed by Square Enix's fifth Product Development Division, based in Osaka, and released as the second disc of Kingdom Hearts II Final Mix+ in Japan on March 29, 2007 and as a standalone title in North America on December 2, 2008.

|wikipedia        = [://en.wikipedia.org/wiki/Kingdom_Hearts:_Chain_of_Memories Link]

|reviewlinks      = [http://ps2.ign.com/articles/934/934330p1.html IGN]

|= :.of

|reviewscore      = 8.4/10 (IGN)

|reviewlinks      = [http://..com///.html ]|/|[://www..com//-kingdom-hearts--of-memories

|gamefaqslink      = [http://www.gamefaqs.com/ps2/954016-kingdom-hearts-rechain-of-memories Link]

]

<!-- NTSC-U props -->

<!-- NTSC-U props -->

|NTSCU            = 1

|NTSCU            = 1

Line 18:
Line 26:

|macstatusNTSCU    =

|macstatusNTSCU    =

<!-- NTSC-J props -->

<!-- NTSC-J props -->

|NTSCJ            = 0

|NTSCJ            =

|serialsNTSCJ      =

|serialsNTSCJ      =

|CRCsNTSCJ        =

|CRCsNTSCJ        =

|releasedateNTSCJ  = March 29, 2007

|releasedateNTSCJ  = March 29, 2007

Line 33:
Line 41:

|Region=NTSC-U

|Region=NTSC-U

|OS=Windows 7 Ultimate

|OS=Windows 7 Ultimate

|CPU=Athlon II X4 630 2.80 GHz

|CPU=Athlon II X4 630 2.80 GHz

|GPU=Geforce 9800GT 1GB.

|GPU=

|Revision=1.1.0 r5380

|Revision=1.1.0 r5380

|Graphics=GSdx r5376

|Graphics=GSdx r5376

|Sound=

|Sound=

* SPU2-X r5317

* SPU2-X r5317

* LilyPad r5258

* LilyPad r5258

|Comments=

|Comments=Enable Alpha Hack to fix shadowsPlays just fine with no real issues. You can use either EE or VU hacks for an extra FPS boost.

* HACKS: INTC Spin Detection, Wait Loop Detection, Fast CDVD, mVU Flag Hack, MTVU

* Enable Alpha Hack to fix shadows

Plays just fine with no real issues.

You can use either EE or VU hacks for an extra FPS boost.

|Tester=CrazySteve88

|Tester=CrazySteve88

}}

}}

Line 51:
Line 63:

|Region=NTSC-U

|Region=NTSC-U

|OS=Windows

|OS=Windows

|CPU=Intel Core i7 @ 3.4Ghz

|CPU=Intel Core i7 @ 3.

|GPU=Nvidia GTX 285 768MB

|GPU=GTX 285

|Revision=1.1.0 r5480

|Revision=1.1.0 r5480

|Graphics=GSdx 5442 SSE41

|Graphics=GSdx SSE41

|Sound=

|Sound=

*SPU2-X 2.0.0

* SPU2-X 2.0.0

*LilyPad 0.11.0

* LilyPad 0.11.0

|Comments=Runs at 300% speed.

|Comments=Runs at 300% speed.

|Tester={{ForumUser|General-Plot}}

|Tester={{ForumUser|General-Plot}}

Line 65:
Line 77:

|Region=NTSC-J

|Region=NTSC-J

|OS=Windows

|OS=Windows

|CPU=I5 3330

|CPU=3330

|GPU=HD radeon 6850

|GPU=HD 6850

|Revision=1.3.svn5932

|Revision=1.3

|Graphics=GSDX

|Graphics=

|Sound=

|Sound=

*SPU2-X

* SPU2-X

*?

* ?

|Comments=USA v02.20(10/02/2006) very rare to happen any little insignificcant shadow bug,for this Turn on alpha hack in GSdx and play on perfection., Its possible appear some glitches in some cinematics in hardware mode,this not affect the game experience,in software mode its Fine.

|Comments=USA v02.20(10/02/2006) rare to happen any little insignificcant shadow bug, for this on alpha hack in GSdx and play on perfection. possible appear some glitches in some cinematics in hardware mode, this not affect the game experience, in software mode .

|Tester={{ForumUser|DESTRUIDOR}}

|Tester={{ForumUser|DESTRUIDOR}}

}}

}}

{{TestingFooter}}

{{TestingFooter}}

Line 94:
Line 139:

-->

-->






==The gallery==

<gallery>

File:Kingdom_Hearts_Re_Chain_of_Memories_Forum_1.jpg|Kingdom Hearts Re: Chain of Memories (SLPM 66676)

</gallery>






* Offical PCSX2 Video: [http://www.youtube.com/watch?v=f3O77985dd0 YouTube]

* :

:.

 






==Known Issues==

==Known Issues==






{{Issue

{{Issue

|IssueName=Bugged shadows: Lines or not realistic

|IssueName=Bugged shadows

|IsFixed=0

|IsFixed=0

|IssueLevel=0

|IssueLevel=0

|Description=Bugged shadows: Lines or not realistic

|Description=Lines or not

|Workaround=Turn on alpha hack in GSdx.

|Workaround=on .

}}

}}

 

{{Issue

{{Issue

|IssueName=Cinematic cutscenes bugged

|IssueName=Cinematic cutscenes bugged

|IsFixed=0

|IsFixed=

|IssueLevel=0

|IssueLevel=0

|Description=Cinematic cutscenes bugged

|Description=Cinematic cutscenes bugged

|Workaround=Use software mode of GSdx or use the auto SW mode switcher gamefix.

|Workaround=mode or the .

}}

}}






{{Issue

|IssueName=Sora ragdoll hovering in blackness

=

|IsFixed=0

|IssueLevel=0

|Description=When loading new areas sometimes you see a Sora ragdoll hovering in blackness for a split second.

|Workaround=Unknown, does not affect gameplay.

}}

|.

 

 

=

.

 






{{Kingdom Hearts series}}

{{Kingdom Hearts series}}
---
Latest revision as of 08:27, 18 August 2022
Kingdom Hearts Re: Chain of Memories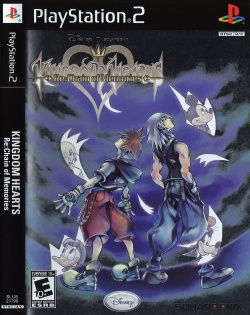 Game general and emulation properties:
Region NTSC-U:
Serial numbers:
SLUS-21799
SLUS-21799GH (Greatest Hits)
Release date:
December 2, 2008
2009 (Greatest Hits)
CRCs:
A287DF74, 7068AE87
Windows Status:
Playable
Linux Status:
?
Mac Status:
?
Region NTSC-J/C/K:
Serial numbers:
SLPM-66676 (Ultimate Hits)
Release date:
March 29, 2007
Windows Status:
Playable
Linux Status:
?
Mac Status:
?
Developer(s): Jupiter Corporation
Publisher(s): Square Enix
Genre: Action, RPG
Wikipedia: Link
Game review links: GameRankings: 71/100, Metacritic: 68/100
Game description: Sora, Donald and Goofy travel down a long road that meanders through endless fields, and come to a crossroads. As Sora stands in the crossroads, he gazes up at the night sky and thinks of his lost friends. Just then, a mysterious man approaches from down one of the branching paths. "Ahead lies something you need," he says, "but to claim it, you must lose something dear." The man vanishes before a single path, leading to a castle that eerily resembles a girl's drawing... In the coming journey, what will Sora and his companions gain, and what will they lose? In addition to Sora, players can control Riku in this adventure that bridges the gap between Kingdom Hearts and Kingdom Hearts II A full 3D remake of the original GBA release, Kingdom Hearts Re:Chain of Memories offers a refreshing rendition of the hit title for the PlayStation 2 system. The talented voice cast from the North American releases of Kingdom Hearts and Kingdom Hearts II, including David Gallagher and Haley Joel Osment, return to breathe new life into the beloved characters. The mini-game catalog has been completely renewed, now with four brand new experiences accompanying the main adventure.


Test configurations on Windows:
Environment
Configurations
Comments
Tester
Region
OS
CPU/GPU
Revision
Graphics
Sound/Pad
NTSC-U
Windows 7 Ultimate

AMD Athlon II X4 630 @ 2.80 GHz
NVIDIA GeForce 9800 GT @ 1 GB

1.1.0 (r5380)

GSdx (r5376)

SPU2-X (r5317)
LilyPad (r5258)

Enable Alpha Hack to fix shadows. Plays just fine with no real issues. You can use either EE or VU hacks for an extra FPS boost.
CrazySteve88
NTSC-U
Windows

Intel Core i7 @ 3.40 GHz
NVIDIA GeForce GTX 285 @ 768 MB

1.1.0 (r5480)
GSdx SSE41 (r5442)

SPU2-X 2.0.0
LilyPad 0.11.0

Runs at 300% speed.
NTSC-J
Windows

Intel Core i5-3330
AMD Radeon HD 6850

1.3 (SVN r5932)
GSdx
USA v02.20(10/02/2006) Very rare to happen any little insignificcant shadow bug, for this turn on alpha hack in GSdx and play on perfection. It's possible appear some glitches in some cinematics in hardware mode, this not affect the game experience, in software mode it's fine.
NTSC-U
Windows 7 Ultimate x64 (SP1)

Intel Core i5-4670K @ 3.40 GHz
AMD Radeon R9 280 @ 3 GB

1.5.0 (dev-1977 gdf32564)

GSdx 1.1.0 AVX2

SPU2-X 2.0.0
LilyPad 0.12.1

BIOS: USA 2.30, Runs fine. FMVs work correctly in the more recent developer builds too. Shadows are definitely improved as of 1.4.0, but they can still glitch up from time to time. I personally haven't experienced the 'Sora ragdoll' issue when transitioning to different areas in the game, so that may have gotten fixed too, but I can't be too sure of that one yet.
Ryudo
Trivia
Original names: キングダム ハーツ チェイン・オブ・メモリーズ リメイク (SLPM-66676)
This is a remake of the Game Boy Advance version, titled Kingdom Hearts Chain of Memories. When it was remade for PlayStation 2 the name was changed to Kingdom Hearts Re:Chain of Memories.
Known Issues
Sora ragdoll hovering in blackness
Type: Note (not an issue)
Description: When loading new areas sometimes you see a Sora's ragdoll hovering in blackness for a split second.
Workaround: There is no known solution.
Bugged shadows when playing on higher internal resolution than native.
Status: Active
Type: Minor
Description: Shadows are Lines or unrealistic, this however does not appear to be an issue on the latest
Workaround: This issue has been fixed for native resolution on the most recent PCSX2 v1.5.0 git builds, as for a higher native resolution, go to Config > Video (GS) > Plugin Settings, turn on "Enable HW Hacks", change Half-pixel Offset to "Special (Texture - aggressive)"
Fixed Issues
Cinematic cutscenes bugged
Status: Fixed
Type: Minor
Description: Cinematic cutscenes bugged
Workaround: This has been fixed in recent PCSX2 v1.5.0 git builds. For older versions, temporarily switch to Software mode with the F9 key, or go to Config > Emulation Settings > Game Fixes tab, turn on "Enable manual game fixes" and enable the "Switch to GSdx software rendering when an FMV plays" fix.
Gameplay Screenshots
Gameplay Videos
Kingdom Hearts series
Games
HD Collections and compilations
Related