Kingdom Hearts Final Mix: Difference between revisions
Jump to navigation
Jump to search
m

mNo edit summary

 

(25 intermediate revisions by 6 users not shown)
Line 1:
Line 1:

{{info-stub}}

{{infobox

{{infobox

|image            = KHFM.png

|image            = KHFM.png

|caption          = NTSC-J cover art

|caption          = NTSC-J cover

|developer        = [[Square Enix|SquareSoft]], [[Square Enix|Square Enix (Ultimate Hits)]]

|developer        = [[Square Enix|SquareSoft]]

|publisher        = [[Square Enix|SquareSoft]]

[[Square Enix|()]] |[[Square Enix]]

|genre            = RPG

|genre            = RPG

|gameinfo          = Kingdom Hearts Final Mix features changes from the [[Kingdom Hearts|NTSC and PAL releases]], including bosses present in the NTSC/PAL releases, but not in the original Japanese release. Other changes include the recoloring of some Heartless and introducing new ones, new weapons, new enemies, new abilities, new cutscenes, Gummi Ship missions, new Ansem Reports, and a new secret movie.

|gameinfo          =

Kingdom Hearts Final Mix features changes from the [[Kingdom Hearts|NTSC and PAL releases]], including bosses present in the NTSC/PAL releases, but not in the original Japanese release. Other changes include the recoloring of some Heartless and introducing new ones, new weapons, new enemies, new abilities, new cutscenes, Gummi Ship missions, new Ansem Reports, and a new secret movie.

|wikipedia        = [http://en.wikipedia.org/wiki/Kingdom_Hearts_(video_game)#Final_Mix Link]

|wikipedia        = [http://en.wikipedia.org/wiki/Kingdom_Hearts_(video_game)#Final_Mix Link]

|reviewlinks      =

|=

|reviewscore      =

|=

<!-- NTSC-U props -->

<!-- NTSC-U props -->

|NTSCU            = 0

|NTSCU            = 0

Line 29:
Line 34:

<!-- NTSC-J props -->

<!-- NTSC-J props -->

|NTSCJ            = 1

|NTSCJ            = 1

|serialsNTSCJ      = SLPS-25198<br>SLPM-66123 <small>(Ultimate Hits)</small>

|serialsNTSCJ      = SLPS-25198<br >SLPM-66123 <small>(Ultimate Hits)</small>

|CRCsNTSCJ        = 3E68955A

|CRCsNTSCJ        = 3E68955A

|releasedateNTSCJ  = December 26, 2002

|releasedateNTSCJ  = December 26, 2002

|statusNTSCJ      = 2

|statusNTSCJ      = 2

|linuxstatusNTSCJ  =

|linuxstatusNTSCJ  =

|macstatusNTSCJ    =

|macstatusNTSCJ    =

}}

}}

Line 39:
Line 44:

<!-- Windows and Linux testing tables (remove comment signs on usage, for Macintosh you have to add the same lines begin with {{TestingHeader|OS=Mac}}) -->

<!-- Windows and Linux testing tables (remove comment signs on usage, for Macintosh you have to add the same lines begin with {{TestingHeader|OS=Mac}}) -->

{{TestingHeader|OS=Windows}}

{{TestingHeader|OS=Windows}}

{{TestingEntry

{{TestingEntry

|Status=2

|Status=2

|Region=NTSC-J

|Region=NTSC-J

|OS=Windows

|OS=Windows

|CPU=Intel Core i7 @ 3.4Ghz

|CPU=Intel Core i7 @ 3.

|GPU=Nvidia GTX 285 768MB

|GPU=GTX 285

|Revision=16 12 2012 1.1.0 r5480-

|Revision=1.1.0 r5480

|Graphics=GSdx 5442 SSE41 [29 10 2012]

|Graphics=GSdx 5442 SSE41

|Sound=

|Sound=

*SPU2-X 2.0.0 [21 11 2012]

*SPU2-X 2.0.0

*LilyPad 0.11.0 [09 10 2012]

*LilyPad 0.11.0

|Comments=Runs at 200% speed.

|Comments=Runs at 200% speed.

|Tester={{ForumUser|General-Plot}}

|Tester={{ForumUser|General-Plot}}

}}

}}

[[Category:temp new test case]]

{{TestingEntry

{{TestingEntry

|Status=2

|Status=2

|Region=NTSC-J

|Region=NTSC-J

|OS=Windows 7 64-bit

|OS=Windows

|CPU=Intel i7 4770k @ 3.5ghz

|CPU=Intel i7@ .

|GPU=Nvidia GeForce 980 GTX 4GB

|GPU=GeForce GTX

|Revision=1.0.0 (r5350)

|Revision=1

|Graphics=GSdx r5350

.0.0

()

|Graphics=GSdx

|Sound=

|Sound=

* SPU2-X r5350

*SPU2-X

* LilyPad r5350

*LilyPad

|Comments=Crashes randomly during the tutorial. Runs perfectly other than that.

|Comments=the .

|Tester=Paulie9990

|Tester=

}}

}}

[[Category:temp new test case]]

{{TestingFooter}}

{{TestingFooter}}






<!--

 

 

{{TestingHeader|OS=Linux}}

{{TestingHeader|OS=Linux}}

{{TestingEntry

{{TestingEntry

|Status=?

|Status=

|Region=?

|Region=

|OS=?

|OS=

|CPU=?

|CPU=

|GPU=?

|GPU=

|Revision=?

|Revision=

|Graphics=?

|Graphics=

|Sound=?

|Sound=

|Comments=?

|Tester=?

|Comments=

|Tester=

}}

}}

{{TestingFooter}}

{{TestingFooter}}

-->

 

 

--









---
Latest revision as of 06:27, 18 July 2022
Kingdom Hearts Final Mix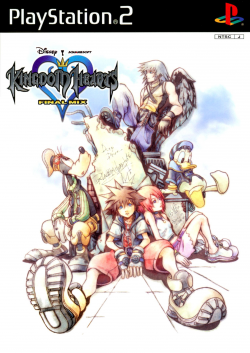 NTSC-J cover
Game general and emulation properties:
Region NTSC-J/C/K:
Serial numbers:
SLPS-25198
SLPS-25197 (Limited Edition)
SLPM-66123 (Ultimate Hits)
SCAJ-25004
SLAJ-25004
SCAJ-20149 (Ultimate Hits)
Release date:
December 26, 2002
September 8, 2005 (Ultimate Hits)
CRCs:
3E68955A, BD3FB233
Windows Status:
Playable
Linux Status:
Playable
Mac Status:
?
Developer(s): SquareSoft
Publisher(s): SquareSoft (JP, US), SCEE (EU), SCE Australia (AU), Square Enix (US, JP)
Genre: Action, RPG
Wikipedia: Link
Game description: For the first time ever, Disney films come together in one game, but it's up to you make it their world the happiest place on Earth. Kingdom Hearts follows Sora in his quest to find his friends and Court Wizard Donald and Captain Goofy as they set out to find the missing King Mickey. The three searchers meet and embark on a magnificent, but dangerous, journey across familiar Disney worlds filled with monsters. Over 100 characters appear in the game including Jafar, Tarzan, and Hercules.
Kingdom Hearts Final Mix features changes from the NTSC and PAL releases, including bosses present in the NTSC/PAL releases, but not in the original Japanese release. Other changes include the recoloring of some Heartless and introducing new ones, new weapons, new enemies, new abilities, new cutscenes, Gummi Ship missions, new Ansem Reports, and a new secret movie.


Test configurations on Windows:
Environment
Configurations
Comments
Tester
Region
OS
CPU/GPU
Revision
Graphics
Sound/Pad
NTSC-J
Windows 7 64-bit

Intel Core i7-4770K @ 3.5 GHz
NVIDIA GeForce GTX 980 4 GB

1.0.0 (r5350)
GSdx r5350

SPU2-X r5350
LilyPad r5350

Crashes randomly during the tutorial. Runs perfectly other than that.
Paulie9990
NTSC-J
Windows

Intel Core i7 @ 3.4 GHz
NVIDIA GeForce GTX 285 768 MB

1.1.0 r5480
GSdx 5442 SSE41

SPU2-X 2.0.0
LilyPad 0.11.0

Runs at 200% speed.

 General-Plot

NTSC-J
Windows 10

Intel Core i7-870 @ 2.93 GHz
NVIDIA GeForce GTX 960 4 GB

1.5.0-dev-2689-g651d287f1
GSdx 2018-11-20 SSE4.1

SPU2-X 2.0.0
Pokopom XInput Pad Plugin 2.0.0

Solid gameplay
Chromaryu
NTSC-J (Patch: English Version)
Windows 8.1, x64

Intel(R) Pentium(R) CPU G2030 @ 3.00GHz
NVIDIA GeForce GT 1030 @ 2 GB

v1.7.0-dev-1907
GSdx

Europe v02.00(14/06/2004), The game runs at full speed 1620p (3K), with no brakes, bugs or freezes. This game has very beautiful graphics, even in the video plugin you don't need to configure anything.

 Chern40_7

Test configurations on Linux:
Environment
Configurations
Comments
Tester
Region
OS
CPU/GPU
Revision
Graphics
Sound/Pad
NTSC-J
Manjaro KDE

Intel Core i5-6500 @ 3.60 GHz
NVIDIA GeForce GTX 1050 Ti

1.7.2678 Nightly
GSdx 1.1.0 AVX2, Direct3D11 (Hardware)

SPU2-X 2.0.0
LilyPad 0.12.1

Game runs fine aside from rare minor hiccups, had to increase joystick sensitivity to 118 to fix diagonal movement being slower.
Zerron21
Trivia
Original names: キングダム ハーツ -ファイナル ミックス- (SLPS-25198) & (SLPS-25197) & (SLPM-66123)
Kingdom Hearts series
Games
HD Collections and compilations
Related