Kill.switch: Difference between revisions
m

 

(15 intermediate revisions by 4 users not shown)
Line 1:
Line 1:

{{info-stub}}

{{infobox

{{infobox

|image            =kill.switch.jpg

|image            =kill.switch.jpg

|caption          =North American box art

|caption          =North American box art

|developer        =Namco

|developer        = Namco

|genre            =Action, 3rd Person Shooter

|genre            = Action, Shooter

|wikipedia        =[http://en.wikipedia.org/wiki/Kill_Switch_%28video_game%29 Link]

|wikipedia        =[http://en.wikipedia.org/wiki/Kill_Switch_%28video_game%29 Link]

|gameinfo          =A 3rd person shooter relying heavily on cover systems. Shoot your boomstick.

|gameinfo          = on . your

|reviewlinks      =[http://www.ign.com/articles/2004/04/15/killswitch-5?page=3 IGN]

.

|reviewscore      = 7.8/10 (IGN)

 

|reviewlinks      = [http://www.ign.com/articles/2004/04/15/killswitch-5 IGN]|7.8/10

<!-- NTSC-U props -->

<!-- NTSC-U props -->

|NTSCU            = 1

|NTSCU            = 1

|serialsNTSCU      =SLUS-20706

|serialsNTSCU      = SLUS-20706

|CRCsNTSCU        =ECC849C5

|CRCsNTSCU        =ECC849C5

|releasedateNTSCU  =March 23, 2004

|releasedateNTSCU  = ,

|statusNTSCU      =2

|statusNTSCU      =2

|linuxstatusNTSCU  =

|linuxstatusNTSCU  =

Line 21:
Line 30:

<!-- PAL props -->

<!-- PAL props -->

|PAL              = 1

|PAL              = 1

|serialsPAL        =

|serialsPAL        =

|CRCsPAL          =

|CRCsPAL          =

|releasedatePAL    =

|releasedatePAL    =

|statusPAL        =

|statusPAL        =

|linuxstatusPAL    =

|linuxstatusPAL    =

|macstatusPAL      =

|macstatusPAL      =

<!-- NTSC-J props -->

<!-- NTSC-J props -->

|NTSCJ            = 1

|NTSCJ            =

|serialsNTSCJ      =

|serialsNTSCJ      =

|CRCsNTSCJ        =

|CRCsNTSCJ        =

Line 39:
Line 48:

<!-- Windows and Linux testing tables (remove comment signs on usage, for Macintosh you have to add the same lines begin with {{TestingHeader|OS=Mac}}) -->

<!-- Windows and Linux testing tables (remove comment signs on usage, for Macintosh you have to add the same lines begin with {{TestingHeader|OS=Mac}}) -->

{{TestingHeader|OS=Windows}}

{{TestingHeader|OS=Windows}}

{{TestingEntry

{{TestingEntry

|Status=2

|Status=2

Line 46:
Line 69:

|GPU=Sapphire R9 290X 4GB

|GPU=Sapphire R9 290X 4GB

|Revision=1.2.1 r5875

|Revision=1.2.1 r5875

|Graphics=GSdx 10 (Software)0.1.16 r5875  

|Graphics=GSdx 10 ()0.1.16 r5875  

|Sound=

|Sound=

*SPU2-X r5875

*SPU2-X r5875

Line 56:
Line 79:

{{TestingFooter}}

{{TestingFooter}}






<!--

{{TestingHeader|OS=Linux}}

{{TestingHeader|OS=Linux}}

{{TestingEntry

{{TestingEntry

|Status=?

|Status=

|Region=?

|Region=

|OS=?

|OS=

|CPU=?

|CPU=

|GPU=?

|GPU=

|Revision=?

|Revision=

|Graphics=?

|Sound=?

|Comments=?

|Tester=?

|Graphics=

|Sound=

|Comments=

|Tester=

}}

}}

{{TestingFooter}}

{{TestingFooter}}

-->













---
Latest revision as of 10:50, 31 October 2020
Developer(s): Namco
Publisher(s): Namco (US), SCEE (EU)
Genre: Action, Shooter, Arcade
Wikipedia: Link
Game review links: IGN: 7.8/10, Metacritic: 73/100
Game description: In kill.switch, you will take on the role of a highly skilled military operative with orders to start a war. Travel to global 'hotspots' such as the Middle East, the Caspian Sea region, and North Korea. Hide behind objects in your environment and lay down suppressing fire without even looking. Fight through 15 action-packed scenarios featuring diverse missions and objectives that span the globe. As the story unfolds, you'll begin to discover what's behind your dark agenda.
The game is a remotely controlled super-soldier, Nick Bishop (voiced by Adam Baldwin). For most of the game the soldier is remotely controlled by a man known only as "Controller" (voiced by Chuck McQuary). Controller is apparently using a direct neural connection to Bishop. Bishop's suppressed memories occasionally break through, causing Controller headaches. The memories feature a woman and the phrase, "Say my name." Controller, under orders from a man named Archer (voiced by Marcus McCollum), uses Bishop in a series of combat missions designed to convince two nations or groups known as the North and the West to go to war.

Kill.switch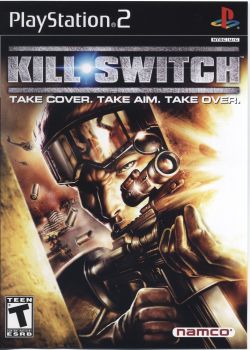 North American box art
Game general and emulation properties:
Region NTSC-U:
Serial numbers:
SLUS-20706
Release date:
October 28, 2003
CRCs:
ECC849C5
Windows Status:
Playable
Linux Status:
?
Mac Status:
?
Region PAL:
Serial numbers:
SCES-52124
SLES-52124
Release date:
February 20, 2004
Windows Status:
?
Linux Status:
Playable
Mac Status:
?

Test configurations on Windows:
Environment
Configurations
Comments
Tester
Region
OS
CPU/GPU
Revision
Graphics
Sound/Pad
NTSC-U
Windows

Intel Core 2 Duo E6750 @ 2.66 Ghz
Nvidia GTX 260 896MB

1.1.0 r5800-
GSdx r5800 SSSE3

SPU2-X 2.0.0 r5800
LilyPad 0.11.0 r5800

Game works fine and stable at a good speed.
NTSC-U
Windows 7 64-Bit

Intel i7 @ 3.4Ghz
Sapphire R9 290X 4GB

1.2.1 r5875
GSdx 10 (Hardware)0.1.16 r5875

SPU2-X r5875
Lillypad 0.11.0 r5875

Game looks great at 6X native resolution. Noticed some extremely light slowdown/hitching, but game was still running at 60FPS. Bios v 2.0 was used.
Zrooney
Environment
Configurations
Comments
Tester
Region
OS
CPU/GPU
Revision
Graphics
Sound/Pad
PAL
Debian 10

Intel Core i5-4570 CPU @ 3.20 GHz
NVIDIA GeForce GTX 760 2 GB

1.6.0

GSdx 1.2.0 AVX2

SPU2-X 2.0.0
OnePAD 0 2.0.0

Runs at full speed without issues.
Ratchet66
Trivia