Grand Theft Auto: San Andreas: Difference between revisions
Jump to navigation
Jump to search
Line 193:
Line 193:

* This game has Vert- widescreen issues, meaning the vertical FOV becomes smaller than intended if the player uses an aspect ratio above 4:3. This issue can be solved using widescreen hacks.

* This game has Vert- widescreen issues, meaning the vertical FOV becomes smaller than intended if the player uses an aspect ratio above 4:3. This issue can be solved using widescreen hacks.










==Fixed Issues==

==Fixed Issues==

Line 216:
Line 225:

|Workaround=In "Emulation Settings", set Clamping Mode at least to "Extra + Preserve Sign". Also, you may just skip the cut scene. Fixed in v1.7.2041

|Workaround=In "Emulation Settings", set Clamping Mode at least to "Extra + Preserve Sign". Also, you may just skip the cut scene. Fixed in v1.7.2041

}}

}}






==The gallery==

==The gallery==
---
Revision as of 18:54, 19 July 2022
Grand Theft Auto: San Andreas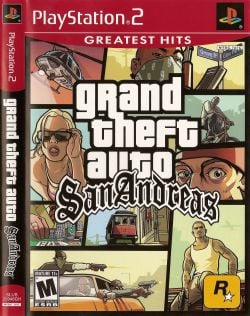 NTSC-U (Greatest Hits) cover
Game general and emulation properties:
Region NTSC-U:
Serial numbers:
SLUS-20946
SLUS-20946P (Special Edition)
SLUS-20946GH (Greatest Hits)
NPUD-20946 (PS2 Classics)
Release date:
October 26, 2004
October 17, 2005 (Special Edition)
February 20, 2006 (Greatest Hits)
December 11, 2012 (PS2 Classics)
CRCs:
2C6BE434, 399A49CA
Windows Status:
Playable
Linux Status:
?
Mac Status:
?
Region PAL:
Serial numbers:
SLES-52541
SLES-52541/P (Platinum Edition)
SLES-51541
SLES-52927
SLES-52927-P (Platinum)
NPED-00070 (PS2 Classics)
Release date:
October 29, 2004
April 1, 2006 (Platinum Edition; Platinum Australia)
December 12, 2012 (PS2 Classics)
April 1, 2015 (PS2 Classics re-release)
CRCs:
A1B3F232, B440A8FE
Windows Status:
Playable
Linux Status:
Playable
Mac Status:
?
Region NTSC-J/C/K:
Serial numbers:
SLPM-65984
SLPM-66788 (Best Price)
SLPM-55092 (Best Price Re-Edition)
SLPM-55292 (Rockstar Classics)
NPJD-00107 (PS2 Classics)
Release date:
January 25, 2007
July 12, 2007 (Best Price)
July 23, 2009 (Best Price Re-Edition)
September 29, 2011 (Rockstar Classics)
August 26, 2015 (PS2 Classics)
Windows Status:
?
Linux Status:
?
Mac Status:
?
Developer(s): Rockstar North
Publisher(s): Rockstar Games (US, EU, AU, JP), Capcom (JP), SCEA (US)
Genre: Action, Adventure
Wikipedia: Link
Game review links: GameRankings: 95/100, Metacritic: 95/100
Game description: Five years ago Carl Johnson escaped from the pressures of life in Los Santos, San Andreas... a city tearing itself apart with gang trouble, drugs and corruption. Where filmstars and millionaires do their best to avoid the dealers and gangbangers. Now, it's the early 90s. Carl's got to go home. His mother has been murdered, his family has fallen apart and his childhood friends are all heading towards disaster. On his return to the neighborhood, a couple of corrupt cops frame him for homicide. CJ is forced on a journey that takes him across the entire state of San Andreas, to save his family and to take control of the streets.



Test configurations on Windows:
Environment
Configurations
Comments
Tester
Region
OS
CPU/GPU
Revision
Graphics
Sound/Pad
NTSC-U
?

Intel Core i7 920 @ 3.40 GHz
NVIDIA GeForce GTX 285

0.9.8 RC r4463
GSdx r4459

SPU2-X 1.4.0
LilyPad 0.10.0

BIOS: USA 2.0, FPS: 60/60, PAL last tested with 0.9.4 with complains of reflections covering the screen, probably playable with 0.9.8.
Machina
NTSC-U
Windows

Intel Core i7 @ 3.40 GHz
NVIDIA GeForce GTX 285 768MB

1.1.0 r5480
GSdx 5442 SSE41

SPU2-X 2.0.0
LilyPad 0.11.0

Runs above full speed.

 General-Plot

NTSC-U
Windows

Intel Core2 Duo E6750 @ 2.66 GHz
NVIDIA GeForce GTX 260 896MB

1.1.0 r5576
GSdx r5464 SSSE3

SPU2-X 2.0.0 r5460
LilyPad 0.11.0 r5403

Fast and smooth it is.

 prafull

NTSC-U
?

Intel Core i5-3320
Intel HD Graphics 4000

1.1.0 5732
GSdx32 r5732 AVX

SPU2-X r5731
LilyPad r5403

BIOS: EUR 2.0, FPS: 4-60, works just on software renderer dx11 or dx9. msaa 4x, alpha, halfpixel,sprite,wildarmsoffset,agressivce-crc,alpha stencil. texture filtering, allow 8bit textures, enable hw hacks ! Speedhacks: EE 2 , VU 1. intc,loop detection, mvu flag hack and mtvu active !
Xeo
PAL
Windows

Intel Core i7 @ 3.80 GHz
NVIDIA GeForce GTX 570 1368MB

1.1.0 r5829
GSdx
Europe v01.70(27/02/2003), MTVU, INTC Spin Detection, Enable Wait Loop Detection, mVU Flag Hack, Goes from Ingame to Playable. Game works fine at a good speed, very dark however due to light being removed via CRC patch. I recommend you enable Shadeboost and put the brightness slider to about 85 to achieve the brightness seen in the screenshot above.

 refraction

NTSC
Windows 8.1 Professional x64

Intel Core i5-4690K 3.50 GHz
NVIDIA GeForce GTX 970 4GB

1.3.1-530-g62beb3a
GSdx

DirectX 11 Hardware, 6x Resolution (See Comments)

SPU2-X 20150614102702 2.0.0
LilyPad 20150614102702 0.11.0

BIOS: USA 2.2.0(10/02/2006)

No Speedhacks, No Game Fixes - Presets Disabled
No known issues.

INVALID_STRING_NAME
PAL-M5
Windows 8.1, x64

Intel(R) Pentium(R) CPU G2030 @ 3.00GHz
NVIDIA GeForce GT 1030 @ 2 GB

Nightly - v1.7.2095
GSdx

build-in
Europe v02.00(14/06/2004), Playable, The game runs at 1080p and 1440p (2K) 50 FPS, without freezes, brakes and bugs.

 Chern40_7

Test configurations on Linux:
Environment
Configurations
Comments
Tester
Region
OS
CPU/GPU
Revision
Graphics
Sound/Pad
PAL
Linux Mint 19.1

Intel Pentium CPU G3258 @ 3.20GHz
NVIDIA GeForce GT710

1.4.0
GSdx (GCC 7.3.0, SSE2) 1.0.0 [libGSdx-1.0.0]
SPU2-X 2.0.0 [libspu2x-2.0.0]
BIOS: Europe v02.00 FPS 48/50 (Pal games run only at 50fps). OpenGL Hardware , Shade Boost all Set to 50, Full Depth Emulation ,Internal Resolution X2 Native , Blending Unit Accuracy Basic , Automatic CRC Level Full , Speed Hacks UV Cycle Stealing Set To 1. Only player the first level but everything seems fine as far more testing might be needed.
Logeater
Trivia
Original names: グランド・セフト・オート・サンアンドレアス (SLPM-65984) & (SLPM-66788) & (SLPM-55292)
This game has Vert- widescreen issues, meaning the vertical FOV becomes smaller than intended if the player uses an aspect ratio above 4:3. This issue can be solved using widescreen hacks.
Known Issues
Type: Note (not an issue)
Description: The game utilizes a bloom layer that also doubles as a haze/fog dof. It's entirely intentional but when upscaling, it really looks off to people.
Workaround: My recommendation is to set the Skipdraw hack to 7,7 to remove this effect entirely and compensate for the minor loss of brightness/saturation through the use of the Shadeboost post-process.
Some people might recommend using Texture Offsets to align the effect instead, but due to how it's scaled larger than the image you see in order to protrude, it won't have a great effect at all.
Fixed Issues
Semi-transparent images
Status: Fixed
Type: Serious
Description: Reflections and/or semi-transparent images can cover the screen at random.
Workaround: This has been fixed for Software mode in recent v1.5.0 git builds, and can be fixed for hardware by going to Config > Video (GS) > Plugin Settings, clicking "Enable HW Hacks", going to Configure Hacks and enabling the Auto Flush hack. For older versions set the CRC Hack Level to Partial or higher.
Buggy Texture.
Status: Fixed
Type: Minor
Description: The dirt on car appear as a pink color.
Workaround: Fixed in v1.7.2010 (CLUT fix).
Game freezes during "Reuniting The Families" mission
Status: Fixed
Type: Major
Description: Game freezes when the cops start descending from the chopper, exactly when the game is supposed to slow down, when the pilot says "All units, rock n' roll".
Workaround: In "Emulation Settings", set Clamping Mode at least to "Extra + Preserve Sign". Also, you may just skip the cut scene. Fixed in v1.7.2041
The gallery
Grand Theft Auto series
Main series
Handheld series
Related