Grand Theft Auto: Liberty City Stories: Difference between revisions
Jump to navigation
Jump to search
 

(11 intermediate revisions by 6 users not shown)
Line 1:
Line 1:

{{infobox

{{infobox

|image            = Grand Theft Auto Liberty City Stories PAL.jpg

|image            = Grand Theft Auto Liberty City Stories PAL.jpg

|caption          = PAL box art

|caption          =  

|developer        = [[Rockstar Games|Rockstar Leeds]]

|developer        = [[Rockstar Games|Rockstar Leeds]]

|publisher        = [[Rockstar Games]] (US, EU, AU), [[Capcom]] (JP), [[Sony|SCEA]] (US)

|publisher        = [[Rockstar Games]] (US, EU, AU), [[Capcom]] (JP), [[Sony|SCEA]] (US)

|genre            = Action, Adventure

|genre            = Action, Adventure

|wikipedia        = [http://en.wikipedia.org/wiki/Grand_Theft_Auto:_Liberty_City_Stories Link]

|wikipedia        = [://en.wikipedia.org/wiki/Grand_Theft_Auto:_Liberty_City_Stories Link]

|gameinfo          = There are a million stories in Liberty City. This one changes everything. Once a trusted wise guy in the Leone crime family, Toni Cipriani was forced into hiding after killing a made man. Now he's back and it's time for things to be put right.  The streets of Liberty City are in turmoil. Warring mafiosi vie for control as the town begins to self-destruct under waves of political corruption, organized crime, drug trafficking and union strikes. No one can be trusted as Toni tries to clean up the mess of the city's chaotic underworld. Deranged hit men, morally depraved tycoons, cynical politicians and his own mother stand in his way as Toni tries to bring the city under Leone control.  Forced to fight for his life in an odyssey that will shake Liberty City to its foundations, Toni must use any means necessary to secure his place in the leadership of the Leone family in a town up for grabs.<br />

|gameinfo          = There are a million stories in Liberty City. This one changes everything. Once a trusted wise guy in the Leone crime family, Toni Cipriani was forced into hiding after killing a made man. Now he's back and it's time for things to be put right.  The streets of Liberty City are in turmoil. Warring mafiosi vie for control as the town begins to self-destruct under waves of political corruption, organized crime, drug trafficking and union strikes. No one can be trusted as Toni tries to clean up the mess of the city's chaotic underworld. Deranged hit men, morally depraved tycoons, cynical politicians and his own mother stand in his way as Toni tries to bring the city under Leone control.  Forced to fight for his life in an odyssey that will shake Liberty City to its foundations, Toni must use any means necessary to secure his place in the leadership of the Leone family in a town up for grabs.<br />

Liberty City's layout is largely similar to Grand Theft Auto III, while it also incorporates elements found in Grand Theft Auto III's successors, such as more indoor environments, clothing changes, and motorcycles. In addition, in keeping with recent Grand Theft Auto games, the player has more flexibility in terms of moving the camera around for viewing surroundings (Grand Theft Auto III is noticeably limited in that respect). Things that are omitted from this game are the ability to climb and the ability to swim - contact with deep bodies of water is instantly fatal in this game. The overall sandbox play area, as it is based upon the original Liberty City layout, is considerably smaller than that of San Andreas.

Liberty City's layout is largely similar to Grand Theft Auto III, while it also incorporates elements found in Grand Theft Auto III's successors, such as more indoor environments, clothing changes, and motorcycles. In addition, in keeping with recent Grand Theft Auto games, the player has more flexibility in terms of moving the camera around for viewing surroundings (Grand Theft Auto III is noticeably limited in that respect). Things that are omitted from this game are the ability to climb and the ability to swim - contact with deep bodies of water is instantly fatal in this game. The overall sandbox play area, as it is based upon the original Liberty City layout, is considerably smaller than that of San Andreas.

|widescreen        = 1

|widescreen        = 1

|cpu-intensive    = 1

|cpu-intensive    = 1

|gamefaqslink      = [http://www.gamefaqs.com/ps2/931275-grand-theft-auto-liberty-city-stories Link]

|reviewlinks      = {{ReviewLink|[http://www.metacritic.com/game/playstation-2/grand-theft-auto-liberty-city-stories Metacritic]|78/100}}

|japan_rating      = Z

|au_rating        = MA

|au_rating        = MA

|eu_rating        = 18+

|eu_rating        = 18+

|na_rating_text    = Blood and Gore, Intense Violence, Strong Language, Strong Sexual Content, Use of Drugs

|na_rating_text    = Blood and Gore, Intense Violence, Strong Language, Strong Sexual Content, Use of Drugs

|na_rating        = M

|italian          = SLES-54135

|italian          = SLES-54135

|spanish          = SLES-54135

|spanish          = SLES-54135

Line 23:
Line 26:

|english          = SLES-54135 & SLES-54136 & SLUS-21423 & NPUD-21423

|english          = SLES-54135 & SLES-54136 & SLUS-21423 & NPUD-21423

|japanese          = SLPM-66851 & SLPM-55038

|japanese          = SLPM-66851 & SLPM-55038

|widescreenpatch  = 1

<!-- NTSC-U props -->

<!-- NTSC-U props -->

|NTSCU            = 1

|NTSCU            = 1

Line 38:
Line 40:

|releasedatePAL    = June 23, 2006<br />November 23, 2007 <small>(Platinum)</small><br />April 3, 2013 <small>(PS2 Classics)</small>

|releasedatePAL    = June 23, 2006<br />November 23, 2007 <small>(Platinum)</small><br />April 3, 2013 <small>(PS2 Classics)</small>

|statusPAL        = 2

|statusPAL        = 2

|linuxstatusPAL    =  

|linuxstatusPAL    =

|macstatusPAL      =  

|macstatusPAL      =  

<!-- NTSC-J props -->

<!-- NTSC-J props -->

Line 56:
Line 58:

|Region=PAL

|Region=PAL

|OS=?

|OS=?

|CPU=Intel Core i7 920 @ 3.4 Ghz

|CPU=Intel Core i7920 @ 3.

|GPU=Geforce 9600GT

|GPU=9600GT

|Revision=r4600

|Revision=r4600

|Graphics=GSDX  r4643 0.1.16

|Graphics=0.1.16

|Sound=

|Sound=

* SPU2-X r4600m 1.4.0

* SPU2-X 1.4.0

* LilyPad r4510 0.10.0

* LilyPad 0.10.0

|Comments=GSDX 11 HW r4600 plays this at 30fps, r4643 plays at 10fps. Enabling '''Allow 8-bit textures''' in GSdx helps with speed. Setting the "FramerateNTSC=59.94" or "FrameratePAL=50.0" lines in the pcsx2_vm.ini file to 30/25 can play the game at full speed but lower smoothness even in slower PC., Scaling may severely hurt performance'''. Sniper rifles can be used only in software GSdx mode'''.

|Comments=r4600 at r4643 at . Enabling 'Allow 8-bit ' in GSdx helps with speed. Setting the FramerateNTSC=59.94or FrameratePAL=50.0lines in the pcsx2_vm.ini file to 30/25 can play the game at full speed but lower smoothness even slower .  may severely hurt performance. Sniper rifles can be used in mode.

|Tester=Lagahan

|Tester=Lagahan

}}

}}

Line 70:
Line 75:

|Region=PAL

|Region=PAL

|OS=Windows

|OS=Windows

|CPU=Intel Core 2 Duo E6750 @ 2.66 Ghz

|CPU=Intel Duo E6750 @ 2.66

|GPU=Nvidia GTX 260 896MB

|GPU=GTX 260

|Revision=1.1.0 r5576

|Revision=1.1.0 r5576

|Graphics=GSdx r5464 SSSE3

|Graphics=GSdx r5464

|Sound=

|Sound=

*SPU2-X 2.0.0 r5460

* SPU2-X 2.0.0 r5460

*LilyPad 0.11.0 r5403

* LilyPad 0.11.0 r5403

|Comments=Game seems to be fully playable. Its kinda slow with default settings so you need to tick allow 8 bit textures. Vu cycle stealing helps a lot.

|Comments=Game seems to be fully playable. slow with default settings so you need to 8bit . helps a lot.

|Tester={{ForumUser|prafull}}

|Tester={{ForumUser|prafull}}

}}

}}

Line 84:
Line 89:

|Region=NTSC-U

|Region=NTSC-U

|OS=Windows

|OS=Windows

|CPU=Intel Core i7 @ 3.4Ghz

|CPU=Intel Core i7 @ 3.

|GPU=Nvidia GTX 285 768MB

|GPU=GTX 285

|Revision=1.1.0 r5754

|Revision=1.1.0 r5754

|Graphics=GSdx 5752 SSE41

|Graphics=GSdx

|Sound=

|Sound=

*SPU2-X 5733 2.0.0

* SPU2-X 2.0.0

*LilyPad 5403 0.11.0

* LilyPad 0.11.0

|Comments=Runs above full speed.

|Comments=Runs above full speed.

|Tester={{ForumUser|General-Plot}}

|Tester={{ForumUser|General-Plot}}

}}

}}

{{TestingFooter}}

{{TestingFooter}}






<!--

{{TestingHeader|OS=Linux}}

{{TestingHeader|OS=Linux}}

{{TestingEntry

{{TestingEntry

|Status=?

|Status=

|Region=?

|Region=

|OS=?

|OS=

|CPU=?

|CPU=

|GPU=?

|GPU=

|Revision=?

|Revision=

|Graphics=?

|Sound=?

|Comments=?

|Tester=?

|Graphics=

|Sound=

|Comments=

|Tester=

}}

}}

{{TestingFooter}}

{{TestingFooter}}

-->






==Trivia==

== Trivia ==

* Original names: '''グランド・セフト・オート リバティーシティ・ストーリーズ''' (SLPM-66851) & (SLPM-55038)

* Original names: '''グランド・セフト・オート リバティーシティ・ストーリーズ''' (SLPM-66851) & (SLPM-55038)

* Widescreen crops the top and bottom of the 4:3 image, meaning less visible viewing area than when played in 4:3.

* Widescreen crops the top and bottom of the 4:3 image, meaning less visible viewing area than when played in 4:3.

Line 132:
Line 229:

-->

-->






==The gallery==

== ==

<gallery>

<gallery >

File:Grand_Theft_Auto_Liberty_City_Stories_Forum_1.jpg|Grand Theft Auto: Liberty City Stories (SLUS 21423)

File:Grand_Theft_Auto_Liberty_City_Stories_Forum_1.jpg|Grand Theft Auto: Liberty City Stories (SLUS 21423)

File:Grand_Theft_Auto_Liberty_City_Stories_Forum_2.jpg|Grand Theft Auto: Liberty City Stories (SLES 54135)

File:Grand_Theft_Auto_Liberty_City_Stories_Forum_2.jpg|Grand Theft Auto: Liberty City Stories (SLES 54135)

</gallery>

</gallery>






{{Grand Theft Auto series}}






{{ForumLinksList|list=

{{ForumLinksList|list=

*[http://forums.pcsx2.net/Thread-Grand-Theft-Auto-Liberty-City-Stories-SLUS-21423-U--28874 Grand Theft Auto - Liberty City Stories (SLUS 21423) (U)]

*[http://forums.pcsx2.net/Thread-Grand-Theft-Auto-Liberty-City-Stories-SLUS-21423-U--28874 Grand Theft Auto - Liberty City Stories (SLUS 21423) (U)]

*[http://forums.pcsx2.net/Thread-Grand-Theft-Auto-Liberty-City-Stories-SLES-54135-E--30512 Grand Theft Auto - Liberty City Stories (SLES 54135) (E)]}}

*[http://forums.pcsx2.net/Thread-Grand-Theft-Auto-Liberty-City-Stories-SLES-54135-E--30512 Grand Theft Auto - Liberty City Stories (SLES 54135) (E)]}}
---
Latest revision as of 06:47, 16 August 2021
Grand Theft Auto: Liberty City Stories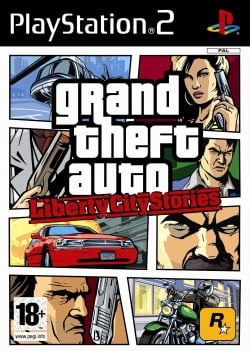 Game general and emulation properties:
Region NTSC-U:
Serial numbers:
SLUS-21423
NPUD-21423 (PS2 Classics)
Release date:
June 6, 2006
April 2, 2013 (PS2 Classics)
CRCs:
7EA439F5
Windows Status:
Playable
Linux Status:
?
Mac Status:
?
Region PAL:
Serial numbers:
SLES-54135
SLES-54135/P (Platinum)
NPED-00064 (PS2 Classics)
SLES-54136
Release date:
June 23, 2006
November 23, 2007 (Platinum)
April 3, 2013 (PS2 Classics)
CRCs:
D693D4CF
Windows Status:
Playable
Linux Status:
Playable
Mac Status:
?
Region NTSC-J/C/K:
Serial numbers:
SLPM-66851
SLPM-55038 (Best Price!)
Release date:
September 6, 2007
May 28, 2009 (Best Price!)
Windows Status:
?
Linux Status:
?
Mac Status:
?
Developer(s): Rockstar Leeds
Publisher(s): Rockstar Games (US, EU, AU), Capcom (JP), SCEA (US)
Genre: Action, Adventure
Wikipedia: Link
Game review links: Metacritic: 78/100
Game description: There are a million stories in Liberty City. This one changes everything. Once a trusted wise guy in the Leone crime family, Toni Cipriani was forced into hiding after killing a made man. Now he's back and it's time for things to be put right. The streets of Liberty City are in turmoil. Warring mafiosi vie for control as the town begins to self-destruct under waves of political corruption, organized crime, drug trafficking and union strikes. No one can be trusted as Toni tries to clean up the mess of the city's chaotic underworld. Deranged hit men, morally depraved tycoons, cynical politicians and his own mother stand in his way as Toni tries to bring the city under Leone control. Forced to fight for his life in an odyssey that will shake Liberty City to its foundations, Toni must use any means necessary to secure his place in the leadership of the Leone family in a town up for grabs.
Liberty City's layout is largely similar to Grand Theft Auto III, while it also incorporates elements found in Grand Theft Auto III's successors, such as more indoor environments, clothing changes, and motorcycles. In addition, in keeping with recent Grand Theft Auto games, the player has more flexibility in terms of moving the camera around for viewing surroundings (Grand Theft Auto III is noticeably limited in that respect). Things that are omitted from this game are the ability to climb and the ability to swim - contact with deep bodies of water is instantly fatal in this game. The overall sandbox play area, as it is based upon the original Liberty City layout, is considerably smaller than that of San Andreas.


Test configurations on Windows:
Environment
Configurations
Comments
Tester
Region
OS
CPU/GPU
Revision
Graphics
Sound/Pad
PAL
?

Intel Core i7-920 @ 3.40 GHz
NVIDIA GeForce 9600GT

0.9.8 (r4600)
GSdx 0.1.16 (r4643)

SPU2-X 1.4.0 (r4600m)
LilyPad 0.10.0 (r4510)

r4600 runs at 30 FPS. r4643 runs at 10 FPS. Enabling 'Allow 8-bit Textures' in GSdx helps with speed. Setting the 'Frame

rateNTSC=59.94' or 'FrameratePAL=50.0' lines in the pcsx2_vm.ini file to 30/25 can play the game at full speed but lower smoothness even on slower systems. Upscaling may severely hurt performance. Sniper rifles can only be used in Software mode.

Lagahan
PAL
Windows

Intel Core2 Duo E6750 @ 2.66 GHz
NVIDIA GeForce GTX 260 @ 896 MB

1.1.0 (r5576)
GSdx SSSE3 (r5464)

SPU2-X 2.0.0 (r5460)
LilyPad 0.11.0 (r5403)

Game seems to be fully playable. It's kind of slow with default settings so you need to enable 'Allow 8-bit Textures'. VU Cycle Stealing helps a lot.

 prafull

NTSC-U
Windows

Intel Core i7 @ 3.40 GHz
NVIDIA GeForce GTX 285 @ 768 MB

1.1.0 (r5754)
GSdx SSE4 (r5752)

SPU2-X 2.0.0 (r5733)
LilyPad 0.11.0 (r5403)

Runs above full speed.

 General-Plot

NTSC-U
Windows

Intel Core i7 @ 3.40 GHz
NVIDIA GeForce GTX 780TI @ 3 GB

v1.5.0 (dev-2099 ge043822)

GSdx 1.1.0 SSE4

SPU2-X 2.0.0
LilyPad 0.12.1

Runs great. Almost constant 100% speed, as fast as GTA "Trails" will allow (around 30 FPS)
KingSponge
PAL
Windows 10

Intel Core i5-10210U 1.60 GHz (Up to 4.20 GHz)
AMD Radeon 530

1.6.0

GSdx 1.2.0 AVX2

SPU2-X 2.0.0
Runs fine. The FPS only drops when a massive explosion occurs or when positioned next to the trees of Salvatore's Mansion.
CaptainErenB
NTSC-U
Windows 10

AMD Ryzen 5 3600 @ 3.6Ghz
Geforce 1660 Super

1.7.0 (dev-1545)

GSdx

SPU2-X 2.0.0

Completed the story with no issues and maintained full speed the vast majority of the time. Driving between the trees of

Salvatore's mansion (the very first area when you start the game) is actually more taxing on the framerate than anywhere else in the game, so if you can't get full speed there it doesn't mean you won't be able to get it elsewhere! Enabling GPU Palette Conversion provides a notable speedup. Setting Half-Pixel Offset to Normal (Vertex) removes the blurry "trails" effect, if you prefer a clearer and sharper image. Skipdraw at 1x1 will remove the "double vision" bug for distant objects.

CynicMimic

Test configurations on Linux:
Environment
Configurations
Comments
Tester
Region
OS
CPU/GPU
Revision
Graphics
Sound/Pad
PAL
Solus, kernel 5.2.20

Intel Core i5-4570 CPU @ 3.20 GHz
NVIDIA GeForce GTX 760 2 GB

1.5.0 (e7d1a58)

GSdx 1.1.0 AVX2

SPU2-X 2.0.0
OnePAD 0 2.0.0

Playable at full speed with the specified settings (unspecified settings at default value).
Ratchet66
Trivia
Original names: グランド・セフト・オート リバティーシティ・ストーリーズ (SLPM-66851) & (SLPM-55038)
Widescreen crops the top and bottom of the 4:3 image, meaning less visible viewing area than when played in 4:3.
Gameplay Screenshots
Grand Theft Auto series
Main series
Handheld series
Related