Gran Turismo 4
Jump to navigation
Jump to search
Gran Turismo 4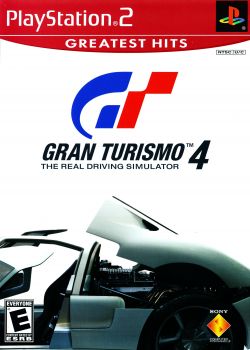 Region NTSC-U:
Serial numbers:
SCUS-97328
Release date:
October 20, 2004
CRCs:
77E61C8A
Windows Status:
Playable
Linux Status:
?
Mac Status:
?
Region PAL:
Serial numbers:
SCES-51719
Release date:
March 09, 2005
CRCs:
44A61C8F
Windows Status:
Playable
Linux Status:
?
Mac Status:
?
Region NTSC-J:
Serial numbers:
SCPS-17001
Release date:
December 28, 2004
CRCs:
AEAD1CA3
Windows Status:
Playable
Linux Status:
?
Mac Status:
?
Developer(s): Polyphony Digital
Genre: Racing
Wikipedia: http://en.wikipedia.org/wiki/Gran_Turismo_4



Test configuration on Windows:
| | |
| --- | --- |
| PCSX2 version: | 0.9.9 r4878 |
| Graphics by GSDX: | r4873 |
| Sound by SPU2-X: | r4872 |
| Pad plugin is LilyPad: | r4484 |
| BIOS version: | USA v2.00 |
Comments:
This game requires a ton of personal tinkering to get it to run decent.
Hack comments: Hacks: EE CycleRate (3), INTC, Wait Idle Loop, mVU flag hack.
MTVU may increase speed in quad cores, in dual-cores it increases depending on the race but may cause slowdown in others.
Other hacks cause crashes or game won't boot.

Test configuration on Linux:
| | |
| --- | --- |
| PCSX2 version: | 1.0.0 |
| Graphics by GSdx: | 0.1.16 |
| Sound by SPU2-X: | 2.0.0 |
| BIOS version: | USA 2.00 |
Comments: Stock settings, just the GS had to be switched to GSdx. Only problem is that in a race it is too slow (20-30 fps) and the game doesn't work with frame skipping; with hardware video acceleration enabled in GSdx, it is twice as slow. The problem seems to be the CPU. System: Core i3-2100 3.1 GHz dual core+HT, Nvidia 8800GT with proprietary 295.40 driver, Kubuntu 12.04 64 bit.

PC specs used to test the game:
| | |
| --- | --- |
| CPU: | Intel C2D e8400 OC 3.6Ghz |
| GPU: | nVidia GeForce 260GTX |
Comments:
This game has very, VERY high requirements. Don't expect a smooth or stable game. Heavy slowdown often. Mostly depends on track, lights and the amount of cars on screen.
"Allow 8-bit textures" in GSdx may help with speed a bit more and maybe reduce the Vram slowdowns.
In Gsdx config change the interlacing mode to Bob tff to stabilize the image.
Known issues:
Crashes
Crashes pretty often. Happens because of spikes in VRam use.
If you get lots of crashes during license tests use lower internal resolution in GSdx or use ZeroGS or ZZOgl, expect much slower speeds from using the last two.
In GSDX HW AA causes the game to crash alot so set it to 0, running the game with native res seems to help as well.
Additionally in Windows XP even in native resolution you may get instant crashes when starting races if you don't have enough VRam, using a custom resolution lower than 512x512 seems to help.
Solution: Set VU Clamping Mode to Extra to fix.
Garbage all over screen in races
Happens when using color/brightness options other than 0.
Solution: To fix the super broken graphics and crashing during races set the Brightness to 0 in options.
Solution 2: In Ntsc version , change the display in game config to Normal, then you can set the brightness to 5 whithout the broken graphics, and get a clearer picture.
Demo races not working
Demonstrations return back to menu as soon as they start.
Solution: Only work with EE clamping set to full.
Broken Photos
Photos are all messy. Solution: Unknown.