Developer(s): SCE Santa Monica
Publisher(s): SCEA (US), SCEE (EU), SCEI (KO), Capcom (JP), SCE Australia (AU)
Genre: Action, Adventure
Wikipedia: Link
Game review links: Metacritic: 94/100
Game description: In God of War, the dark world of Greek mythology comes to life right before your eyes. As you take the role of Kratos, a story unfolds with various plot twists and multiple endings that take you through traps, stunts, and puzzles. With a deep combat system built around double chain blade weapons, the game places you in a variety of environments, in which you must fight challenging enemies, swing on ropes, scale mountain cliffs, swim through rivers, and slide down zip lines.
God of War is a single player game that features a third-person perspective view with a fixed camera. The player controls the character Kratos, a Spartan warrior in the service of the Olympian Gods in a mixture of combat, both normal and quick time, with platforming and puzzle game elements. The player guides the protagonist through a long series of tests, trials and mazes to achieve goals. The game is loosely based on Greek mythology, and is set in Ancient Greece.

God of War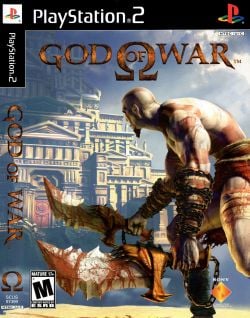 North American box art.
Game general and emulation properties:
Region NTSC-U:
Serial numbers:
SCUS-97399
SCUS-97467 (Demo, God of War: The Hydra Battle)
Release date:
March 22, 2005
March 1, 2006 (Greatest Hits)
CRCs:
D6385328
Windows Status:
Playable
Linux Status:
Playable
Mac Status:
?
Region PAL:
Serial numbers:
SCES-53133
SCES-53133/P (Platinum)
SCES-51533
Release date:
July 8, 2005
January 13, 2006 (Platinum)
March 23, 2006 (Platinum)
CRCs:
FB0E6D72
Windows Status:
Playable
Linux Status:
?
Mac Status:
?
Region NTSC-J/C/K:
Serial numbers:
SCKA-30002
SLPM-67010
SLPM-67011 (CapKore)
SLPM-67012 (Best Price)
SCAJ-30010
SLPM-66167
Release date:
August 18, 2005
November 17, 2005
June 30, 2006 (BigHit Series)
September 28, 2006 (CapKore)
September 6, 2007 (Best Price)
Windows Status:
?
Linux Status:
?
Mac Status:
?

Test configurations on Windows:
Environment
Configurations
Comments
Tester
Region
OS
CPU/GPU
Revision
Graphics
Sound/Pad
NTSC-U
?

AMD Athlon 64 X2 6000+ 3.1GHz
Nvidia GeForce 9400GT 1GB

0.9.7 (3113 svn)
GSDX SSE2 (r3068)
SPU2-X 1.4.0 (r3117)
BIOS: USA v02.20, GSdx plugin settings : Try to enable Native tick and disable any others. Speed hacks settings : Try to enable everything. VU Cycle Stealing causes huge speed up, but Kratus blinks.
Squall*
NTSC-U
?

Core 2 duo from 3.2GHz or I3/I5/I7 @ 2.7
Nvidia GeForce 9600GT 1GB or better

0.9.8 r4895 ( SVN )
GSDX SSE4 (r4895)
SPU2-X 2.0 (r4872)
BIOS: USA v02.00, Try to enable Native ( weak GPU ) Emulation Settings : try to enable those speedhacks : VU Cycle Stealing( which causes huge speed up, and cause fake FPS (slider2/3)) recomended Speedhacks specially MTVU ( if you're on triple core or higher may cause a decent increase on dual cores ) don't use EE Cycling minimum speed will cause increase stuttering FMVs
Abdo123
NTSC-U
?
0.9.9 r5128
GSDX SSE4.1 (r5133)
SPU2-X 2.0 (r5112)
With 5x resolution i get 50fps super stable! recomended speedhacks on, automatic game fixes on , mtvu on, gsdx: dx11 , texture filtering , hardware hack- half pixel offset. Change ntsc framerate to 50 fps or lower, change in Pcsx2_vm.ini
Heltonxl
NTSC-U
Windows

Intel Core i7 @ 3.4Ghz
Nvidia GTX 285 768MB

1.1.0 r5480
GSdx 5442 SSE41

SPU2-X 2.0.0
LilyPad 0.11.0

Runs near full speed.

 General-Plot

NTSC-U
Windows 7 64 Bit Ultimate

AMD FX4100 3.6 GHz Black Edition
AMD Radeon HD 7750 1 GB GDDR5

PCSX2 1.2.1 (r5875)
GSdx 0.1.16 [gsdx32-sse4-r5875]
SPU2-X r5830 2.0.0
Speedhacks: EE Cyclerate - 2, VU Cycle Stealing - 2, INTC Spin Detection - Enabled, Wait Loop Detection - Enabled, mVU Flag Hack - Enabled and MTVU - Enabled.

The entire game was played at 2x Native Resolution, with Shade Boost, FXAA and FX Shader options all enabled, at a solid 60FPS (with very rare drops) in DX11 Hardware Mode. The game is fully playable, and all the Bonus features you unlock after completing the game work. NOTE : Shadows on Kratos and enemies cannot be seen. The Hades section is missing some effects resulting in a washed out look.

digital_devil
PAL
Windows
1.3.svn5932
GSDX
USA v02.20(10/02/2006), No Bugs

 DESTRUIDOR

NTSC-U
Windows

Intel Core i5 750 @ 2.67Ghz (3.0GHz OC)
AMD Radeon HD 5850 1024MB

1.3.0 Git 2014/08/30 (v1.21-549)
GSdx 0.1.16 SSE41

SPU2-X 2.0.0
LilyPad 0.11.0

US v02.00(14/06/2004), Defaults + MTVU (Multi-Threaded microVU1), Run at max speed (60fps) with a few rare slowdowns (45-50fps) using also 1920x1080 resolution., In Hardware mode shadows from main character and creatures are not displayed. The same also happen with the fog effect. In software mode both works fine.

 Altomar

NTSC
Windows 8.1 Professional x64

Intel Core i5-4690k 3.5GHz
nVidia GTX970 4GB

1.3.1-530-g62beb3a
GSDX

DirectX 11 Hardware, 6x Resolution (See Comments)

SPU2-X 20150614102702 2.0.0
LilyPad 20150614102702 0.11.0

BIOS: USA 2.2.0(10/02/2006)

• HW Hacks, Skipdraw = 2, Alpha, Half-Pixel Offset and Auto-skip depth enabled • Speedhacks Enabled, INTC Spin Detection, Wait Loop Detection, mVU Flag Hack and MTVU • Completed the entire game with no crashing.

INVALID_STRING_NAME


Test configurations on Windows:




{{TestingEntry

Environment
Configurations
Comments
Tester
Region
OS
CPU/GPU
Revision
Graphics
Sound/Pad
Status=2
Region=NTSC-U
OS=Windows 7 Ultimate x64
CPU=Intel I7 3770 3,40 GHz
GPU=Gigabyte Radeon R9 280x(rev2.0)
Revision=1.4.0 2016-08-01
Graphics=GSDX, AVX or SSE4

Mode: OpenGL Hardware(for shadows and fog working)

Sound=SPU2-X 2016-08-01
Comments=BIOS: USA 2.2.0 • Internal resolution:3x Native, Texture Filtering 16x, CRC hack level: None(debug), Hardware depth enabled, Blending Unit Accuracy: High(full or ultra Recommended depends on your machine) along with crc this emulates shadows and volumetric fog(video card compatible with OpenGl 4.5 req.), HW hacks enabled: TC Offset X:337, TC Offset Y:337 (removes vertical lines and bad effects alignment), MSXAA Optional, • EE=0, VU=0

• GS Window: Fit to window/screen,System (enable widescreen patches: active) • Speedhacks Enabled, INTC Spin Detection, Wait Loop Detection, mVU Flag Hack and MTVU enabled • Completed the entire game in HD with the shadows and fog correctly emulated. Fully playable with solid performance 50-60 fps. (Edit: If you manage to run it or "4x native" resolution, change the TC offset to "370" in x and y)

Tester=Desran1010




Test configurations on Linux:

Environment
Configurations
Comments
Tester
Region
OS
CPU/GPU
Revision
Graphics
Sound/Pad
?
?

Core 2 duo from 3.33GHz
?

1736
ZZogl 182
16-bit textures
188.134.4.34
NTSC-U

Debian 8 Testing
Linux 4.1.6-amd64

Intel Core i5-3570K @ 3.40Ghz
Nvidia GTX 650 Ti BOOST 2GB

1.3.1-1094-gf062b0f
GSdx (GCC 5.2.1, SSE2) 1.0.0

SPU2-X 2.0.0
OnePAD 0-Dev 1.1.0

BIOS: Europe v02.00 (04/11/2004)
OpenGL HW, 2x Native, BUA: High, Anisotropic Filtering: 16x, CRC Level: Partial. Preset: Safest.
Runs full speed.

Beta Version BY

Trivia

Original names: ゴッド・オブ・ウォー (SLPM-67010) & (SLPM-67011) & (SLPM-67012), 갓 오브 워: 영혼의 반역자 (SCKA-30002)
Widescreen crops the top and bottom of the 4:3 image, meaning less visible viewing area than when played in 4:3.

Known Issues

Kratos's shadow is missing when using hardware renderers

Status: Active
Type: Minor
Description: Kratos's shadow is missing when using hardware renderers
Workaround: Use a software renderer. You can quickly (but temporarily) switch to one by pressing F9 during gameplay

Horizontal lines underwater

Status: Active
Type: Minor
Description: Horizontal lines underwater
Workaround: Native resolution

Kratos blinking when using the VU Cycle Stealing speedhack

Status: Fixed
Type: Minor
Description: Kratos blinking when using VU Cycle Stealing speedhack
Workaround: Use the latest Git build

The gallery