Front Mission 4: Difference between revisions
Jump to navigation
Jump to search
m

(→‎top: Upgrading links to HTTPS with AutoWikiBrowser in Bot mode)

 

(27 intermediate revisions by 7 users not shown)
Line 1:
Line 1:

{{info-stub}}

{{infobox

 

{{infobox game

|image            = Front_mission_4_box_us.jpg‎

|image            = Front_mission_4_box_us.jpg‎

|caption          =

|caption          =

|developer        = Square Enix

|developer        = Square Enix

|genre            = Strategy RPG

|gameinfo          =

|genre            =

|wikipedia        = http://en.wikipedia.org/wiki/Front_Mission_4

|gameinfo          =

|reviewlinks      =

|reviewscore      =

|wikipedia        = ://en.wikipedia.org/wiki/Front_Mission_4

|reviewlinks      =

|

=

<!-- NTSC-U props -->

<!-- NTSC-U props -->

|NTSCU            = 1

|NTSCU            = 1

|serialsNTSCU      = SLUS-20888

|serialsNTSCU      = SLUS-20888

|CRCsNTSCU        =  

|CRCsNTSCU        =  

|releasedateNTSCU  = June 15, 2004

|releasedateNTSCU  = June 15, 2004

Line 28:
Line 34:

<!-- NTSC-J props -->

<!-- NTSC-J props -->

|NTSCJ            = 1

|NTSCJ            = 1

|serialsNTSCJ      =

|serialsNTSCJ      =

|CRCsNTSCJ        =

|CRCsNTSCJ        =

|releasedateNTSCJ  = December 18, 2003

|releasedateNTSCJ  = December 18, 2003

|statusNTSCJ      =

|statusNTSCJ      =

|linuxstatusNTSCJ  =

|linuxstatusNTSCJ  =

|macstatusNTSCJ    =

|macstatusNTSCJ    =

<!-- Windows specs -->

|pcsx2ver          = 0.9.8 r4600

|gsname            = GSDX

|gsver            = 0.1.16 r4600

|soundname        = SPU2-X

|soundver          = 2.0.0 r4779

|padname          =

|padver            =

|dvdplugname      =

|dvdplugver        =

|biosver          =

|hacks            =

|fpsinfo          =

|comment          = *Freezes just before first battle on 0.9.7 beta.

*Working good in PCSX2 svn as of r4268.

*Works in r4600 (the current official build as of October 2011).

<!-- Linux specs -->

|linuxpcsx2ver    =

|linuxgsname      =

|linuxgsver        =

|linuxsoundname    =

|linuxsoundver    =

|linuxpadname      =

|linuxpadver      =

|linuxdvdplugname  =

|linuxdvdplugver  =

|linuxbiosver      =

|linuxhacks        =

|linuxfpsinfo      =

|linuxcomment      =

<!-- Minimal PC specs -->

|cputype          = Intel C2D e8400 OC 3.6Ghz

|gputype          = nVidia GeForce 260GTX

|pccomment        =

}}

}}
---
Latest revision as of 08:17, 18 August 2022
Front Mission 4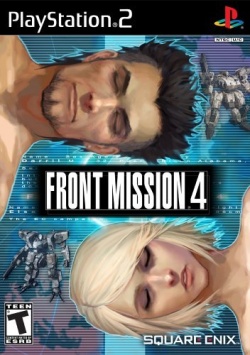 Game general and emulation properties:
Region NTSC-U:
Serial numbers:
SLUS-20888
SLUS-29098 (Demo, Square Enix Sampler Disc Volume Two)
Release date:
June 15, 2004
Windows Status:
Playable
Linux Status:
?
Mac Status:
?
Region NTSC-J/C/K:
Serial numbers:
SLPM-65443
SLPM-66420 (Ultimate Hits)
SCAJ-20057
Release date:
December 18, 2003
May 11, 2006 (Ultimate Hits)
Windows Status:
?
Linux Status:
?
Mac Status:
?
Developer(s): Square Enix
Publisher(s): Square Enix
Genre: Turn-based strategy
Wikipedia: Link
Game review links: IGN: 6.8/10, Metacritic: 75/100
Game description: The Front Mission series makes its debut on the PlayStation 2 with an enhanced battle system, new Link System, and dramatic voice-overs. Set in 2096, Front Mission 4 takes place six years after the Second Huffman Conflict, the stage for the original Front Mission. Your point of view switches between two separate characters, who find themselves trapped within a dangerous global conspiracy. As in the previous games, you can fully customize your wanzers--or mech units--with a variety of powerful weaponry and parts. In addition, new tactical features, such as the Link System, bring a new dimension of strategy to the game.
Front Mission 4 borrows several of the gameplay mechanics found in Front Mission 2. The video game progresses in a linear manner: watch cut-scene events, complete missions, set up their wanzers during intermissions, and sortie for the next mission. The player travels to locations on a world map. As the player progresses through the plot, new locations are revealed on the world map. Towns and cities act as intermission points where the player can organize and set up their units for the upcoming mission. Battle zones are where the missions take place, though they become inaccessible upon the completion of a mission. Like in Front Mission 2, Front Mission 4 alternates control between the game's two main characters. However, the two scenarios never merge at any point of the game.


Test configurations on Windows:
Environment
Configurations
Comments
Tester
Region
OS
CPU/GPU
Revision
Graphics
Sound/Pad
NTSC-U
?

Intel C2D e8400 OC 3.6Ghz
nVidia GeForce 260GTX

0.9.7 r3876
GSDX 0.1.16 r3693
SPU2-X 1.4.0 r3702
Freezes just before first battle on 0.9.7 beta. Working good in PCSX2 svn as of r4268.
Sev7en77
NTSC-U
?
0.9.8 r4600
GSDX 0.1.16 r4600
SPU2-X 2.0.0 r4779
Works in r4600 (the current official build as of October 2011). Like Front Mission 5, the opening FMV shows up flickering badly but can be remedied by simply suspending the emulator and resuming it.
Spinfx
NTSC-U
W7

i5 4430 3.00GHZ
GTX 950 2GO

1.4.0
GSDX 1.0.0
SPU2-X 2.0.0
Plays at full speed most of the time, no game breaking bug but 2 minor annoyances: shadow are messed up [only fixed by software mode] and upscaling leads to graphical glitches (horizontal and vertical white lines on chat and menu boxes) [fixed by playing at native resolution]. Also the opening FMV flickering is still present.
Necko257
Trivia
Original names: フロントミッション フォース (SLPM-65443) & (SLPM-66420)
Known Issues
Shadow Artifacts
Status: Active
Type: Minor
Description: Cutscene characters and Wanzers have weird block-like shadows.
Workaround: Go to GSdx Settings -> Advanced Settings and Hacks -> Check "Preload Frame Data".
Upscaling Artifacts
Status: Active
Type: Minor
Description: Dialog Boxes may generate extra horizontal lines, making text hard to read.
Workaround: Go to GSdx Settings -> Advanced Settings and Hacks -> Use Texture Offsets 0500 X , 0500 Y