Fatal Frame II: Crimson Butterfly: Difference between revisions
Jump to navigation
Jump to search
Line 3:
Line 3:

{{infobox game

{{infobox game

|image            = Fatalframe2.jpg

|image            = Fatalframe2.jpg

|caption          =

|caption          =

|developer        = Tecmo

|developer        = Tecmo

|genre            = Horror type action/adventure

|genre            = Horror type action/adventure

|gameinfo          =

|gameinfo          =

|wikipedia        =

 

|wikipedia        =

|reviewlinks      =

|reviewlinks      =

|reviewscore      =

|reviewscore      =

<!-- NTSC-U props -->

<!-- NTSC-U props -->

|NTSCU            = 1

|NTSCU            = 1

|serialsNTSCU      =

|serialsNTSCU      =

|CRCsNTSCU        =

|CRCsNTSCU        =

|releasedateNTSCU  = 12/10/03

|releasedateNTSCU  = 12/10/03

|statusNTSCU      = 2

|statusNTSCU      = 2

Line 35:
Line 37:

|macstatusNTSCJ    =

|macstatusNTSCJ    =

<!-- Windows specs -->

<!-- Windows specs -->

|pcsx2ver          = PCSX2 0.9.7.r3113

|pcsx2ver          =

|gsname            = Gsdx SSE2

|gsname            =

|gsver            =  

|gsver            =

|soundname        = Spu2-X

|soundname        = -X

|soundver          =  

|soundver          =

|padname          = LilyPad

|padname          = LilyPad

|padver            =  

|padver            =

|dvdplugname      =  

|dvdplugname      =  

|dvdplugver        =  

|dvdplugver        =  

|biosver          =  

|biosver          =

|hacks            =  

|hacks            =

|fpsinfo          = 40-60 fps

|fpsinfo          = 60

|comment          = Plays perfect! Pcsx2 and Gsdx = all options default

|comment          = and

<!-- Linux specs -->

<!-- Linux specs -->

|linuxpcsx2ver    =

|linuxpcsx2ver    =

Line 63:
Line 65:

|linuxcomment      =

|linuxcomment      =

<!-- Minimal PC specs -->

<!-- Minimal PC specs -->

|cputype          = Phenom II x6 1055T

|cputype          =

|gputype          = Geforce GTX 260

|gputype          = GTX

|pccomment        =  

|pccomment        =

}}

}}
---
Revision as of 10:11, 2 November 2013
Fatal Frame II: Crimson Butterfly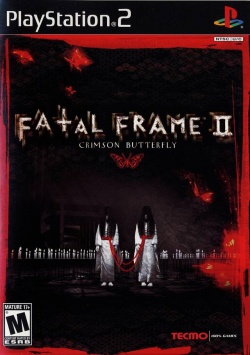 NTSC-U Box Art
Region NTSC-U:
Serial numbers:
SLUS-20766
Release date:
12/10/03
CRCs:
9A51B627
Windows Status:
Playable
Linux Status:
?
Mac Status:
?
Region PAL:
Serial numbers:
SLES-52384
CRCs:
9D87F3AF
Windows Status:
Playable
Linux Status:
?
Mac Status:
?
Region NTSC-J:
Windows Status:
?
Linux Status:
?
Mac Status:
?
Developer(s): Tecmo
Genre: Horror type action/adventure
Wikipedia: Link
Game review score: 81/100 Critic, 9.2/10 User. (Metacritic) @ Nov 11, 2013
Game description: Fatal Frame II: Crimson Butterfly, known in Europe as Project Zero II: Crimson Butterfly and in Japan as Zero ~Akai Chō~ (零 ~紅い蝶~, lit. "Zero ~Crimson Butterfly~"), is a 2003 Japanese horror action-adventure video game and is the second installment in the Fatal Frame series. Unlike in other installments in the series, the Camera Obscura's attack power is based on the player's proximity to the target ghost.
A director's cut edition was released for the Xbox in 2004, and a remake titled Project Zero 2: Wii Edition, known in Japan as Zero ~Shinku no Chō (零 ~眞紅の蝶~, lit. "Zero ~Deep Crimson Butterfly~") was released for the Wii in Japan, Australia, and Europe in 2012.



Test configuration on Windows:
| | |
| --- | --- |
| PCSX2 version: | r5754 |
| Graphics by GSdx: | r5752 |
| Sound by SPU2-X: | r5324 |
| Pad plugin is LilyPad: | r5403 |
| BIOS version: | USA v2.00 |
Comments: 60 FPS constant with D3D11 Hardware Mode at 4x Native and allow 8-bit textures. The Camera Obscura works perfectly. Hack comments: INTC, Wait Loop Detection, mVU flag hack, MTVU.

Test configuration on Linux:

PC specs used to test the game:
| | |
| --- | --- |
| CPU: | Intel Core i5 2500K @ 3.30GHz |
| GPU: | 2048MB NVIDIA GeForce GTX 560 Ti (MSI) |
Comments: Windows 7 x64, 8GB RAM
Known Issues
Speech sometimes too fast
Speech from characters is sometimes too fast (it sounds like it's on fast-forward), such as from Mio, Mayu, or a ghost talking. This occured using SPU2-X r5733.
Solution: Switch to an older SPU2-X plugin such as r5324, which you can find in the PCSX2 v1.0.0 stable release.
Cannot re-enter Lattice Room
This is a bug in the game itself, but I feel it deserves to be mentioned. In Chapter 4 there is a locked room called the Lattice Room that requires two bodies to open. Once you exit this room through the previously locked doors you cannot enter it again through those doors. If you do not pick up the key item in there required for progession you will have to load a previous save.