ESA Foundation Compilation Set: Difference between revisions
Jump to navigation
Jump to search
 

(3 intermediate revisions by the same user not shown)
Line 4:
Line 4:

|image            = Cover_ESA_Foundation_Compilation_Set.jpg

|image            = Cover_ESA_Foundation_Compilation_Set.jpg

|caption          =

|caption          =

|developer        =

|developer        =

|publisher        =

|publisher        =

|genre            =

|genre            =

|wikipedia        =

|wikipedia        =

|gameinfo          = {{Collection|NTSC-U editions of [[Splashdown: Rides Gone Wild]], [[ATV Offroad Fury 2]] and [[Need for Speed: Hot Pursuit 2]] and has its unique serial (SCUS-97530).}}

|gameinfo          = {{Collection|NTSC-U editions of [[Splashdown: Rides Gone Wild]], [[ATV Offroad Fury 2]] and [[Need for Speed: Hot Pursuit 2]] and has its unique serial (SCUS-97530).}}

|gamefaqslink      = [http://www.gamefaqs.com/ps2/930739-esa-foundation-compilation-set Link]

|gamefaqslink      = [http://www.gamefaqs.com/ps2/930739-esa-foundation-compilation-set Link]

<!-- NTSC-U props -->

<!-- NTSC-U props -->

|NTSCU            = 1

|NTSCU            = 1
---
Latest revision as of 16:28, 25 December 2016
ESA Foundation Compilation Set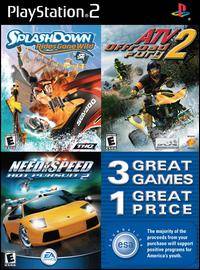 Game general and emulation properties:
Region NTSC-U:
Serial numbers:
SCUS-97530
Release date:
November 10, 2005
Developer(s): SCEA
Publisher(s): SCEA
Genre: Collection
Game description: This collection includes NTSC-U editions of Splashdown: Rides Gone Wild, ATV Offroad Fury 2 and Need for Speed: Hot Pursuit 2 and has its unique serial (SCUS-97530). Please put the test info on the corresponding games' pages.

Trivia
Considered to be a very rare release.