Dynasty Warriors 6: Difference between revisions
Jump to navigation
Jump to search
No edit summary

 

(4 intermediate revisions by 4 users not shown)
Line 6:
Line 6:

|genre            = Action, Fighting

|genre            = Action, Fighting

|wikipedia        = [https://en.wikipedia.org/wiki/Dynasty_Warriors_6 Link]

|wikipedia        = [https://en.wikipedia.org/wiki/Dynasty_Warriors_6 Link]

|gamefaqslink      = [http://www.gamefaqs.com/ps2/952257-dynasty-warriors-6 Link]

|gamefaqslink      = [://..com/ps2/952257-dynasty-warriors-6 Link]

|reviewlinks      = {{ReviewLink|[http://www.metacritic.com/game/playstation-2/dynasty-warriors-6 Metacritic]|43/100}}

|reviewlinks      = {{ReviewLink|[://www.metacritic.com/game/playstation-2/dynasty-warriors-6 Metacritic]|43/100}}

|gameinfo          = Featuring a new proprietary combat engine, Dynasty Warriors 6 delivers the exhilaration of single-handedly destroying thousands of soldiers on massive fields of combat. The lightning-fast, kung-fu fighting, fluid motion-captured animation, intuitive combat system and immersive environments create an unparalleled gaming experience, and push the limits of tactical action.

|gameinfo          = Featuring a new proprietary combat engine, Dynasty Warriors 6 delivers the exhilaration of single-handedly destroying thousands of soldiers on massive fields of combat. The lightning-fast, kung-fu fighting, fluid motion-captured animation, intuitive combat system and immersive environments create an unparalleled gaming experience, and push the limits of tactical action.

<!-- General props -->

<!-- General props -->

|numberofplayers  = 2

|numberofplayers  = 2

|widescreenpatch  = 1

|widescreenpatch  = 1

|ko_rating        = 12

|ko_rating        = 12

|na_rating        = T

|na_rating        = T

Line 30:
Line 31:

<!-- NTSC-J props -->

<!-- NTSC-J props -->

|NTSCJ            = 1

|NTSCJ            = 1

|serialsNTSCJ      = SLPM-55082 <small>(Disc 1)</small><br />SLPM-55083 <small>(Disc 2)</small><br />SLPM-74286 <small>(PlayStation 2 the Best, Disc 1)</small><br />SLPM-74287 <small>(PlayStation 2 the Best, Disc 2)</small><br />SLAJ-25104 <small>(Disc 1)</small><br />SLAJ-25105 <small>(Disc 2)</small><br />SLKA-35005

|serialsNTSCJ      = SLPM-55082 <small>(Disc 1)</small><br />SLPM-55083 <small>(Disc 2)</small><br />SLPM-74286 <small>(PlayStation 2 the Best, Disc 1)</small><br />SLPM-74287 <small>(PlayStation 2 the Best, Disc 2)</small><br />SLAJ-25104 <small>(Disc 1)</small><br />SLAJ-25105 <small>(Disc 2)</small>

|CRCsNTSCJ        =

|CRCsNTSCJ        =

|releasedateNTSCJ  = October 2, 2008<br />September 2, 2010 <small>(PlayStation 2 the Best)</small>

|releasedateNTSCJ  = October 2, 2008<br />September 2, 2010 <small>(PlayStation 2 the Best)</small>

|statusNTSCJ      =

|statusNTSCJ      =

|linuxstatusNTSCJ  =

|linuxstatusNTSCJ  =

Line 67:
Line 68:

|Comments=BIOS: Europe v01.70, Speedhacks: Recommended, MTVU

|Comments=BIOS: Europe v01.70, Speedhacks: Recommended, MTVU

|Tester=Bositman

|Tester=Bositman

}}

}}

{{TestingFooter}}

{{TestingFooter}}

Line 94:
Line 111:





==Known Issues==

==Known Issues==

{{Issue

{{Issue

|IssueName=Flickering FMVs

|IssueName=Flickering FMVs

Line 101:
Line 126:

|Workaround=This has been resolved in recent PCSX2 v1.5.0 git builds. For older versions go to Config > Emulation Settings > Game Fixes tab, turn on "Enable manual game fixes" and enable the "Switch to GSdx Software rendering when an FMV plays" fix. Alternatively temporarily switch to Software mode during FMVs by pressing the F9 key.

|Workaround=This has been resolved in recent PCSX2 v1.5.0 git builds. For older versions go to Config > Emulation Settings > Game Fixes tab, turn on "Enable manual game fixes" and enable the "Switch to GSdx Software rendering when an FMV plays" fix. Alternatively temporarily switch to Software mode during FMVs by pressing the F9 key.

}}

}}






==The gallery==

==The gallery==
---
Latest revision as of 16:16, 7 December 2022
Dynasty Warriors 6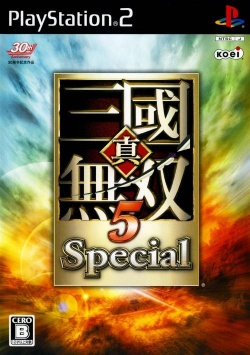 Game general and emulation properties:
Region NTSC-U:
Serial numbers:
SLUS-21774
Release date:
November 18, 2008
CRCs:
047571F1
Windows Status:
Playable
Linux Status:
?
Mac Status:
?
Region NTSC-J/C/K:
Serial numbers:
SLPM-55082 (Disc 1)
SLPM-55083 (Disc 2)
SLKA-35005 (Korea)
SLPM-74286 (PlayStation 2 the Best, Disc 1)
SLPM-74287 (PlayStation 2 the Best, Disc 2)
SLAJ-25104 (Disc 1)
SLAJ-25105 (Disc 2)
Release date:
October 2, 2008
October 30, 2008 (Korea)
September 2, 2010 (PlayStation 2 the Best)
Windows Status:
?
Linux Status:
?
Mac Status:
?
Developer(s): Omega Force
Publisher(s): Koei
Genre: Action, Fighting
Wikipedia: Link
Game review links: Metacritic: 43/100
Game description: Featuring a new proprietary combat engine, Dynasty Warriors 6 delivers the exhilaration of single-handedly destroying thousands of soldiers on massive fields of combat. The lightning-fast, kung-fu fighting, fluid motion-captured animation, intuitive combat system and immersive environments create an unparalleled gaming experience, and push the limits of tactical action.


Test configurations on Windows:
Environment
Configurations
Comments
Tester
Region
OS
CPU/GPU
Revision
Graphics
Sound/Pad
NTSC-U
Windows

Intel Core i7 @ 3.40 GHz
NVIDIA GeForce GTX 285 @ 768 MB

1.1.0 (r5754)
GSdx SSE41 (r5752)

SPU2-X 2.0.0 (r5733)
LilyPad 0.11.0 (r5403)

Runs above full speed.

 General-Plot

NTSC-U
?

Intel Core i5-2500K @ 4.30 GHz
NVIDIA GeForce 9800 GTX+

1.1.0 (r5393)
GSdx 0.1.16 (r5390)

SPU2-X 2.0.0 (r5402)
Lilypad 0.10.0 (r4929)

BIOS: Europe v01.70, Speedhacks: Recommended, MTVU
Bositman
NTSC-U
Windows 10

Intel i5-4210 CPU @1.70GHz 2.40
Intel HD 4400

1.4.0
GSdx 1.0.0 SSE41

Direct3D11 (Hardware)
1920x1080

SPU2-X 2.0.0
LilyPad 0.11.0

BIOS: USA 2.30; Preset 2; MTVU; Runs at 55-60 FPS with dips into 50-55 FPS when a lot of characters are on screen while in Native Resolution, but this is not really noticeable while in the flow of the game. Runs at 50-60 FPS with dips into 45-50 FPS when a lot of characters are on screen while in 2x Resolution. Anything over 2x is unplayable. Rare flicker at the beginning of some FMVs that lasts for less than a second. Can 100% complete this game. Tested for ~20 HRS. No crashes.
OneBigSpud
Trivia
Original names: 真・三國無双5 Special (SLPM-55082) & (SLPM-74286), 진·삼국무쌍5 Special (SLKA-35005)
Also known as Shin Sangoku Musou 5 Special (JP)
Known Issues
Status: Active
Type: Minor
Description: The game renders menus in a funky way consisting of stripes, and their alignment horizontally isn't great, with visible cutoffs/overlaps on any text and sprites rendered.
Workaround: You can improve the situation considerably by setting the Texture Offsets to X:500 and Y:500. Causes negligible misalignment of the health/musou bars, easily ignored.
Flickering FMVs
Status: Fixed
Type: Minor
Description: All FMVs flicker.
Workaround: This has been resolved in recent PCSX2 v1.5.0 git builds. For older versions go to Config > Emulation Settings > Game Fixes tab, turn on "Enable manual game fixes" and enable the "Switch to GSdx Software rendering when an FMV plays" fix. Alternatively temporarily switch to Software mode during FMVs by pressing the F9 key.
The gallery