Drakan: The Ancients' Gates
Jump to navigation
Jump to search
Drakan: The Ancients' Gates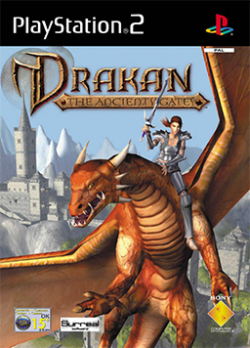 Developer(s): Surreal Software
Genre: Action-Adventure,RPG
Wikipedia: Link
Game review links: Gamespot link
Game review score: 7.7/10
Game description: Drakan: The Ancients' Gates is an action-adventure PlayStation 2 game with RPG elements by Surreal Software. It is the sequel to the 1999 PC game Drakan: Order of the Flame.



Test configuration on Windows:
Comments:
With the lastest beta version r1736 the emulator will crash on switching to new locations, use r710 to load instead.
Do not use r710 to play as it tends to freeze in some situations
After saving to memcard NEVER load from old states (F3), consider all quick states invalid you can only save them anew!
Sometimes the world can stuck preventing from performing any action (cannot change a weapon, enemies will not move and cannot be killed). You have to save often (F1) and change quick slots often (F2) as the only way to resolve this is to load.
There are some minor GFX glitches in GSDX as of r1611. Sun shines through the walls, some trees look bad the skies can be broken from time to time.
Hack comments: EE x2, INTC, IOP x2, Idle Loop, VU Stealing 3

Test configuration on Linux:

PC specs used to test the game:
| | |
| --- | --- |
| CPU: | C2D 3Ghz |
| GPU: | nVidia Geforce 8800GTX |
Drakan: The Ancients' Gates

Test configuration on Windows:
| | |
| --- | --- |
| PCSX2 version: | untested |
| Graphics by GSDX: | untested |
| Sound by SPU2-X: | untested |

Test configuration on Linux:

PC specs used to test the game:
[[Category:Games by {{{developer}}}]]
LilyPad
Mouse bindings:
Binding 0=0x01010000, 0, 33, 65536, 0, 0
Binding 1=0x02010000, 0, 35, 65536, 0, 0
Binding 2=0x01010001, 0, 34, 65536, 0, 0
Binding 3=0x02010001, 0, 32, 65536, 0, 0
Binding 4=0x00040003, 0, 31, 65536, 0, 0
Binding 5=0x00040004, 0, 24, 65536, 0, 0
Keyboard bindings:
Binding 0=0x0004000D, 0, 15, 65536, 0, 0
Binding 1=0x00040014, 0, 12, 65536, 0, 0
Binding 2=0x00040020, 0, 19, 65536, 0, 0
Binding 3=0x00040025, 0, 35, 65536, 0, 0
Binding 4=0x00040026, 0, 32, 65536, 0, 0
Binding 5=0x00040027, 0, 33, 65536, 0, 0
Binding 6=0x00040028, 0, 34, 65536, 0, 0
Binding 7=0x00040031, 0, 26, 65536, 0, 0
Binding 8=0x00040032, 0, 24, 65536, 0, 0
Binding 9=0x00040033, 0, 27, 65536, 0, 0
Binding 10=0x00040034, 0, 25, 65536, 0, 0
Binding 11=0x00040041, 0, 31, 65536, 0, 0
Binding 12=0x00040043, 0, 36, 65536, 0, 0
Binding 13=0x00040044, 0, 39, 65536, 0, 0
Binding 14=0x00040046, 0, 37, 65536, 0, 0
Binding 15=0x00040052, 0, 38, 65536, 0, 0
Binding 16=0x00040053, 0, 29, 65536, 0, 0
Binding 17=0x00040057, 0, 28, 65536, 0, 0
Binding 18=0x00040058, 0, 16, 65536, 0, 0
Binding 19=0x0004005A, 0, 30, 65536, 0, 0
Binding 20=0x00040062, 0, 22, 65536, 0, 0
Binding 21=0x00040064, 0, 23, 65536, 0, 0
Binding 22=0x00040066, 0, 21, 65536, 0, 0
Binding 23=0x00040068, 0, 20, 65536, 0, 0
Binding 24=0x000400A0, 0, 12, 65536, 0, 0
Binding 25=0x000400A4, 0, 24, 65536, 0, 0
Comments:
Alt - strafe modifier
Use mouse when aiming an arrow (S to enter aiming mode)