Dragon Ball Z: Budokai Tenkaichi 3: Difference between revisions
Jump to navigation
Jump to search
m

Line 250:
Line 250:

|IssueLevel=0

|IssueLevel=0

|Workaround=There's two ways to fix it in Hardware. One is to use the '''Half-Pixel Offset: Normal (Vertex)''' option, but it tends to break ''a lot'' of things. Alternatively, use '''Half-Pixel Offset: Special (Texture)''' along with '''Texture Offsets''' of 300/500 in the per-game settings. The result should be fairly cleaner compared to the old method of just the 500/500 offsets.

|Workaround=There's two ways to fix it in Hardware. One is to use the '''Half-Pixel Offset: Normal (Vertex)''' option, but it tends to break ''a lot'' of things. Alternatively, use '''Half-Pixel Offset: Special (Texture)''' along with '''Texture Offsets''' of 300/500 in the per-game settings. The result should be fairly cleaner compared to the old method of just the 500/500 offsets.

}}

}}





---
Revision as of 09:20, 19 July 2022
Dragon Ball Z: Budokai Tenkaichi 3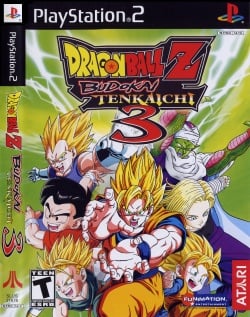 NTSC-U cover
Game general and emulation properties:
Region NTSC-U:
Serial numbers:
SLUS-21678
SLUS-21678GH (Greatest Hits)
Release date:
November 13, 2007
2008 (Greatest Hits)
CRCs:
428113C2
Windows Status:
Playable
Linux Status:
Playable
Mac Status:
?
Region PAL:
Serial numbers:
SLES-54945
Release date:
November 9, 2007
November 16, 2007 (Collector's Edition; South America)
December 29, 2007 (Australia)
October 31, 2008 (Platinum)
Windows Status:
Playable
Linux Status:
Playable
Mac Status:
?
Region NTSC-J/C/K:
Serial numbers:
SLPS-25815
SLKA-25407
Release date:
October 4, 2007
October 27, 2007 (Korea)
Windows Status:
Playable
Linux Status:
?
Mac Status:
?
Developer(s): Spike
Publisher(s): Namco Bandai Games (JP), Bandai (KO), Atari (EU, US, SA, AU)
Genre: Action, Fighting
Wikipedia: Link
Game review links: GameRankings: 74/100, Metacritic: 73/100
Game description: Dragon Ball Z: Budokai Tenkaichi 3 delivers an extreme 3D fighting experience, improving upon last year's game with over 150 playable characters, enhanced fighting techniques, beautifully refined effects and shading techniques, making each character's effects more realistic, and over 20 battle stages. This is the ultimate chapter in Budokai Tenkaichi series with over 20 new characters that have never been seen in any other DBZ video games such as Nail, King Cold and King Vegeta and battle stages that fans will love.


Test configurations on Windows:
Environment
Configurations
Comments
Tester
Region
OS
CPU/GPU
Revision
Graphics
Sound/Pad
?
?

Intel Core i7-860 @ 2.80 GHz
Intel Core2 Duo @ 3.00 GHz
ATI Radeon HD 4650DP 2GB
1GB Graphics Card with Pixel Shader 3.0

0.9.9
GSdx r4975

SPU2-X 2.0
LilyPad 0.10.0

BIOS: Any BIOS Will Work, HACKS: EE Cyclerate - 2, VU Cycle Stealing - 1, All the Hacks, including MTVU. If you think you need more speed then change the Clamp Modes to 'None' and Round Mode to 'Nearest' and use 'SuperVU Recompiler'. Full speed @ constant 83 FPS. This game is medium demanding.
Recoder
PAL
Windows

Intel Core i5-2500K @ 4.30 GHz
NVIDIA GeForce 9800 GTX+

1.0.0
GSdx
Europe v01.70(27/02/2003), Recommended,MTVU, Works great. Miseru99's trainer adds wide screen support and better aura effects: here, Missing aura effects in HW mode, use SW mode or miseru99's modified GSdx
NTSC-U
Windows 7 Home Premium x64

Intel Core i3-550 @ 3.20 GHz
ATI Radeon HD 5670 512MB

1.2.1 r5875
GSdx (miseru99's patched version)
•SPEEDHACKS:Preset lvl2,miseru99 CRC speedhack

•PERFORMANCE:30 to 40 FPS without the CRC speedhack. Runs at a stable 60 FPS all the time with the CRC speedhack enabled, even when there's a lot going on in the screen. However, for some reasons the longer you play, the lower the FPS becomes. Starting from 60 stable to 55 then 50 then 45... but this is probably a problem of my computer. I'm pretty sure you won't have this issue at all. Also worth mentioning is that having the CRC speedhack enabled will remove shading from characters. I say that this is a double cut blade, because while it's true that it makes some characters textures look funny, it also doubles the speed and makes Super Saiyan hair look more like how it should be. •OVERALL:I say medium demanding, but it requires a good CPU to run at a constant 60 FPS without enabling the CRC speedhack. If it wouldn't have been for that, I would've said this game is heavy demanding.

Razor96
PAL
Windows

Intel Core i5-3330
XFX Radeon HD 7970

1.3.0 (06/18/2014 GIT)
GSdx
USA v02.20(10/02/2006), No Bugs.
NTSC-U
Windows 7 Ultimate x64 (SP1)

Intel Core i5-4670K @ 3.40 GHz
AMD Radeon HD 7850
6GB DDR3-1333

1.3.1-182 (GIT)

Speedhacks

EEC: 1 & VUCS: 0
mVU Flag: ON
MTVU: ON

GSdx 0.1.16 SSE4

Direct3D11 (Hardware)
Resolution: 2560x1440
Enable FXAA: ON

Module: XAudio2
Latency: 150ms
Sync Mode: TimeStretch

BIOS: USA 2.30, Works good but needs a pretty powerful computer. CPU demanding. Graphical artifacts occur on the background areas while flying high in the air.
Ryudo
PAL
Windows 10 x64

AMD FX-8320 @ 3.50 GHz
GIGABYTE NITRO+ Radeon RX 470 8GB OC

1.4.0
GSdx 1.0.0 AVX

Mode: Direct3D11 (Hardware)
Custom: 1920x1080
Bilinear (Forced)
16x Anisotropic Filtering

SPU2-X 2.0.0
LilyPad 0.11.0

BIOS Used: 1.6 Europe

• Preset 3- Balanced • MTVU On (Alone) • FXAA On (Alone) • Bilinear is on forced to fix pixelated sky. • Using a custom resolution to fix FPS dropping while powering-up and during energy animations. 720p and 1080p are OK. • Gameplay is smooth (50 FPS, no high drop and no freezes), characters textures are beautiful, sound OK.

Morst
Environment
Configurations
Comments
Tester
Region
OS
CPU/GPU
Revision
Graphics
Sound/Pad
PAL
Ubuntu 14.10 x64

AMD A4-6300 APU @ 3.70 GHz
AMD Radeon HD 8370D 1GB

1.3.1-0 (GIT)
GSdx (GCC 4.9.1, SSE2) 0.1.16 [libGSdx-0.1.16]

SPU2-X 2.0.0 [libspu2x-2.0.0]
OnePAD 0-Dev 1.1.0 [libonepad-1.1.0]

Tested with BIOS: Europe v02.30, Japan v02.20.
Audio Synchronization: Async Mix.
Working Status: Good.
Minor video glitches during close combat attacks.

madhurjyaroy
NTSC-U
Manjaro XFCE Edition 64-Bit

AMD Ryzen 5 3600 3.5GHz
EVGA GeForce RTX 2060 KO Ultra 6GB

1.7.0 (Developmental)
GSdx (Unknown Version for 1.7.0)

SPU2-X 2.0.0 [libspu2x-2.0.0]

•Tested with USA BIOS 2.30

•GPU Palette Conversion •Accurate DATE •4x Internal Resolution •16x Anisotropic •Aggressive CRC Hacks •HW Hacks: Sprite Alignment, Fast Texture Invalidation, Special Half-Pixel (Texture)

Neigdoig
Trivia
Original names: ドラゴンボールZ スパーキング!メテオ (SLPS-25815), 드래곤볼 Z 스파킹 메테오 (SLKA-25407)
Also known as Dragon Ball Z: Sparking! Meteor (JP, KO)
Known Issues
Distant flickering textures while flying
Status: Active
Type: Minor
Description: When you're flying up in the sky, flickering graphical artifacts can be spotted in the background map. Potentially Z-fighting.
Workaround: Use Software renderer.
Flashing/flickering in the intro video
Status: Active
Type: Minor
Description: During some parts of the intro (for example, when the screen fades to white after the dragonballs hit the ground) the picture may flicker/flash repeatedly.
Workaround: Set the EE Cyclerate to +2 (180%).
Misaligned character outlines when upscaling
Status: Active
Type: Minor
Workaround: There's two ways to fix it in Hardware. One is to use the Half-Pixel Offset: Normal (Vertex) option, but it tends to break a lot of things. Alternatively, use Half-Pixel Offset: Special (Texture) along with Texture Offsets of 300/500 in the per-game settings. The result should be fairly cleaner compared to the old method of just the 500/500 offsets.
If you include a Skipdraw value of 3,3 you will additionally be able to remove a single filter effect that causes ghosting near the middle portion of the screen for extra clarity.
Fixed Issues
Player invisibility bursts
Status: Fixed
Type: Minor
Description: Occasionally, the player becomes invisible during short range attacks.
Workaround: Use the latest 1.7.0 dev builds.
Gameplay Screenshots