Dragon Ball Z: Budokai 2: Difference between revisions
Jump to navigation
Jump to search
 

(26 intermediate revisions by 3 users not shown)
Line 1:
Line 1:

{{info-stub}}

{{info-stub}}






{{infobox game

{{infobox

|image            = Dbz_budokai_2.jpg

|image            = Dbz_budokai_2.jpg

|caption          = NTSC-U Boxart

|caption          = NTSC-U Boxart

|developer        = Dimps

|developer        = Dimps

|genre            = Action, Fighting

|genre            = Action, Fighting

|gameinfo          = Second game in the Dragon Ball Z: Budokai series, sequel to [http://wiki.pcsx2.net/index.php/Dragon_Ball_Z:_Budokai Dragon Ball Z: Budokai]

|gameinfo          =

Second game in the Dragon Ball Z: Budokai series, sequel to [Dragon Ball Z: Budokai]

|wikipedia        = [http://en.wikipedia.org/wiki/Dragon_Ball_Z:_Budokai_2  Dragon Ball Z: Budokai]

|wikipedia        = [http://en.wikipedia.org/wiki/Dragon_Ball_Z:_Budokai_2  Dragon Ball Z: Budokai]

|reviewlinks      = [http://www.metacritic.com/game/playstation-2/dragon-ball-z-budokai-2/critic-reviews MetaCritic]

|reviewscore      = 66/100

|reviewlinks      = [http://www.metacritic.com/game/playstation-2/dragon-ball-z-budokai-2 /

-

|=

<!-- NTSC-U props -->

<!-- NTSC-U props -->

|NTSCU            = 1

|NTSCU            = 1

|serialsNTSCU      = [SLUS-20779]

|serialsNTSCU      = SLUS-20779

|CRCsNTSCU        =

|CRCsNTSCU        =

|releasedateNTSCU  = December 4, 2003

|releasedateNTSCU  = December 4, 2003

|statusNTSCU      = 2

|statusNTSCU      = 2

|linuxstatusNTSCU  =

|linuxstatusNTSCU  =

Line 20:
Line 38:

<!-- PAL props -->

<!-- PAL props -->

|PAL              = 1

|PAL              = 1

|serialsPAL        =

|serialsPAL        =

|CRCsPAL          =

|CRCsPAL          =

|releasedatePAL    = November 14, 2003

|releasedatePAL    = November 14, 2003

|statusPAL        =

|statusPAL        =

|linuxstatusPAL    =

|linuxstatusPAL    =

Line 28:
Line 46:

<!-- NTSC-J props -->

<!-- NTSC-J props -->

|NTSCJ            = 1

|NTSCJ            = 1

|serialsNTSCJ      =

|serialsNTSCJ      =

|CRCsNTSCJ        =

|CRCsNTSCJ        =

|releasedateNTSCJ  = February 5, 2004

|releasedateNTSCJ  = February 5, 2004

|statusNTSCJ      =

|statusNTSCJ      =

|linuxstatusNTSCJ  =

|linuxstatusNTSCJ  =

|macstatusNTSCJ    =

|macstatusNTSCJ    =

<!-- Windows specs -->

|pcsx2ver          =

*0.9.6

*1.3.0 r5927

|gsname            = GSdx

|gsver            = r5932

|soundname        = SPU2-X

|soundver          = r5893 2.0.0

|padname          = LilyPad

|padver            = 0.11.0

|dvdplugname      =

|dvdplugver        =

|biosver          = Working with any BIOS

|hacks            =

|fpsinfo          =

|comment          =

<!-- Linux specs -->

|linuxpcsx2ver    =

|linuxgsname      =

|linuxgsver        =

|linuxsoundname    =

|linuxsoundver    =

|linuxpadname      =

|linuxpadver      =

|linuxdvdplugname  =

|linuxdvdplugver  =

|linuxbiosver      =

|linuxhacks        =

|linuxfpsinfo      =

|linuxcomment      =

<!-- Minimal PC specs -->

|cputype          =

*Intel Core 2 Duo with 3.0 Ghz+

* Intel Core i7-3770K @ 4.60 GHz

|gputype          = AMD Radeon HD 7950 3GB Crossfire

|pccomment        =

}}

}}






==See also==

=

=

=

=

 

 

 

 

 






*[[Dragon Ball Z: Budokai]]

Dragon Ball

*[[Dragon Ball Z: Budokai 3]]

*[Z Budokai ]
---
Latest revision as of 23:55, 21 December 2021
Dragon Ball Z: Budokai 2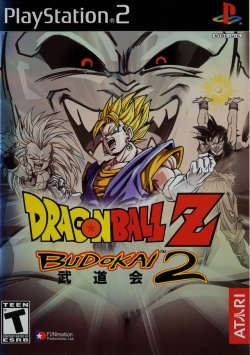 NTSC-U Boxart
Game general and emulation properties:
Region NTSC-U:
Serial numbers:
SLUS-20779
SLUS-20779GH (Greatest Hits)
Release date:
December 4, 2003
2004 (Greatest Hits)
Windows Status:
Playable
Linux Status:
?
Mac Status:
?
Region PAL:
Serial numbers:
SLES-51839
Release date:
November 14, 2003
November 23, 2003 (Australia)
August 27, 2004 (Platinum)
Windows Status:
?
Linux Status:
?
Mac Status:
?
Region NTSC-J/C/K:
Serial numbers:
SLPS-25330
SLKA-25062 (Korea)
SLPS-73208 (PlayStation 2 the Best)
SLPM-68513 (2V)
SCCS-40009
Release date:
February 5, 2004
April 16, 2004 (Korea)
September 16, 2004 (PlayStation 2 the Best)
Windows Status:
?
Linux Status:
?
Mac Status:
?
Developer(s): Dimps Corporation
Publisher(s): Atari (EU, AU, US), Bandai (JP)
Genre: Action, Fighting
Wikipedia: Dragon Ball Z: Budokai
Game review links: Metacritic: 66/100
Game description: Go to the next level in the Dragon Ball Z saga. Dragon Ball Z: Budokai 2 improves upon the first installment by adding an all-new single player mode, new characters and explosive attacks. Experience the new match-ups, character cameos and challenging missions in "Dragon World." Pick your favorite DBZ hero or enemy and take on a friend in "Vs." and "Tournament" modes. If you're really good, you will soon come face-to-face with Buu, the most lethal DBZ villain.
Second game in the Dragon Ball Z: Budokai series, sequel to Dragon Ball Z: Budokai


Test configurations on Windows:
Environment
Configurations
Comments
Tester
Region
OS
CPU/GPU
Revision
Graphics
Sound/Pad
NTSC-U
Windows 7 64-bit

Intel Core i7-3770K @ 4.60 GHz
AMD Radeon HD 7950 3GB Crossfire

1.3.0 r5927
GSdx r5932

SPU2-X r5893 2.0.0
LilyPad 0.11.0

BIOS: Working with any BIOS
Corrupteagle
Trivia
Original names: ドラゴンボールZ2 (SLPS-25330) & (SLPS-73208), 龙珠二世 (SCCS-40009), 드래곤볼 Z 2 (SLKA-25062)
Also known as Dragon Ball Z 2V (JP), Dragon Ball Z 2 (JP)
Known Issues
Parts of UI are gone in dragon world mode when upscaled to 1080p or higher
Type: Note (not an issue)
Description: When the game is upscaled beyond 720p some UI elements disappear in dragon world mode.
Workaround: Use native resolution or 720p.