Dark Cloud: Difference between revisions
Jump to navigation
Jump to search
m

 

(60 intermediate revisions by 10 users not shown)
Line 1:
Line 1:

 

{{infobox

 

{{infobox game

|image            = Dark_Cloud_PS2_Game_cover.jpg

|image            = Dark_Cloud_PS2_Game_cover.jpg

|caption          = NTSC-U Boxart

|caption          =

|developer        = Level-5

|developer        = Level-5

|genre            = RPG

|gameinfo          =

|genre            = RPG

|wikipedia        = [http://en.wikipedia.org/wiki/Dark_Cloud Link]

|wikipedia        = [://en.wikipedia.org/wiki/Dark_Cloud

|reviewlinks      = [http://www.gamespot.com/dark-cloud/reviews/dark-cloud-review-2768578/ Link]

Link]

|reviewscore      = Metacritic: 80

|reviewlinks      = [http://www..com/dark-cloud /

 

---

|=

<!-- NTSC-U props -->

<!-- NTSC-U props -->

|NTSCU            = 1

|NTSCU            = 1

|serialsNTSCU      = SCUS 97111

|serialsNTSCU      = SCUS97111

|CRCsNTSCU        = A5C05C78

|CRCsNTSCU        = A5C05C78

|releasedateNTSCU  = 05/29/2001

|releasedateNTSCU  = //

|statusNTSCU      = 2

|statusNTSCU      = 2

|linuxstatusNTSCU  =

|linuxstatusNTSCU  =

Line 20:
Line 34:

<!-- PAL props -->

<!-- PAL props -->

|PAL              = 1

|PAL              = 1

|serialsPAL        = SCES 50295

|serialsPAL        = SCES50295

|CRCsPAL          = 0BAA8DD8

|CRCsPAL          = 0BAA8DD8

|releasedatePAL    = 9/21/2001

|releasedatePAL    = 212001

|statusPAL        =

|statusPAL        =

|linuxstatusPAL    = 2

|linuxstatusPAL    = 2

|macstatusPAL      =

|macstatusPAL      =

<!-- NTSC-J props -->

<!-- NTSC-J props -->

|NTSCJ            = 1

|NTSCJ            = 1

|serialsNTSCJ      =

|serialsNTSCJ      =

|CRCsNTSCJ        =

|CRCsNTSCJ        =

|releasedateNTSCJ  = 12/12/2000

|releasedateNTSCJ  = 12//

|statusNTSCJ      = 2

|statusNTSCJ      =

|linuxstatusNTSCJ  =

|linuxstatusNTSCJ  =

|macstatusNTSCJ    =

|macstatusNTSCJ    =

<!-- Windows specs -->

|pcsx2ver          = 0.9.9 5117 beta

 

|gsname            = GSDX

<!-- Windows -->

|gsver            = r5125

|=

|soundname        = SPU2-X

|soundver          = r5112 2.0.0

|=

|padname          = Lilypad

|=

|padver            = r5112 0.11.0

|=

|dvdplugname      = LINUZ Iso CDVD

|=.

|dvdplugver        = 0.9.0

|=

|biosver          = v2.00

|=0..

|hacks            =

|=

|fpsinfo          =  

|=

|comment          =  

* EE CycleRate (2): noticeable speedup, setting it to 3 causes problems in FMVs

0..0

* INTC Sync Hack: small if any speedup, no issues

|=

* Idle Loop Fast Forward: noticeable speedup, no issues

* VU Cycle Stealing: noticeable speedup, but have issues if set higher than 1 (slight)

.

* MTVU: Noticeable speedup in quads, or Tri core, Breaks load/save on Memorycard when using SaveStates

|

=

|=

|

=

()

*

* ()

: ,  

* Interlacing Mode: Bob tff  

* Interlacing Mode: Bob tff  

The game is extremely GPU intensive, If having low FPS, try running in native resolution mode, scaling also creates tiling in the GUI and purple haze around GUI objects. DX10 mode fixes some UI problems such as the map and the levels introduction text.

The game is extremely GPU intensive, If having low FPS, try running in native resolution mode, scaling also creates tiling in the GUI and purple haze around GUI objects. mode fixes some UI problems such as the map and the levels introduction text.

<!-- Linux specs -->

|=

|linuxpcsx2ver    = 1736

|linuxgsname      = ZZogl

|linuxgsver        = 182

|linuxsoundname    =

|linuxsoundver    =

|linuxpadname      =

|linuxpadver      =

|linuxdvdplugname  =

|linuxdvdplugver  =

|linuxbiosver      =

|linuxhacks        = No Target Resolving should be on

|linuxfpsinfo      =

|linuxcomment      = There is color dithering in menu (triangle button) in city, it's caused by No Target Resolving. But without NTR city persons become ugly.

<!-- Minimal PC specs -->

|cputype          = Phenom II x4 965 BE @3.9ghz

|gputype          = MSI 560 ti Hawk

|pccomment        =  

}}

}}

__TOC__

 

 

 

 

 

 

 

 

 

 

 










==Known Issues==

==Known Issues==










===Item boxes and purple lines===

* '''Type:''' Cosmetic

* '''Affected Game Versions:''' All

* '''Description:''' Purple lines are displayed around 2d objects

* '''Solution:''' turn texture filtering to off or half (3d filtering only)










== See Also ==

=

*[[Dark Cloud 2]]

*[

[Dark Cloud ]
---
Latest revision as of 19:37, 11 December 2021
Dark Cloud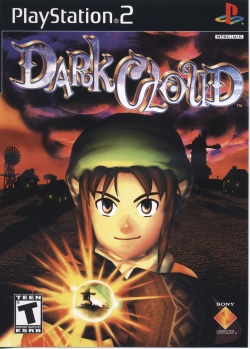 Game general and emulation properties:
Region NTSC-U:
Serial numbers:
SCUS-97111
SCUS-97152 (Demo)
Release date:
May 28, 2001
2002 (Greatest Hits)
CRCs:
A5C05C78
Windows Status:
Playable
Linux Status:
?
Mac Status:
?
Region PAL:
Serial numbers:
SCES-50295
Release date:
September 21, 2001
CRCs:
0BAA8DD8
Windows Status:
Playable
Linux Status:
Playable
Mac Status:
?
Region NTSC-J/C/K:
Serial numbers:
SCPS-15004
SCPS-19203 (PlayStation 2 the Best)
NPJC-00002
PAPX-90205 (Sample Movie Disc)
PAPX-90501 (Trial version)
Release date:
December 14, 2000
September 12, 2002 (PlayStation 2 the Best)
August 22, 2012 (PS2 Classics)
Windows Status:
?
Linux Status:
?
Mac Status:
?
Developer(s): Level-5
Publisher(s): SCEI (JP), SCEA (US), SCEE (EU)
Genre: Action, RPG
Wikipedia: Link
Game review links: Metacritic: 80/100
Game description: An ancient evil has been unleashed. This Dark Cloud rains destruction on what was once a peaceful and benevolent continent, bringing it to its knees in one fell swoop. Journey on a quest through time to unravel the mysterious tale of the Dark Cloud. Set in a vivid and inviting world, Dark Cloud delivers imaginative, vibrant, and detailed gameplay complemented by a strong character-driven storyline. A new feature, Georama, challenges you to build a customized world then interact with it in real time. As you build the world, life begins to flourish and unveils clues and pieces of the storyline as you progress through the adventure.
Dark Cloud is the prequel to Dark Cloud 2.


Test configurations on Windows:
Environment
Configurations
Comments
Tester
Region
OS
CPU/GPU
Revision
Graphics
Sound/Pad
NTSC-U
?

Intel Core2Dduo @ 3.20 GHz
?

0.9.7 (beta r3113)
GSdx (r3063)

SPU2-X 1.4.0 (r3117)
LilyPad 0.1.0 (r2930)

• There is a shaking problem in game, but it can be fixed by choosing blend bff interlace mode in gsdx.

• You need a pretty fast cpu in order to run the game nicely without speedhack since speedhacks don't improve much for the game.

CKL
NTSC-U
?

AMD Phenom II x4 965 BE @ 3.90 GHz
MSI GeForce 560 Ti Hawk

0.9.9 (beta r5117)
GSdx (r5125)

SPU2-X 2.0.0 (r5112)
LilyPad 0.11.0 (r5112)

BIOS: v2.00,

• Interlacing Mode: Bob tff The game is extremely GPU intensive, If having low FPS, try running in native resolution mode, scaling also creates tiling in the GUI and purple haze around GUI objects. Direct3D10 mode fixes some UI problems such as the map and the levels introduction text.

Hellbringer616
NTSC-U
Windows

Intel Core i7 @ 3.40 GHz
NVIDIA GeForce GTX 285 @ 768 MB

1.1.0 (r5576)
GSdx SSE41 (r5570)

SPU2-X 2.0.0
LilyPad 0.11.0

Runs above full speed.
NTSC-U
Windows 7 64-Bit

Intel i7-2600k @ 3.40 GHz
Sapphire Radeon R9 290X @ 4 GB

1.2.1 (r5873)
GSdx 0.1.16 (r5875)

SPU2-X (r5875)
LilyPad 0.11.0 (r5875)

BIOS: v2.0, GSdx Render: Direct3D10 (Hardware), Game works well and is able to run at 60FPS at 1080P with hardware rendering. The purple haze around GUI and other icons is still present.
Zrooney
NTSC-U
Windows 10 64-Bit

Intel i5-9600k @ 3.70 GHz
GeForce GTX 1070 @ 8 GB

1.5.0 (20190906131249)
GSdx 1.1.0 SSE4.1

SPU2-X 2.0.0
LilyPad 0.12.1

BIOS: USA v2.20, GSdx Render: Direct3D 11 (Hardware), Plays perfectly fine. Things look pretty blurry in motion, but I feel that's due to the increase in resolution (ran at 4x Native).
Bevr
PAL
Windows

Ryzen 5 2600
Nvidia GeForce 750 TI OC

1.6.0 Stable
GSdx SSE4.1/AVX 1.2.0

SPU2-X 2.0.0

Plays at full speed even with widescreen hack

Zerel
Environment
Configurations
Comments
Tester
Region
OS
CPU/GPU
Revision
Graphics
Sound/Pad
PAL
?

Intel Core2Duo @ 2.40 GHz
?

0.9.7 (beta r1736)
ZZogl 182
No Target Resolving should be on

There is color dithering in menu (triangle button) in city, it's caused by No Target Resolving. But without NTR city persons become ugly.

188.134.4.34
Trivia
Original names: ダーククラウド (SCPS-15004) & (SCPS-19203) & (PAPX-90205)
Known Issues
Black lines around item boxes
Type: Note (not an issue)
Description: Black/Purple lines separate item boxes.
Workaround: Go to Config -> Video (GS) -> Plugin Settings, and set Texture Filtering to any option except "Bilinear (Forced)".
Memory card read failure
Type: Note (not an issue)
Description: Sometimes after loading a save state the game will no longer detect a memory card, switching or reloading memory cards does not solve the issue.
Workaround: This only happens when using a Folder memory card. Copy the saves to a normal memory card and use that, convert the folder memory card to a standard memory card(go to Config -> Memory Card, click on the folder memory card, and then click on Convert), or avoid using save states while playing the game.
The gallery
Dark Cloud series
Main series
Related