Black
Jump to navigation
Jump to search
Black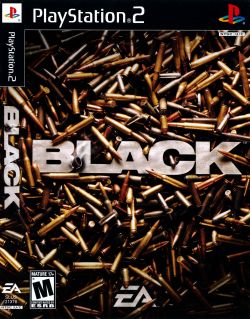 NTSC-U cover
Game general and emulation properties:
Region NTSC-U:
Serial numbers:
SLUS-21376
SLUS-21376GH (Greatest Hits)
SLUS-29180 (Demo)
Release date:
February 28, 2006
2007 (Greatest Hits)
CRCs:
5C891FF1
Windows Status:
Playable
Linux Status:
?
Mac Status:
?
Region PAL:
Serial numbers:
SLES-53886
SLES-54030
SLED-53937 (Demo)
SLES-53886/P (Platinum: The Best of PlayStation 2)
SLES-54030-P (Platinum, Platinum: The Best of PlayStation 2)
Release date:
February 24, 2006
November 24, 2006 (Platinum)
2006 (Australia)
CRCs:
CAA04879
Windows Status:
Playable
Linux Status:
Playable
Mac Status:
?
Region NTSC-J/C/K:
Serial numbers:
SLPM-66354
SLPM-66731 (EA Best Hits)
SLPM-66961 (EA:SY! 1980)
SLAJ-25078
Release date:
March 25, 2006 (Korea)
April 6, 2006
March 8, 2007 (EA Best Hits)
February 28, 2008 (EA:SY! 1980)
Windows Status:
?
Linux Status:
?
Mac Status:
?
Developer(s): Criterion Games
Publisher(s): EA Games
Genre: Action, Shooter, Arcade
Wikipedia: Link
Game review links: IGN: 8.6/10, Eurogamer: 8/10, Metacritic: 79/100, GameSpot: 7.4/10
Game description: You can engage in cinematic firefights through destructible environments in Black, the new first-person shooter from Criterion Studios. You can play as an operative in Eastern Europe with extensive access to the newest exotic weaponry that the world has to offer. As you blast your way through the urban environments featured in the game you can find opportunities to make "style kills," using your environment to take out your foes with explosions or falling debris.
Black takes place in Ingushetia and Chechnya, Russian Federation. The protagonist is a black ops soldier named Sergeant First Class Jack Kellar. Kellar is an inadequately disciplined member of a CIA black ops group and a veteran of several conflicts. He is now considered a terrorist and has been captured. He is now forced to tell his story (the game) or go to jail for life.


Test configurations on Windows:
Environment
Configurations
Comments
Tester
Region
OS
CPU/GPU
Revision
Graphics
Sound/Pad
PAL
?

Core i5 2500k @ stock settings
MSI GTX 470 Hawk @ 758 core

r4600
GSDX r4643 0.1.16

SPU2-X r4600m 1.4.0
LilyPad r4510 0.10.0

CPU heavy game. To get 480p mode on PAL: Hold Triangle and X as the first loading screen is showing.

• GSDX r4631+ is required, it adds a hack fix for garbage FX. • Rare input glitch, restarting level seems to be the only fix for it. • Speedhacks used: INTC Spin detection, Wait Loop Detection, Fast CDVD, mVU flag hack, VU Cycle Stealing:1

Lagahan
PAL
?

AMD FX 6350 @ stock settings
Gigabyte GTX 560 TI @ stock settings

r5645
GSDX r5632 SSE41 0.1.16

SPU2-X r5559 2.0.0
LilyPad r5403 0.11.0

BIOS: usa 2.20, HACKS: none, Still missing sky & post processing effects (sun shafts etc), controls freeze sometimes, player gets stuck on the spot, can turn but can't move., plays full speed 60fps. PAL version.
Slarlac249
PAL
Windows 7

Intel 2 Quad Q6600
XFX Nvidia GTX 260

1.0.0

GDSX 5334 0.1.16 SSSE3
Mode: HW DX10

SPU2-X 5324
LilyPad r4510 0.10.0

Europe v02.20(10/02/2006) 25-60 fps. Mostly under 60. No "EE Cyclerate" and "VU Cycle Stealing", but almost all (except Fast CDVD) activated, because "EE Cyclerate" and "VU Cycle Stealing" freeze the game. Playable, but to play it with my system, it´s stressful, many slowdowns. Sometimes you stuck, you have to be careful. The other testers already mentioned it. But there´s a spinning bug in the "Nasran Foundry" mission . After destroying the production machines and heading back to the last area, the camera is going really wierd and it´s hard to complete the mission. I think there´s no fix for that.
LeRutY
PAL
Windows

Intel Core i7 @ 3.8Ghz
Nvidia GTX 570 1368MB

1.1.0 r5852
GSDX
Europe v01.70(27/02/2003), MTVU, INTC Spin Detection, Enable Wait Loop Detection, mVU Flag Hack, Still Playable. Works fine at a nice speed. Curse them long unskippable videos!

 refraction

NTSC-U
Windows

Intel Core i7 @ 3.4Ghz
Nvidia GTX 285 768MB

1.1.0 r5576
GSdx 5570 SSE41

SPU2-X 2.0.0
LilyPad 0.11.0

Runs at full speed.

 General-Plot

PAL
Windows

i7 3.5GHz
Radeon 4870 512MB

1.2.1 r5875
GSDX
USA v02.00 (14/06/2004)

 ponury-indor

NTSC-U
Windows

I5 3330
XFX Radeon HD 7970(New*)

1.3 Git 18 of June
GSDX
USA v02.20(10/02/2006), Standard Speedhackers +MTVU, Ok,lets go.

 DESTRUIDOR

PAL
Windows 10

Intel i7 7700K
Nvidia GTX 1080

1.5.0 2567

GDSX 1.5.0 AVX2
Mode: SW OpenGL

Europe v02.20(10/02/2006) 2 cores set, 99% of the time at 100% speed but wasn´t fun with my old PC, this game is very demanding. Hardware mode is almost as good as Software mode, use HW mode when you´re low at FPS in SW. No speedhacks activated, because any speedhacks (and if it´s just the speedhacks tab) will freeze the game for me for what reason. If you move too quick around edges you can get stuck, the other testers already mentioned it. Another big thing in the game is the spinning bug, it happens when an enemy gets stuck at a place (like you can) and you look at his direction, the camera will go really weird. I don´t think there´s a fix for that other than kill the stuck guy.
LeRutY
NTSC-U
Windows 10 Enterprise

Intel Core i5-4790K @ 4.00 GHz, 16 GB RAM
GTX 770Ti w/ 2 GB VRAM

v1.5.0-dev-3403-g58f5a5b91

GSdx 1.1.0 SSE4

SPU2-X 2.0.0
LilyPad 0.12.1 (Xinput)

Game runs perfectly well, full frames and no bugs 100% speed! Lmao enjoy. This was really fun. Only a few graphics glitches like some innocent flickering, don't ruin the game at all. Only early game too. Just... Disable frame limiter when you start a new game. The cutscenes are so dang long!! THEY ARE SO DANG LONG!!! I AM SERIOUS. WHY. Padding game length and DVD size?? Fuck me. Lmao
GewehrRoss1

Test configurations on Linux:
Environment
Configurations
Comments
Tester
Region
OS
CPU/GPU
Revision
Graphics
Sound/Pad
PAL
Linux Mint 19.1

Intel Pentium CPU G3258 @ 3.20GHz
NVIDIA GeForce GT710

1.4.0
GSdx (GCC 7.3.0, SSE2) 1.0.0 [libGSdx-1.0.0]
SPU2-X 2.0.0 [libspu2x-2.0.0]
BIOS: Europe v02.00 FPS 40/50 (Pal games run only at 50fps). OpenGL Hardware , Shade Boost all Set to 50, Full Depth Emulation ,Internal Resolution Native , Blending Unit Accuracy Basic , Automatic CRC Level Partial , Speed Hacks Enable INTC Spin Detction Enable Wait Loop Detction mVU Flag Hack UV Cycle Stealing 1. Only player the first level Some slow downs during game play but playable more testing might be needed.
Logeater
Trivia
Original names: ブラック (SLPM-66354) & (SLPM-66731) & (SLPM-66961)
Access the Progressive Scan menu by holding the cross and triangle keys together when the game boots up.
Known Issues
Sky doesn't render properly in Hardware mode
Status: Active
Type: Minor
Description: The skybox in Hardware mode isnt properly rendered, appearing black to anyone who loaded in the game in Hardware mode.
Workaround: Load in with Software mode on, then switch to Hardware mode by pressing F9.
White line follows the player in Hardware mode after the Skybox fix
Status: Active
Type: Minor
Description: A white line will follow the player after the skybox fix, outlining everything in front of the character.
Workaround: Go to Config > Video > Plugin Settings. From there, check enable HW hacks and click Advanced Settings and Hacks. Set Half-pixel Offset to Special (Texture).
Fixed Issues
Stuck character
Status: Fixed
Type: Major
Description: Certain areas you can't move and you either need to quit game or kill yourself.
Workaround: Patched in the latest 1.7 dev builds.
The gallery