ATV Offroad Fury: Difference between revisions
Jump to navigation
Jump to search
m

(→‎top: Upgrading links to HTTPS with AutoWikiBrowser in Bot mode)

 

(4 intermediate revisions by 3 users not shown)
Line 6:
Line 6:

|genre            = Racing

|genre            = Racing

|wikipedia        = [https://en.wikipedia.org/wiki/ATV_Offroad_Fury Link]

|wikipedia        = [https://en.wikipedia.org/wiki/ATV_Offroad_Fury Link]

|gamefaqslink      = [http://www.gamefaqs.com/ps2/447986-atv-offroad-fury Link]

|gamefaqslink      = [://..com/ps2/447986-atv-offroad-fury Link]

|reviewlinks      = {{ReviewLink|[http://www.gamerankings.com/ps2/447986-atv-offroad-fury/index.html GameRankings]|83/100}}, {{ReviewLink|[http://www.metacritic.com/game/playstation-2/atv-offroad-fury Metacritic]|82/100}}

|reviewlinks      = {{ReviewLink|[http://www.gamerankings.com/ps2/447986-atv-offroad-fury/index.html GameRankings]|83/100}}, {{ReviewLink|[://www.metacritic.com/game/playstation-2/atv-offroad-fury Metacritic]|82/100}}

|gameinfo          = Conquer the terrain with 12 rugged ATVs and large offroad environments. ATV Offroad Fury delivers the excitement of ATV racing with high-performance two-stroke and four-stroke ATVs, 20 free-roaming race environments, and six unique events. Race authentic ATVs through six challenging events, including Cross Country Enduro, Stadium Supercross, and Freestyle Stunt. You'll speed through whole deserts, forested landscapes, and old train yards. With realistic crashes, authentic stunts, and intense competition, ATV Offroad Fury immerses players in the action-packed world of offroad racing.

|gameinfo          = Conquer the terrain with 12 rugged ATVs and large offroad environments. ATV Offroad Fury delivers the excitement of ATV racing with high-performance two-stroke and four-stroke ATVs, 20 free-roaming race environments, and six unique events. Race authentic ATVs through six challenging events, including Cross Country Enduro, Stadium Supercross, and Freestyle Stunt. You'll speed through whole deserts, forested landscapes, and old train yards. With realistic crashes, authentic stunts, and intense competition, ATV Offroad Fury immerses players in the action-packed world of offroad racing.

<!-- General props -->

<!-- General props -->

Line 23:
Line 23:

|NTSCU            = 1

|NTSCU            = 1

|serialsNTSCU      = SCUS-97104<br />SCUS-97104GH <small>(Greatest Hits)</small><br />SCUS-97122 <small>(Demo)</small>

|serialsNTSCU      = SCUS-97104<br />SCUS-97104GH <small>(Greatest Hits)</small><br />SCUS-97122 <small>(Demo)</small>

|CRCsNTSCU        =

|CRCsNTSCU        =

|releasedateNTSCU  = February 5, 2001<br />2002 <small>(Greatest Hits)</small>

|releasedateNTSCU  = February 5, 2001<br />2002 <small>(Greatest Hits)</small>

|statusNTSCU      = 2

|statusNTSCU      = 2

Line 33:
Line 33:

|CRCsPAL          =

|CRCsPAL          =

|releasedatePAL    = July 13, 2001

|releasedatePAL    = July 13, 2001

|statusPAL        =

|statusPAL        =

|linuxstatusPAL    =  

|linuxstatusPAL    =

|macstatusPAL      =

|macstatusPAL      =

}}

}}

Line 79:
Line 79:

|Comments=Runs fast, 4x native and up. No problems in UI or 3D.

|Comments=Runs fast, 4x native and up. No problems in UI or 3D.

|Tester={{ForumUser|CK1}}

|Tester={{ForumUser|CK1}}

}}

}}

{{TestingFooter}}

{{TestingFooter}}
---
Latest revision as of 08:33, 18 July 2022
ATV Offroad Fury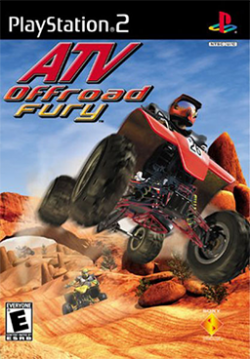 Game general and emulation properties:
Region NTSC-U:
Serial numbers:
SCUS-97104
SCUS-97104GH (Greatest Hits)
SCUS-97122 (Demo)
Release date:
February 5, 2001
2002 (Greatest Hits)
CRCs:
70E7AF78
Windows Status:
Playable
Linux Status:
?
Mac Status:
?
Region PAL:
Serial numbers:
SCES-50293
Release date:
July 13, 2001
Windows Status:
Playable
Linux Status:
Ingame
Mac Status:
?
Developer(s): Rainbow Studios
Publisher(s): SCEA (US), SCEE (EU)
Genre: Racing
Wikipedia: Link
Game review links: GameRankings: 83/100, Metacritic: 82/100
Game description: Conquer the terrain with 12 rugged ATVs and large offroad environments. ATV Offroad Fury delivers the excitement of ATV racing with high-performance two-stroke and four-stroke ATVs, 20 free-roaming race environments, and six unique events. Race authentic ATVs through six challenging events, including Cross Country Enduro, Stadium Supercross, and Freestyle Stunt. You'll speed through whole deserts, forested landscapes, and old train yards. With realistic crashes, authentic stunts, and intense competition, ATV Offroad Fury immerses players in the action-packed world of offroad racing.


Test configurations on Windows:
Environment
Configurations
Comments
Tester
Region
OS
CPU/GPU
Revision
Graphics
Sound/Pad
NTSC-U
?
v0.9.8 (r4600)
GSdx (r4600)
SPU2-X (r4600)
Ran seemingly perfect. Could stay well over 60 FPS (without the framelimiter) on a CPU that scores 60 FPS in the PCSX2 Benchmark. Looked clean even at high-res.
71.13.168.154
NTSC-U
Windows

Intel Core i7 @ 3.40 GHz
NVIDIA GeForce GTX 285 @ 768 MB

1.1.0 (r5565)
GSdx SSE41 (r5559)

SPU2-X 2.0.0
LilyPad 0.11.0

Status goes from menus to playable. Runs near full speed.
NTSC-U
Windows

Intel Core i5-4460 @ 3.20 GHz
NVIDIA GeForce GTX 970 @ 4 GB

v1.5.0 (dev-1274 g4796803)
GSdx (dev-1274)

SPU2-X 2.0.0
LilyPad 0.11.0

Runs fast, 4x native and up. No problems in UI or 3D.
PAL
Windows XP (SP3)

Intel Core2 Quad Q9650 @ 3.00 GHz
NVIDIA GeForce GTX 560

XP v1.6.0

GSdx SSE4 1.0.1.9

SPU2-X 2.0.0.4851
LilyPad 0.11.0

Runs above full speed in both single and multiplayer modes. "EE Cyclerate: -2" is only needed for multiplayer mode.
Titus03
Environment
Configurations
Comments
Tester
Region
OS
CPU/GPU
Revision
Graphics
Sound/Pad
PAL
?
pre-0.9.7 beta (r1736)
ZZogl r182
?
Too slow at track, ZeroGS OGL is no use. Also there is SPS in new versions.
188.134.4.34
Trivia
Also known as ATV Offroad: All Terrain Vehicle
ATV Offroad Fury/MX series
ATV Offroad series
MX vs ATV series
MX series
Related