10 Pin: Champions Alley: Difference between revisions
m

 

(9 intermediate revisions by 3 users not shown)
Line 4:
Line 4:

|image            = Cover_10_Pin_Champions_Alley.jpg

|image            = Cover_10_Pin_Champions_Alley.jpg

|caption          =

|caption          =

|developer        =

|developer        =

|publisher        =

|publisher        =

|genre            =

|genre            =

|wikipedia        =

|wikipedia        =

|gameinfo          =

|gameinfo          =

|gamefaqslink      = [http://www.gamefaqs.com/ps2/720016-10-pin-champions-alley Link]

|gamefaqslink      = [://..com/ps2/720016-10-pin-champions-alley Link]

|italian          = SLES-53150

|italian          = SLES-53150

|dutch            = SLES-53150

|dutch            = SLES-53150

Line 20:
Line 21:

|serialsPAL        = SLES-53150

|serialsPAL        = SLES-53150

|CRCsPAL          =  

|CRCsPAL          =  

|releasedatePAL    = May 4, 2005<br />June 19, 2013

|releasedatePAL    = May 4, 2005<br />June 19, 2013

|statusPAL        =  

|statusPAL        =

|linuxstatusPAL    =  

|linuxstatusPAL    =  

|macstatusPAL      =  

|macstatusPAL      =  

Line 29:
Line 30:

{{TestingHeader|OS=Windows}}

{{TestingHeader|OS=Windows}}

{{TestingEntry

{{TestingEntry

|Status=?

|Status=

|Region=?

|Region=

|OS=?

|OS=

|CPU=?

|CPU=

|GPU=?

|GPU=

|Revision=?

|Revision=

|Graphics=?

|Graphics=

|Sound=?

|Sound=

|Comments=This is a test placeholder. Add your configuration here.

|Comments=.

|Tester=?

|Tester=

}}

}}

{{TestingFooter}}

{{TestingFooter}}

Line 69:
Line 70:

<!-- Remove comment signs and add issues here -->

<!-- Remove comment signs and add issues here -->

<!-- IssueLevel is issue severity level -1,0,1 or 2 (note, minor, serious and major accordingly)-->

<!-- IssueLevel is issue severity level -1,0,1 or 2 (note, minor, serious and major accordingly)-->

<!--

== Known Issues ==

== Known Issues ==

{{Issue

{{Issue

|IssueName=

|IssueName=

|IsFixed=

|IsFixed=

|IssueLevel=

|IssueLevel=

|Description=

|Description=

|Workaround=

|Workaround=

}}

}}

-->






<!-- Remove comment signs and add game screenshots or videos here -->

<!-- Remove comment signs and add game screenshots or videos here -->

<!-- Replace FileName?.jpg with the correct filenames -->

<!-- Replace FileName?.jpg with the correct filenames -->

<!--

 

== Gallery ==

== Gallery ==

<gallery widths="175px" heights="100px">

<gallery widths="175px" heights="100px">

FileName1.jpg

.jpg

FileName2.jpg

</gallery>

</gallery>

-->

[[Category:Temp - new game page]]

[[Category:Temp - new game page]]
---
Latest revision as of 07:54, 18 July 2022
Developer(s): Liquid Games
Publisher(s): OG International Ltd
Genre: Sports
Game description: A bowling game that allows you to play with up to 7 other players. This game includes game types such as Practice and Full Tournament. Each opponent has their own strengths and weaknesses.

10 Pin: Champions Alley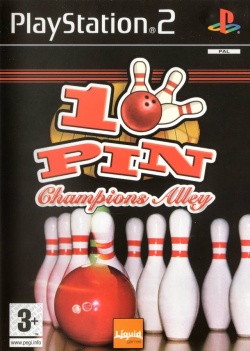 Game general and emulation properties:
Region PAL:
Serial numbers:
SLES-53150
Release date:
May 4, 2005
June 19, 2013 (PS2 Classics)
Windows Status:
Playable
Linux Status:
?
Mac Status:
?

Test configurations on Windows:
Environment
Configurations
Comments
Tester
Region
OS
CPU/GPU
Revision
Graphics
Sound/Pad
PAL
Windows 10

Intel Core i7-8700K @ 3.7GHz
Nvidia GTX 1070

1.5.0-dev-3275
GSdx 1.1.0 AVX2
SPU2-X 2.0.0
Some slow down in software mode, otherwise great.
Optim
Known Issues
Upscaling issues
Status: Active
Type: Major
Description: When using any resolution higher than the game's native resolution two different screens are rendered at once.
Workaround: Use software mode.
Gallery