10,000 Bullets: Difference between revisions
Jump to navigation
Jump to search
m

 

(26 intermediate revisions by 3 users not shown)
Line 8:
Line 8:

10,000 Bullets is an action/third-person shooter in which the gun-wielding player character battles numerous enemies and bosses in different environments. Styled similar to cinematography found in The Wachowskis' The Matrix film franchise and gameplay mechanics in games such as Dead to Rights and Max Payne, the player is given an ability to slow down time and thus dodge multitudes of flying bullets and other obstacles.

10,000 Bullets is an action/third-person shooter in which the gun-wielding player character battles numerous enemies and bosses in different environments. Styled similar to cinematography found in The Wachowskis' The Matrix film franchise and gameplay mechanics in games such as Dead to Rights and Max Payne, the player is given an ability to slow down time and thus dodge multitudes of flying bullets and other obstacles.

|wikipedia        = [https://en.wikipedia.org/wiki/10,000_Bullets Link]

|wikipedia        = [https://en.wikipedia.org/wiki/10,000_Bullets Link]

|gamefaqslink      = [http://www.gamefaqs.com/ps2/924629-10000-bullets Link]

|gamefaqslink      = [://..com/ps2/924629-10000-bullets Link]

|eu_rating_text    = Violence

|eu_rating_text    = Violence

|eu_rating        = 16+

|eu_rating        = 16+

Line 33:
Line 34:

|NTSCJ            = 1

|NTSCJ            = 1

|serialsNTSCJ      = SLPM-65826<br />TCPS-10097<br />SLKA-25261 <small>(Korea)</small><br />SLPM-66599 <small>(Taito Best)</small><br />TCPS-10171 <small>(Taito Best)</small><br />SCAJ-20114<br />SLPM-61102 <small>(Trial)</small>

|serialsNTSCJ      = SLPM-65826<br />TCPS-10097<br />SLKA-25261 <small>(Korea)</small><br />SLPM-66599 <small>(Taito Best)</small><br />TCPS-10171 <small>(Taito Best)</small><br />SCAJ-20114<br />SLPM-61102 <small>(Trial)</small>

|CRCsNTSCJ        = A63C896C

|CRCsNTSCJ        =

|releasedateNTSCJ  = February 24, 2005<br />May 19, 2005 <small>(Korea)</small><br />November 2, 2006 <small>(Taito Best)</small>

|releasedateNTSCJ  = February 24, 2005<br />May 19, 2005 <small>(Korea)</small><br />November 2, 2006 <small>(Taito Best)</small>

|statusNTSCJ      = 2

|statusNTSCJ      = 2

Line 77:
Line 78:

|CPU=Intel(R) Pentium(R) CPU G2030 @ 3.00GHz

|CPU=Intel(R) Pentium(R) CPU G2030 @ 3.00GHz

|GPU=PALIT GeForce GT 1030 @ 2 GB

|GPU=PALIT GeForce GT 1030 @ 2 GB

|Revision=Nightly - v1.7.2083

|Revision=Nightly - v1.7.

|Graphics=GSdx

|Graphics=GSdx

<spoiler show="Settings" hide="Hide">

<spoiler show="Settings" hide="Hide">

Line 83:
Line 84:

* Renderer: Direct3D 11 and OpenGL (Hardware)

* Renderer: Direct3D 11 and OpenGL (Hardware)

* Conversation Buffer Allocation

* Conversation Buffer Allocation

* Native Resolution: 2560x1440

* Native Resolution: 2560x1440

* Texture Filtering: Bilinear (PS2)

* Texture Filtering: Bilinear (PS2)

* Anisotropic Filtering: 16x

* Anisotropic Filtering: 16x

Line 96:
Line 97:

*SPU2-X

*SPU2-X

*LilyPad

*LilyPad

|Comments=Europe v02.00(14/06/2004), Playable, FMV does stutter and can't keep up, but the gameplay of the game looks good and is bug free. The game runs at 1440p (2K) 60 FPS, no freezes or lags.

|Comments=Europe v02.00(14/06/2004), Playable, FMV and , the game . The game runs at 1440p (2K) 60 FPS, no freezesor .

|Tester={{ForumUser|Chern40_7}}

|Tester={{ForumUser|Chern40_7}}

}}

}}

Line 127:
Line 128:

==Known Issues==

==Known Issues==

{{Issue

{{Issue

|IssueName=Audio lag In FMVs

|IssueName=FMVs

|IsFixed=0

|IsFixed=0

|IssueLevel=0

|IssueLevel=0

|Description=The Audio doesnt sync to the picture in FMVs

|Description=sync the FMVs

|Workaround=No known solution

|Workaround=No known solution

}}

}}

{{Issue

{{Issue

|IssueName=Out of sync picture in FMVs

|IssueName=FMVs

|IsFixed=0

|IsFixed=

|IssueLevel=0

|IssueLevel=0

|Description=Out of sync FMVs and vertical tearing line on the left side. Using 60Hz mode hangs FMVs instead.

|Description=sync FMVsthe

|Workaround=No known solution

..

|Workaround

=No

}}

}}

{{Issue

{{Issue

|IssueName= Game will hang after ending FMVs.

|IssueName=Game will hang after ending FMVs.

|IsFixed=0

|IsFixed=

|IssueLevel=2

|IssueLevel=2

|Description=The game can freeze after the ending of some FMVs.

|Description=The game can freeze after the ending of some FMVs.

|Workaround=Skip MPEG hack will work.

|Workaround=Skip MPEG hack will work.

}}

}}

{{Issue

{{Issue

Line 151:
Line 167:

|IsFixed=1

|IsFixed=1

|IssueLevel=-1

|IssueLevel=-1

|Description=Black screen appears and the game wont Start.  

|Description=.

|Workaround=MTVU must be disabled for the game to run.

|Workaround=MTVU.

}}

}}





Line 158:
Line 174:

==The gallery==

==The gallery==

<gallery>

<gallery>

File:10000_Bullets_Forum_1.jpg|10000 Bullets (SLES 53481)

File:10000_Bullets_Forum_1.jpg|Bullets (SLES 53481)

File:10000_Bullets_Forum_2.jpg|10000 Bullets (SLPM 65826)

File:10000_Bullets_Forum_2.jpg|Bullets (SLPM 65826)

10000_Bullets-chern40+7.jpg|Nightly - v1.7.2083, 4x Native Resolution (1440p), 16xAF, FXAA, widescreen patch

10000_Bullets-chern40+7.jpg|Nightly - v1.7.2083, 4x Native Resolution (1440p), 16xAF, FXAA, widescreen patch

10000_Bullets-chern40+7(1).jpg|Nightly - v1.7.2083, 4x Native Resolution (1440p), 16xAF, FXAA, widescreen patch

10000_Bullets-chern40+7(1).jpg|Nightly - v1.7.2083, 4x Native Resolution (1440p), 16xAF, FXAA, widescreen patch
---
Latest revision as of 07:55, 18 July 2022
10,000 Bullets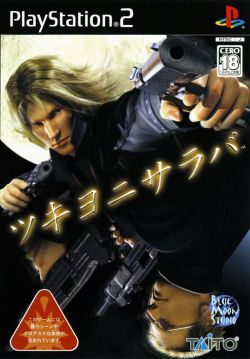 NTSC-J cover
Game general and emulation properties:
Region PAL:
Serial numbers:
SLES-53481
Release date:
October 6, 2005
CRCs:
EF97EC8F
Windows Status:
Playable
Linux Status:
?
Mac Status:
?
Region NTSC-J/C/K:
Serial numbers:
SLPM-65826
TCPS-10097
SLKA-25261 (Korea)
SLPM-66599 (Taito Best)
TCPS-10171 (Taito Best)
SCAJ-20114
SLPM-61102 (Trial)
Release date:
February 24, 2005
May 19, 2005 (Korea)
November 2, 2006 (Taito Best)
CRCs:
A6BD0DA3
Windows Status:
Playable
Linux Status:
?
Mac Status:
?
Developer(s): Blue Moon
Publisher(s): Taito Corporation (JP), 505 Game Street (EU)
Genre: Action, Adventure
Wikipedia: Link
Game description: 10,000 Bullets follows Crow, a hitman living in Ireland who works for the Rome-based crime syndicate known as the Tonio Family. Crow possesses the special "gunslinger" ability, which allows him to slow down time. He inherited this trait from his late mother, a powerful fortune teller who was murdered when Crow was very young. After being taken in by mob boss Papa Tonio, Crow is taught to optimize his abilities by a fellow hitman named Judas, a fugitive from France. Crow hopes to one day exact revenge on the person responsible for his mother's death. The protagonist is partnered with the young Alice, an Englishwoman of German descent fleeing custody after the death of her military officer grandfather.
10,000 Bullets is an action/third-person shooter in which the gun-wielding player character battles numerous enemies and bosses in different environments. Styled similar to cinematography found in The Wachowskis' The Matrix film franchise and gameplay mechanics in games such as Dead to Rights and Max Payne, the player is given an ability to slow down time and thus dodge multitudes of flying bullets and other obstacles.


Test configurations on Windows:
Environment
Configurations
Comments
Tester
Region
OS
CPU/GPU
Revision
Graphics
Sound/Pad
PAL
?

Intel Pentium Dual-Core (3.6GHz)
Geforce 9600GT

0.9.8
GSdx r4600

SPU2-X r4600
Lilypad r4510

BIOS: USA v02.00, HACKS: Hacks: INTC, Wait Idle Loop, mVU flag hack.,

last tested with PCSX 0.9.2 with SPS complains, probably playable with 0.9.8., 50/50FPS

Machina
NTSC-J
Windows
1.3 5932 .svn
GSDX
USA v02.20(10/02/2006), No bugs.

 DESTRUIDOR

PAL-M5
Windows 8.1, x64

Intel(R) Pentium(R) CPU G2030 @ 3.00GHz
PALIT GeForce GT 1030 @ 2 GB

Nightly - v1.7.2095
GSdx

Europe v02.00(14/06/2004), Playable, Now with audio lag has stopped appearing in FMV and when MTVU is turned on, the game no longer freezes. The game runs at 1440p (2K) and 1620p (3K) 60 FPS, no freezes, bugs or brakes.

 Chern40_7
Trivia
Original names: 츠키요니사라바 ~복수의진혼곡~ (SLKA-25261), ツキヨニサラバ (SLPM-65826) & (SLPM-66599)
Also known as Tsukiyo ni Saraba (JP)
Known Issues
Out of sync picture in FMVs
Status: Active
Type: Minor
Description: Out of sync FMVs and vertical tearing line on the left side. Using 60Hz mode hangs FMVs instead.
Workaround: No known solution
Fixed Issues
Audio lag In FMVs
Status: Fixed
Type: Minor
Description: The Audio doesnt sync to the picture in FMVs. The console log shows the following:
SSD iop fifo buffer under !
SSD iop fifo buffer under !
SSD iop fifo buffer under !
...

Workaround: Fixed in builds v1.7.2095.
No sound in game
Status: Fixed
Type: Serious
Description: The sound disappears after a few seconds in game but the music continues to play.
Workaround: Fixed in v1.7.2212.
Game will hang after ending FMVs.
Status: Fixed
Type: Major
Description: The game can freeze after the ending of some FMVs.
Workaround: Fixed in emulator version 1.7.0. For older versions: Skip MPEG hack will work.
Game wont boot.
Type: Note (not an issue)
Description: Game freezes when MTVU is on.
Workaround: Fixed in emulator version 1.7.0. Now you can turn on MTVU.
The gallery