Xenosaga Episode I: Der Wille zur Macht: Difference between revisions
Jump to navigation
Jump to search
No edit summary

Line 3:
Line 3:

|caption          =

|caption          =

|developer        = Monolith Soft

|developer        = Monolith Soft

|publisher        = Namco

|publisher        = Namco

|genre            = RPG

|genre            = RPG

|gameinfo          = Xenosaga Episode 1: Der Wille zur Macht is an epic RPG that takes gamers on an unforgettable journey.  This intergalactic story takes place years into the future, well after the human race abandoned Earth in favor of the next frontier of space.  Expect to play over 80 hours of intriguing game play featuring a variety of minigames, character development, and a sprawling sci-fi storyline.  Xenosaga's polished graphics, involving storyline, and exquisite music performed by the London Philharmonic Orchestra make for a truly cinematic experience.<br />

|gameinfo          = Xenosaga Episode 1: Der Wille zur Macht is an epic RPG that takes gamers on an unforgettable journey.  This intergalactic story takes place years into the future, well after the human race abandoned Earth in favor of the next frontier of space.  Expect to play over 80 hours of intriguing game play featuring a variety of minigames, character development, and a sprawling sci-fi storyline.  Xenosaga's polished graphics, involving storyline, and exquisite music performed by the London Philharmonic Orchestra make for a truly cinematic experience.<br />

Episode I begins the trilogy that centers on the characters Shion and KOS-MOS. A young woman employed by Vector Industries, Shion aided in the creation of the battle android KOS-MOS and is present throughout much of the game. During this game, the U-TIC Organization attempts to steal one of the powerful Zohar Emulators, sources of energy used by humans.

Episode I begins the trilogy that centers on the characters Shion and KOS-MOS. A young woman employed by Vector Industries, Shion aided in the creation of the battle android KOS-MOS and is present throughout much of the game. During this game, the U-TIC Organization attempts to steal one of the powerful Zohar Emulators, sources of energy used by humans.

|wikipedia        = [http://en.wikipedia.org/wiki/Xenosaga_Episode_I:_Der_Wille_zur_Macht Link]

|wikipedia        = [http://en.wikipedia.org/wiki/Xenosaga_Episode_I:_Der_Wille_zur_Macht Link]

|reviewlinks      = [http://www.metacritic.com/game/playstation-2/xenosaga-episode-i-der-wille-zur-macht Metacritic]

|reviewscore      = 83/100 '''User Score''' 8.6/10

|cpu-intensive    = 1

|cpu-intensive    = 1

|gamefaqslink      = [http://www.gamefaqs.com/ps2/519264-xenosaga-episode-i-der-wille-zur-macht Link]

|gamefaqslink      = [http://www.gamefaqs.com/ps2/519264-xenosaga-episode-i-der-wille-zur-macht Link]

|japan_rating      = C

|japan_rating      = C

|na_rating_text    = Blood and Gore, Violence

|na_rating_text    = Blood and Gore, Violence
---
Revision as of 18:11, 24 December 2015
Xenosaga Episode I: Der Wille zur Macht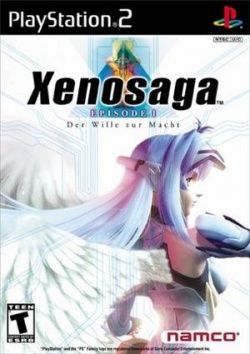 Game general and emulation properties:
Region NTSC-U:
Serial numbers:
SLUS-20469
SLUS-20469GH (Greatest Hits)
Release date:
February 26, 2003
2004 (Greatest Hits)
CRCs:
6D1276AB
Windows Status:
Playable
Linux Status:
?
Mac Status:
?
Region NTSC-J/C/K:
Serial numbers:
SLPS-29002
SLPS-29001 (Limited Edition)
SLPS-73901 (PlayStation 2 the Best)
SLPS-29005 (Reloaded)
SCPS-55901
SCAJ-30001 (PlayStation 2 The Best)
Release date:
February 28, 2002
April 3, 2003 (PlayStation 2 the Best)
November 20, 2003
Windows Status:
?
Linux Status:
?
Mac Status:
?
Developer(s): Monolith Soft
Publisher(s): Namco
Genre: RPG
Wikipedia: Link
Game review links: Metacritic: 83/100
Game description: Xenosaga Episode 1: Der Wille zur Macht is an epic RPG that takes gamers on an unforgettable journey. This intergalactic story takes place years into the future, well after the human race abandoned Earth in favor of the next frontier of space. Expect to play over 80 hours of intriguing game play featuring a variety of minigames, character development, and a sprawling sci-fi storyline. Xenosaga's polished graphics, involving storyline, and exquisite music performed by the London Philharmonic Orchestra make for a truly cinematic experience.
Episode I begins the trilogy that centers on the characters Shion and KOS-MOS. A young woman employed by Vector Industries, Shion aided in the creation of the battle android KOS-MOS and is present throughout much of the game. During this game, the U-TIC Organization attempts to steal one of the powerful Zohar Emulators, sources of energy used by humans.


Test configurations on Windows:
Environment
Configurations
Comments
Tester
Region
OS
CPU/GPU
Revision
Graphics
Sound/Pad
NTSC-U
?

AMD Phenom II x3 720 @ 3.5 GHz
Radeon HD 4870 1GB version

1884
GSdx 1846

SPU2-X 1.2.0
Lilypad 0.10.0

BIOS: USA v2, INTC sync and IOP x2 cycle rate. Enabling texture filtering in GSdx fixes shadow issues and be sure to disable 8-bit textures. Enabling MTVU causes slowdowns instead of a speed up due to sync issues., Using the latest GSdx beta plugins r2693 and setting scaling to 2x will give some minor graphical glitch
Flowofsoul
NTSC-U
Windows

Intel Core i7 @ 3.4 GHz
Nvidia GeForce GTX 285 768MB

1.1.0 r5517
GSdx 5464 SSE41

SPU2-X 2.0.0
LilyPad 0.11.0

Runs at 200% speed.
NTSC-U
Windows 7 Ultimate x64 SP1

AMD FX 6300 @ 4.12 GHz
AMD Radeon HD 7870 @ 1200MHz core, 1200MHz memory

1.1.0.5745
GSdx
Recommended ones only(But not MTVU), As always, this game has very high requirements, and some of the mech battles slowed down to 30 FPS for me. At least two save points (Shion's room on the Woglinde, and the main save point on the Elsa) error out somehow and kick you back to the bios card selector. Also the two or three black and white cutscenes don't show video(just black screen, but audio playing) in HW or SW mode, unless you save state and then load state. These are both known bugs I think.
NTSC-U
Windows 8.1 64 Bit

Intel(R) Core(TM) i5-3230M CPU @ 2.60 GHz
AMD Radeon HD 8770M

PCSX2 1.2.1.r5873
GSdx32-AVX-r5875

SPU2-X-r5875
LilyPad-r5875

D3D11, 1024x768, FXAA, Anisotropic Filtering 16x, Texture Filter. If you set HW Hacks -> TC Offset to X 0000 Y 1000, you get rid of the "Shadow Stitches" and weird Text outlines. Run at smooth 59.94 FPS, micro sound glitches every couple of minutes during load heavy sections, otherwise near flawless emulation, couple of hours in no crashes.
Zordan
NTSC-U
Windows

Intel Core i5-750 @ 2.67 GHz (3.0 GHz OC)
AMD Radeon HD 5850 1024MB

1.3.0 Git 2014/06/14
GSdx 0.1.16 SSE41

SPU2-X 2.0.0
LilyPad 0.11.0

USA v02.00(14/06/2004), Defaults + MTVU (Multi-Threaded microVU1), Using custom resolution (1920x1080) the game run at full speed with a few slowdowns in some fights or cutscenes (30-50 fps)., A few save spots appear to be broken (like the one on Elsa spaceship). When you try to use them, game crash and put you to memory card selection screen. The positive for the save on Elsa ship is that you can still use it to enter virtual realm just you cant save. Use savestates instead.
NTSC
Windows 8.1 Professional x64

Intel Core i5-4690K @ 3.5 GHz
nVidia GeForce GTX 970 4GB

1.3.1-530-g62beb3a
GSdx

Direct3D 11 Hardware, 6x Resolution (See Comments)

SPU2-X 20150614102702 2.0.0
LilyPad 20150614102702 0.11.0

BIOS: USA 2.2.0(10/02/2006)

No Speedhacks, No Game Fixes - Presets Disabled
Minimal crashing, use save states if you're not near a save point.

INVALID_STRING_NAME
NTSC-U
Windows 10

Intel Core i7 920@stock
Nvidia GeForce 660gtx

v1.3.1-966-g260c127
GSdx SSE41

SPU2-X 2.0.0
LilyPad 0.11.0

All recommending hacks including MTVU,
DX11 Full speed 99% Time
OpenGL requires Blending unit= none and is still 50% slower then DX if no limiter
Trivia
Original names: ゼノサーガ エピソードI 力への意志 (SLPS-29002), ゼノサーガ エピソードI 力への意志 プレミアムボックス (SLPS-29001), ゼノサーガ エピソードI 力への意志 PlayStation 2 the Best (SLPS-73901), ゼノサーガ エピソード I リローディッド [力への意志] (SLPS-29005)
Also known as Xenosaga Episode I Reloaded: Chikara e no Ishi (JP), Xenosaga Episode I: Chikara e no Ishi (JP)
Prior to the release of Episode II a "Reloaded" version was launched in Japan, including new alternate costumes for MOMO and KOS-MOS as well as a theater mode.
Known Issues
Saving game may crash at specific save points
Status: Active
Type: Minor
Description: Some save crystals will crash the game. Various reports such as http://www.gamefaqs.com/boards/519264-xenosaga-episode-i-der-wille-zur-macht/62218540 - Issue was tested with v02.20 US BIOS on Linux. The first save point I was able to do this on was in the beginning, after exiting the simulator, when you get control run all the way south and save there. I was booted to BIOS.
Workaround: Use save states.
Missing text in OpenGL (Hardware) on Linux
Status: Fixed
Type: Minor
Description: Text will be faded (or completely missing) using OpenGL (Hardware) mode on Linux v1.3.1+git20150405. I have not tested to confirm if this issue exists on the Windows version.
Workaround: Toggle to software mode if you need to read the text. I wana say this fixed with v1.3.1-966-g260c127
Shadows puppet lines
Status: Active
Type: Minor
Description: Shadows will have puppet lines in both OpenGL/DX11
Workaround: TC off set X=0000 - Y=1000 will fix puppet lines partialy depending on scene, can use Skipdraw=1 to remove shadows too
Black Lines in GUI/Menus etc
Status: Active
Type: Minor
Description: Black lines show up in Character portraits and game menus
Workaround: Disable texture filtering or use Box/grey mode
The gallery