Tales of the Abyss: Difference between revisions
Jump to navigation
Jump to search
m

mNo edit summary

Line 14:
Line 14:

|NTSCU            = 1

|NTSCU            = 1

|serialsNTSCU      =

|serialsNTSCU      =

|CRCsNTSCU        =

|CRCsNTSCU        =

|releasedateNTSCU  = October, 10 2006

|releasedateNTSCU  = October, 10 2006

|statusNTSCU      = 2

|statusNTSCU      = 2
---
Revision as of 22:43, 26 August 2011
Tales of the Abyss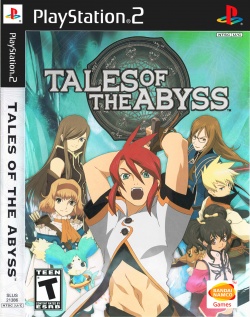 Region NTSC-U:
Release date:
October, 10 2006
CRCs:
14FE77F7, 045D77E9
Windows Status:
Playable
Linux Status:
?
Mac Status:
?
Region PAL:
Windows Status:
?
Linux Status:
?
Mac Status:
?
Region NTSC-J:
Windows Status:
?
Linux Status:
?
Mac Status:
?
Developer(s): Namco (Tales Studio)
Genre: RPG Fighting Minigames
Wikipedia: http://en.wikipedia.org/wiki/Tales_of_the_Abyss
Game description: J-RPG with Active Battle in beat 'em up style and a neat story! NewGame+! experience with previous titles of the series not needed



Test configuration on Windows:
Comments: The game should be able to be run at full speed without speed hacks. If you cannot, it mean your pc is not fast enough. You may want to try using speed hacks, but all cycle modifying speedhacks (sync hacks) are likely to break the game such as loose music and crash in battles.
If you use a higher resolution than native add
pixoff_x=-8
pixoff_y=-8
to your GSDX.ini and if the "ghost" problem still exists try different values (works only on/after rev1650 or GSDX 0.1.15).
As of gsdx2693, just set UserHacks_SkipDraw to '1' to fix this problem. (Can cause slowdown)

Test configuration on Linux:

PC specs used to test the game:
| | |
| --- | --- |
| CPU: | or any Core2Quad at 2200 mhz |
| GPU: | NVIDIA 8800 GT |
Comments: If you can run the game at full speed with or without speed hacks, and your pc is slower than this, please change the pc specs in this section.