Haunting Ground
Jump to navigation
Jump to search
Haunting Ground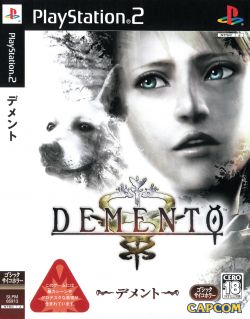 NTSC-J cover
Game general and emulation properties:
Region NTSC-U:
Serial numbers:
SLUS-21075
Release date:
May 10, 2005
CRCs:
901AAC09
Windows Status:
Playable
Linux Status:
Playable
Mac Status:
?
Region PAL:
Serial numbers:
SLES-52877
Release date:
April 29, 2005
CRCs:
2CD5794C
Windows Status:
Playable
Linux Status:
Playable
Mac Status:
?
Region NTSC-J/C/K:
Serial numbers:
SLPM-65913
SLPM-66638 (CapKore)
NPJD-00032 (PS2 Classics)
Release date:
April 21, 2005
December 14, 2006 (CapKore)
April 21, 2015 (PS2 Classics)
CRCs:
E263BC4B
Windows Status:
Playable
Linux Status:
?
Mac Status:
?
Developer(s): Capcom
Publisher(s): Capcom (JP, EU, AU, US), SCEA (US)
Genre: Action, Adventure, Horror
Wikipedia: Link
Game review links: Metacritic: 67/100, Eurogamer: 7/10, GameSpot: 7.2/10, IGN: 7.7/10
Game description: Step into the shoes of Fiona Belli, an 18-year-old girl who's the sole survivor of a tragic car accident that claimed both her parents. You'll wake up in a mysterious castle rife with strange inhabitants, puzzles, and cunning enemies. As you explore the castle, you'll befriend a white shepherd dog that can help you attack enemies, uncover the castle's secrets, and survive a variety of challenges.
Haunting Ground is a survival horror video game developed and published by Capcom for the PlayStation 2 console in 2005.


Test configurations on Windows:
Environment
Configurations
Comments
Tester
Region
OS
CPU/GPU
Revision
Graphics
Sound/Pad
NTSC-U
?
0.9.8

GSdx r4600

SPU2-X r4600
Lilypad r4510

Bios: USA v2.00, 60/60FPS
Machina
PAL(?)
?

Intel Core i7-950 @ 3.07 GHz
AMD Radeon HD 5870

0.9.9 r5037

GSdx r5085

SPU2-X r5025
LilyPad r4959

BIOS EUR v2.00. Runs perfect, no noticeable issues.
CaptainFantastic
NTSC-U
?

Intel i5-2500K @ 3.40 GHz
NVIDIA GeForce GTX 460 SE 768 MB

1.1.0 r5492
GSdx r5464

SPU2-X r5478
Pokopom v2.0.0

The lack of post-processing effects can affect the gameplay experience, because it is used to display the player characters mood in the game.
Yuri
NTSC-J
Windows

Intel Core2 Duo E8500 @ 3.16 GHz
NVIDIA GeForce GTS 250 512MB

1.1.0 r5517
GSdx SSE41 (r5464)

SPU2-X 2.0.0 (r5478)
LilyPad 0.11.0 (r5403)

Runs above full speed. Filtering causes image to halo (double/triple effects) when any resolution above native is used...
PAL-M5
Windows 8.1, x64

Intel(R) Pentium(R) CPU G2030 @ 3.00 GHz
NVIDIA GeForce GT 1030 @ 2 GB

v1.7.0-dev-1907

GSdx

The game is supported at 1080p 60 FPS, no lags, bugs or freezes. I did not enable "Enable HW Hacks", because some of the settings that are written for "Troubleshooting" cause the game to slow down.
Chern40+7
PAL-M5
Windows 11, x64

AMD Ryzen 7 3800X 4.3GHz
AMD Radeon RX 6800XT

v1.7.2118 x64 AVX2

GSdx

The game runs great at up to 5x native res. for me, OpenGL has very minor slowdowns at specific times, and is recommende

d to reset the emulator every so often. D3D11 handles it better but shadows are glitchy. Mirror scenes show garbage due to a texture bug on any of the hardware renderers still.

Other observations: Use "half-pixel format: normal (vertex)" instead of texture offsets to completely avoid the left border of the screen to display garbage and upscaling lines on 3D. Using "Round sprite: Full" removes the small upscaling lines in menus/sprites, but makes lines show up on 3D when using half pixel format hack. Disabling half-pixel format hack and enabling texture offset 300x500 (or 500x500) while enabling full round sprite makes menus upscale without any lines and lines on 3d environment are a bit less noticeable, but still present, the left edge of the screen still gets a bit glitchy. I recommend using half-pixel hack and round sprite: half for the best experience.

Ko01

Test configurations on Linux:
Environment
Configurations
Comments
Tester
Region
OS
CPU/GPU
Revision
Graphics
Sound/Pad
?
?

Intel Core2 Duo 3.33 GHz
?

pre-0.9.7 beta r1736
ZZogl 186
No targets CLUT + full 16 bit res. This game look normal only in ZZogl, no GSDX and ZeroGS versions, but ZZogl is slow on this game.
188.134.4.34
Trivia
Original names: デメント (SLPM-65913) & (SLPM-66638) & (NPJD-00032)
Also known as Demento (JP)
PAL version shows a menu as soon as the game boots that lets you choose between 50Hz, 60Hz and progressive (480p) display modes. On NTSC-U/J versions, a button combo is needed while booting instead.
Known Issues
Upscaling lines on new PCSX2 builds
Status: Active
Type: Minor
Description: On a recent change introduced in v1.7.4794, this game shows upscaling lines in some resolutions.
Workaround: Use any of the following resolutions: 2x, 4x, 8x. Only these resolutions don't show this bug.
Windows don't cast light when they should.
Status: Fixed
Type: Minor
Description: After version 1.7.4692, windows that cast light don't cast any light in-game, this is bc of how the normal (vertex) half-pixel offset upscaling fix (which is set to this by default for this game) functions after this version.
Workaround: Fixed in v1.7.4794 (automatic fix was changed to special (texture) half pixel offset and half round sprite), causes upscaling lines, check the issue avobe for a workaround.
Mirror glitch
Status: Fixed
Type: Serious
Description: In Hardware mode parts of mirrors are glitched out and appear in various colors due to a GS texture bug.
Workaround: Fixed in 1.7.4127
Red/green tint on cutscenes, other visual bugs on newer pcsx2 builds
Status: Fixed
Type: Serious
Description: On version 1.7.4297, a texture cache system overhaul was introduced, this has a bug that affects haunting ground. On cutscenes that use depth of field (DoF) effects, which are the majority, a red/green tint envelops the whole scene, some other visual bugs also occur such as getting the game's logo burned on screen after starting a new game.
Workaround: Fixed in v1.7.4583 and newer
Dull Graphics & no post-processing effects
Status: Fixed
Type: Serious
Description: The graphics look very bland; some night levels are darker than normal because of the lack of post processing. And characters lack shadows.
Workaround: This has been resolved in recent v1.5.0 git builds.
Halo effect surround characters
Status: Fixed
Type: Serious
Description: When upscaling in hardware mode, characters have a halo-like effect surrounding them due to an issue with bloom processing at higher than native resolutions.
Workaround: Fixed in git 1.6 and newer builds by the use of automatic game fixes.
Last shown bloom effect stays on screen after switching from SW to HW renderer
Status: Active
Type: Minor
Description: When switching from software to hardware renderer, the bloom post-processing effect that last appeared on screen carries to the hw renderer and stays on screen indefinitely. Happens with lights/lamps/luminiscents etc.
Workaround: Avoid light sources like the ones mentioned when switching, or open the item menu when switching renderers.
Upscaling lines on objects far away during cutscenes
Status: Active
Type: Minor
Description: When upscaling, during some scenes (the most noticeable one is the first in-game cutscene where you first meet Daniella), some minor lines might show on the background, they look like the post processing doesn't wrap all the way and it leaves a line of the environment without said effect(s).
Workaround: There are none as of yet. It's a very minor issue and only noticeable if you are looking for it.
Glitchy shadows when using Direct 3D 11 and 12 renderer
Status: Active
Type: Minor
Description: Shadows glitch, wrap incorrectly or stretch in broken ways when in D3D11 or D3D12, especially during some cutscenes.
Workaround: Switch to OpenGL or Vulkan renderer.
Cutscene effects don't show up on the borders of the screen when using widescreen patch
Status: Active
Type: Minor
Description: Some effects like water, light, or particle effects don't appear on the borders of the screen when using the widescreen patch. This is due to said effects being semi-transparent FMVs that get applied over the in-game cutscene. Also, due to how the widescreen patch works, more part of the environment is shown and sometimes textures clipping or dissapearing can be seen when the camera gets close to a wall/floor.
Workaround: Not use the widescreen patch, or a different widescreen patch could be made which basically "cuts" the upper and lower edges of the screen to make it widescreen instead of expanding the horizontal FOV. The cutscenes have vertical bars when playing without the patch so they already are 16:9 meaning it could be made and it wouldn't show any of these issues.
The gallery